We speak to RCM Student Midwife of the Year winner, Gemma Ford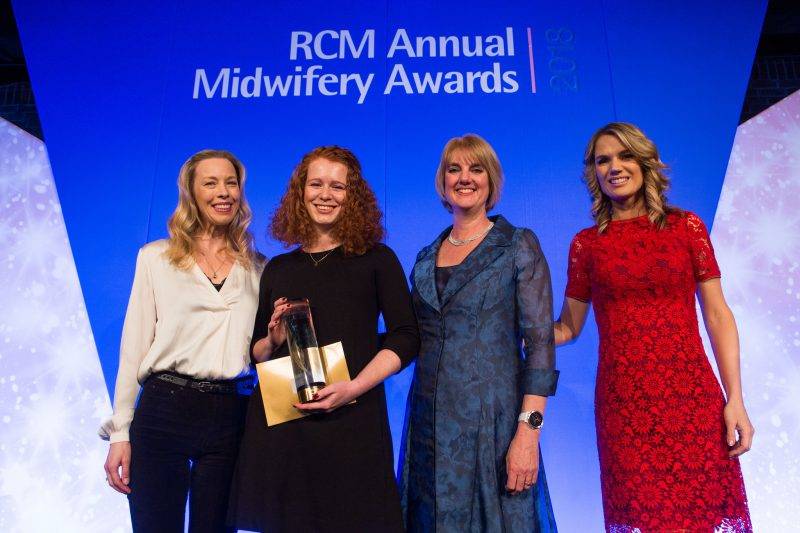 Want to know how you can train to become a midwife, and what life is while you're training? We speak to the Pregnacare Student Midwife of the Year award winner Gemma Ford
This month is Midwife Month on TalkMum, and we've looked at everything from advice for during pregnancy to a birth story round-up.
But if you're interested in training as a midwife, what do you need to do - and what can you expect? Here, we interview Gemma Ford, winner of the Pregnacare Award for Student Midwife of the Year at the RCM Midwifery Awards Awards 2018. You can read more about why she won the award here.
Hi Gemma! What made you decide to become a midwife? Was it always something you wanted to do?

I always knew I wanted to work in a profession that helped people in some capacity, but I could never put my finger on exactly what that might look like. When I left school I worked for a small business in communications which was amazing but I knew I wanted a vocation, not just a career. After looking at various roles in the NHS, I became interested in midwifery. I spoke to my sister-in-law who is a midwife and her passion for midwifery helped me decide that's what I wanted to do!
What route did you take into midwifery and how far are you into your training?

I'm now in my third year and have approximately three months left before qualifying, I am currently applying for jobs for newly qualified midwives. I came to midwifery using my A-Levels (Biology, Chemistry and Religious Studies) which luckily were the correct grades for applying for my chosen university. Once I knew I wanted to be a midwife, I sought experience by training as a volunteer doula with Sheffield City Council - in this role I supported vulnerable women for six weeks antenatally, at the birth and six weeks postnatally. This gave me a good insight into the challenges faced by some women who are pregnant and the service provision in Sheffield.
What are your favourite things about midwifery so far? Is there an area you will specialise in when you qualify?

I love community midwifery, which is seeing women at their home and in community clinics during their pregnancy and after birth. It's lovely seeing the same women week after week and getting to know them and their families. There's something really rewarding about being a women through her pregnancy and later caring for her and her baby. In the future, I'd certainly consider being a community midwife or even working in a one-to-one caseload system.
What's a typical day like for you?

My university organise our year in blocks, so we may have an eight-week block on placement followed by a two-week block at university. I'm on community placement at the moment so a typical day would involve: home visits in the morning, a quick lunch, clinic in the afternoon, then home for 5pm. At home I need to catch up on emails and social media posts relating to the midwifery society and I often have some assignments or university work to do also. When we are at university the days can be full, but we also get some days with spare time where we can catch up on work in the library or take a break!
Congrats on winning the award! What was the ceremony like and were you surprised when they announced your name?

The ceremony was amazing, it was at a lovely venue called The Brewery in London. We were welcomed at a drinks reception where we could meet other shortlisted candidates and see other familiar faces Everyone had dressed up really nicely and it felt like a special event. We then had a three-course meal (which I was a bit too nervous to eat much of!) before the awards ceremony started. I remember feeling really nervous when our category was announced, but at the same time I wasn't expected to win. When my name was announced I was completely shocked and my lecturer had to remind me to go up on stage! I couldn't believe it the whole journey back to Sheffield!
What do you like doing in your time 'off'?

When I'm not working or studying I'll either be spending time relaxing with my friends, baking cakes, or cleaning! We've recently moved house so I'm also currently spending a lot of time gardening now the weather is nice.
Thanks so much, Gemma! You can follow her on Twitter here.
If you've enjoyed this post, make sure you catch-up on our posts from Midwife Month including our interview with Clemmie Hooper and our Pregnacare midwife's advice on diet during pregnancy
[Info will be outputted here..][Comments will be outputted here]