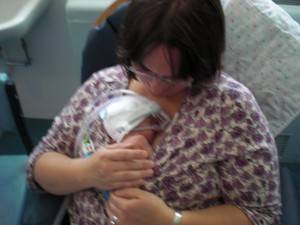 Sunday 17th November is World Prematurity Day. In a special guest post to mark the day, here's Kylie, who blogs over at Not Even a Bag of Sugar, and works for premature baby charity Bliss:
When I was pregnant, I didn't enjoy it. I didn't feel like "me" when I was pregnant. The first trimester, like for many women, was a haze of nausea and bone aching tiredness. The second trimester was weird, I felt like I was walking a tightrope. I was snappy, emotional and the bone aching tiredness got worse and worse. By 16 weeks I admitted defeat and went off work. I was sure there was something wrong.
I was looking forward to the third trimester in the hope that maybe that last home stretch would be better and I'd start feeling a bit human again. Only at 26+5 days I started feeling acutely worse. I had a headache that wouldn't go, I wanted to sleep and do nothing else, I felt incapable of doing anything. By the early hours of the 7th May 2009 I had decided I should get medical advice and at 3 in the morning my husband took me to the delivery suite.
At first all was calm, but they decided it would be a good idea to do some tests. My husband, bless him, decided I had pregnant lady flu and went to work. It didn't take long for the whole atmosphere to change. I was in deep trouble. I felt like rubbish because I was going into multiple organ failure and brewing for eclamptic shock. I had rapid early onset pre eclampsia. I was dying.
Then the shock news. There was nothing they could do, except get me stabilised, give me steroids for the babies lungs and deliver. They made plan to deliver my baby at 27 weeks gestation to the day. One of my favourite medical questions to ask is "what happens if we do nothing". The consultant looked at me, his entourage had tears and he said "you will die and so will your baby". Nothing prepares you for that.
When a baby is born prematurely your whole world is turned upside down. Every expectation you ever had of pregnancy and birth has vanished, the pregnancy books don't prepare you for it, no-one does. You feel like you are on your own.
I saw my baby for the first time when he was 8 hours old. Many women wait much longer. He looked like hairless rabbit. He was ventilated, his skin was transparent, he was in an incubator. My heart leapt out of my chest and lay beside him in that box, and there it stayed.
That saying "when you have a child your heart is forever outside your body" it felt like my heart was in that box with him.
One of the hardest things about having a premature baby is the inability to hold them. They are so vulnerable and delicate, you can't take them out for a cuddle. However, there is more and more clinical evidence that early handling, done in the correct way, has immense benefits for the baby.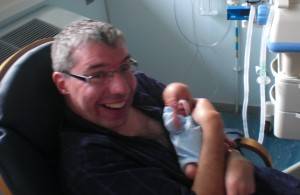 At Bliss (www.bliss.org.uk) we work with neonatal teams to help them develop sound family centred care practices through the provision of guidelines, study days, the latest research and support. We support families with information, our helpline and with volunteer peer supporters, family groups and champions. We are a small charity with a huge heart and big ambition, to ensure babies get these impossible hugs.
On World Prematurity Day this Sunday November 17 it's an opportunity to share about our babies, our thoughts, feelings, their achievements.
That tiny baby in a box is now 4 years old. He is at reception class, he loves playing on his DS, football and most of all, he loves hugs.
The theme of World Prematurity Day is hugs, and you can find out more information on World Prematurity Day on the Bliss website, Facebook page, Twitter feed @BlissCharity and the hashtag #giveahug. There's also a the story of a family's first hug with their child, and you can also check out this video from Bliss as well as an animation, Impossible Hugs.
Jennie from Edspire has written an incredibly moving piece about World Prematurity Day; Never, ever assume. You can read more of her posts around parenting premature twins as well as their first hugs, and some of the issues she's facing as they grow, in her post on when children born prematurely should start school.
Kylie will be holding a 24 hour social media marathon from Saturday midnight to Sunday midnight, and retweeting and sharing stories from all over the world. Read more over on her blog.
Kylie is mum to one little boy Joseph, now 4, who was born at 27 weeks gestation. After his premature birth Kylie started writing a blog called Not Even A Bag of Sugar, and working with charities and organisations here and abroad to raise awareness of premature birth and the importance of parental support. She now works for Bliss, the UK charity dedicated to special care babies and their families, to provide peer to peer support through recruiting and training volunteer