Planning your second pregnancy: How much time between?
New mum, Talkmum, Trying for a baby
|
15/05/2012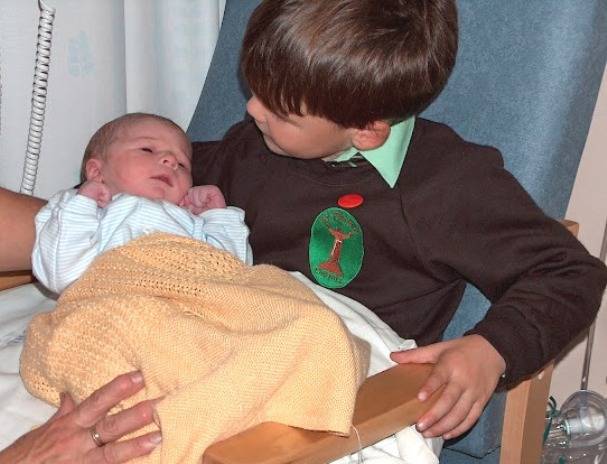 If you're planning your second pregnancy, one of the things you'll probably be thinking about is how much time you should leave it between baby number one and baby number two. TalkMum blogger Cath tells us what it was like having her sons more than four years apart.
My sons were born four years and two months apart. I know lots of parents plan the gaps between their children, however our reasoning was a lot more practical - we started to build a house when our eldest had just turned 2 and this took up quite a lot of our time!
My little helper
In reality, the age gap worked quite well. William started school just before Luke was born which meant that I could spend most of the day with Luke and then play with William after school. With William being older he was also a good little helper and would bring me nappies or whatever I needed for Luke. He was also great at entertaining Luke, chattering away to him and singing to him.
At the same time, Luke was happy just watching his older brother play. This made making tea so much easier as I could sit Luke in his chair at one end of the kitchen, whilst I was at the other, and he would be quite happy being entertained by William.
One-on-One
With William at school it meant I could attend the post natal group and also go to a new Mum exercise and a baby massage class. First time round it seemed to take such a long time to get organised enough to leave the house whereas when Luke was just two weeks old we were out of the house each morning at 8.30 for the school run.
Probably the best thing about the four year age gap has been that I have had lots of one-on-one time with my children. We do a lot together as a family but I feel very lucky to have spent such a lot of time with them as they have been growing up and it has created a special bond between us.
The downsides
Having mentioned some of the positives there have also been some disadvantages to the four year age difference.
By the time Luke started crawling, William's toys had started to have increasing numbers of small parts and we needed to make sure that nothing was left on the floor within Luke's reach. For example, William couldn't do jigsaws on the floor anymore as Luke would make a bee line for them and mess them up.
Luke seemed to grow up much faster than William, probably because he had a big brother to copy. And he soon tired of baby toys as there were many more interesting toys around that he wanted to play with.
So four years was quite a big gap when they were young and it is only now that they are six and ten that they are starting to play together properly.
There are no right or wrong age gaps between children, what is right for one family may not work for another. Circumstances obviously vary and whilst you may wish to have a baby at a certain time it doesn't always go to plan!
[Info will be outputted here..][Comments will be outputted here]