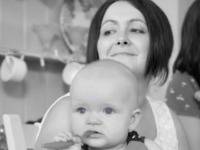 TalkMum blogger Becky from Munchies and Munchkins is suffering with depression and in this post, she talks about how it affects her family life, from day to day...
When I used to think about people with depression, I would imagine people who were sad all the time, people who were grieving or who had lost someone in their lives. I imagined them sat at home miserable, lonely and heavily medicated. If I thought of someone having a breakdown it obviously meant they were crazy. They would clearly need a stay on the mental ward. That happened only to people with huge issues. Major trauma. Life changing problems.
What I didn't imagine was a mum. A mum with two small children she adores, who has a partner who she loves and the best parents and siblings you could imagine. A mum who has a job, can pay her bills. Owns her own home. A mum who loves to cook and more importantly eat. Who could easily spend half her day deciding what to cook for dinner.
People don't often talk about the side effects of depression. We know that people are sad. We know they need support but do we know what is really happening for them? I suspect not.
Depression has stolen lots of parts of me. Parts that I want back. It's stolen my lust for life. My laid back nature. My belief that everything will be ok. It's stolen my appetite for food and in doing so has taken away from one of the happy parts of my life. It's also stolen a sizeable chunk of my stomach (that it can keep) - it's very strange when losing weight doesn't feel like a good thing anymore.
I know now that previously when I've been sad that I've just been sad. Food was always a comfort for me when I'd had a bad day. Now it doesn't appeal. I force it down. I still love to cook but the motivation to get up and do it has gone. Once I'm cooking I can feel almost normal again but the energy I need to get myself in the kitchen can drain me. And afterwards when I'm back to feeling like a stranger to myself I hate it even more.
Sleep is no longer something I enjoy. I wake in cold sweats or imagine dark things. Yet I am always tired, tired to the depth of my being. The kind of tiredness which feels like a really heavy coat of armour that you are wearing whilst swimming against an ever turning tide. When you know if you slept for a week, a month even that it wouldn't go.
Simple moments in the day such as smashing a glass or cutting my finger make me feel as if I have completely failed when they are really just every day occurrences.
I can't think of the words I want to say in conversation with family members or friends. I forget so much that I have started to keep lists around the house. Concentrating on a film is often too hard so I'll watch old TV shows such as One Tree Hill - things which are easy to watch and won't give me nightmares.
I avoid my old friends all too often and I shy away from new ones. I fear they can see this new me and not the normal me I want them to see. I see a kinder side to myself. I don't want anyone to feel the way I feel. If friends or family are unhappy I want to make it better for them because I don't want anyone to feel the pain that I do. I reach out to strangers online, send gifts to people I've never met. I go to food banks, am more charitable as if doing so will balance the world again. If I do good for others maybe one day I will start to feel good.
But isn't that selfish to do things for others to make myself feel better?
I feel guilty. All the time. Guilty for the pressure on my family. For the burden I've become.
I am on the depression diet. It's not enough.
• Thursday 5 February 2015 is Time to Talk Day, and the nation is being asked to take 5 minutes to have a conversation about mental health. If you need to speak to someone for advice about your mental health, or someone you know, call or email Mind.