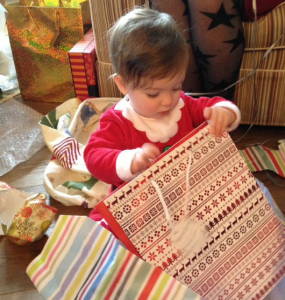 How much will you spend on your newborn this Christmas? According to a new survey, parents in the UK will splash out over £135 million buying presents for children under one this festive season.
How did you - or are you planning to - mark your baby's first Christmas? Are you buying lots and lots of gifts, or not much at all?
New research from The Post Office has found that babies under one will receive an average of £166 worth of presents to celebrate their first Christmas (which works out at around a whopping £135 million across the UK).
But over half of parents think it's unnecessary for others to splash out on their newborn, and thirty-two per cent of parents prefer to receive a contribution to a savings account in place of material gifts.
In addition to this, friends and family, when buying presents for other people's children, will spend around £50 on a baby's first Christmas.
For my daughter's first Christmas last year we were really reluctant to buy her much, as we knew she wouldn't really be aware and would also get lots of presents from all our family (she did), So we only bought her a a few token gifts - books, clothes and things she needed. And to be honest, she much preferred playing with the wrapping paper.
Here's the UK top ten presents for baby's first Christmas, according to the survey:
Teddy bear / soft toys
Interactive or educational baby games
Baby clothes and shoes
Christmas themed costumes
Child's nursery decorations or furniture
Slings, high-chairs, baby-walkers or baby chairs
Photo album of 'baby's first Christmas'
Contribution to a savings account
Luxury nappy bags, bottles, changing mats or other luxury day-to-day accessories
Jewellery, such as lockets or bracelets
If you're looking for some alternative suggestions, here's sixty ideas for gift alternatives to toys.
Did you buy lots of presents for the first Christmas, or none at all? Leave a comment and let us know.
Gillian blogs over at A Baby on Board about London life as a new mum, covering everything from baby clothes to breastfeeding. She lives with her one year old daughter Eliza and husband Alex in south London.