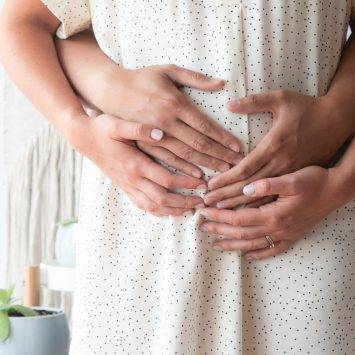 This year we celebrate 40 years since the first baby was born using IVF. But what is IVF it and how can it help you become pregnant?
You will probably have heard of IVF, and will most likely know people who have had it or children who have been conceived using the process. But what exactly is it, and how can it help you have a baby?
To start off, what is IVF?
In the UK. 3.5 million people – or 1 in 6 couples – are affected by fertility issues. In vitro fertilisation (IVF) is a medical technique used to help people with fertility problems have a baby. It is one of a range of fertility treatments that also include medicine and IUI (Intrauterine Insemination).
During the IVF process, an egg is removed from the woman's ovaries and fertilised with sperm in a laboratory. The fertilised egg, now called an embryo, is then returned to the woman's womb with the hope that it will grow.
IVF can be carried out using your own eggs and your partner's sperm, or eggs and sperm from donors, or a mixture of both.
They very first baby to be born through IVF was Louise Brown, who turned 40 this year, thus marking the 40th year anniversary of the treatment (you can read Louise's story here). It is estimated that as many as 8 million babies have been born since, including Louise's own sister, Natalie.
How likely am I to become pregnant after having IVF?
Despite being an increasingly successful treatment that has resulted in the births of millions of babies, and offered hope to people world-wide, it is not a given that you will fall pregnant. There are a number of different medical factors that depend on success. It is also more likely to work the younger you are. as the success rate ranges from 29% for women under 35, falling to 2% for women aged over 44.
Are there any side effects of having IVF?
IVF is a demanding process, both physically and emotionally as well as financially, at what's already a tricky time for people dealing with fertility issues. As well as a negative result, you can also be faced with a reaction to the drugs, emotional strain due to the hormones, and there is a higher risk of an ectopic pregnancy, and also of multiple births (twins or triplets).
Who can access IVF treatment on the NHS in the UK?
IVF is available on the NHS, but there are conditions, and it does depend where you live in the UK. There are many private IVF clinics where you can receive treatment, and people often chose to go to clinics abroad, as well as in the UK. Costs vary, but a single cycle can cost £5000 upwards, especially when medication and scans are taken into account.
In England, Wales, and Northern Ireland, access to NHS fertility treatment is determined by where a couple lives, or by their social circumstances – for example, whether one of the couple has a child from a previous relationship. The National Institute for Health and Care Excellence (NICE), the UK's chief health advisory body, recommends three full cycles of IVF as the treatment for infertility. This recommended treatment increases the chances of a successful pregnancy by up to 53%.
However, 98% of England's NHS services and all of Wales and Northern Ireland now ration out IVF treatment. By contrast, in Scotland, all eligible couples have access to the recommended fertility treatment of three full IVF cycles, including access for couples in which one person has a child from a previous relationship.
If Louise Brown's parents had wanted to try NHS IVF today, they would have been likely to have been turned down by the vast majority (83%) of England's clinical commissioning as although Mrs Brown was clinically infertile, Mr Brown had a child from a previous relationship.
The Scream for IVF campaign – fair access to IVF for all
In September, we reported on the Scream for IVF campaign, through which Fertility Network UK is calling for fair access to IVF for all. The campaign aims to help people like:
Hugh, 32 and from West Sussex, who had treatment for chronic myeloid leukaemia as a teenager that left him infertile. Despite having stored his sperm before treatment, he is being denied IVF because his partner has children with a previous partner.
Lauren, 32, from Yorkshire, could have only 1 cycle of IVF wheareas just 6 miles away in Hull patients can access 2 cycles. Lauren and her partner have been forced to pay for private treatment to pursue their dream of having a family. They have spent £10,500 so far and have not yet begun their second cycle. "There's nothing more heart breaking than wanting to become a mum and it being ripped away from you," she says.
Becky, 40 from Hertfordshire, has a rare medical condition affecting her Fallopian tubes that means her only chance of success is via IVF. She was denied NHS treatment because her partner has a child from a previous condition. She says: "We put our heads down and worked really hard to pay for treatment privately. Our twin daughters were born on St George's day, 2016 – our miracle babies. The whole IVF stigma is so wrong and all the rules that go with it are wrong, too."
Make sure you sign the Scream for IVF petition here.