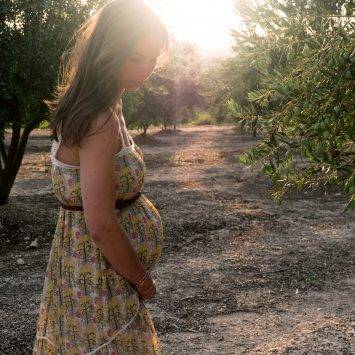 Want to know some simple ways to have a more eco-friendly pregnancy? Read on
Being more environmentally-friendly is become increasingly important to many people, and rightly so. And when you find out that you are pregnant, it will probably become even more important, as the choices you make will have a impact on your children.
While the idea of overhauling your whole life for an eco-friendly might seem overwhelming, taking small steps can help. So here are some simple suggestions about how to have an environmentally-friendly pregnancy and birth.
1. Use An Environmentally-Friendly Pregnancy Test
If you're trying to cut down on single-use plastic, then it will probably interest you to know that the world's first compostable, flushable pregnancy test has been developed. Made from the same natural plant fibres as toilet paper, the new design will dissolve in water or compost (it'll be available in the UK next year).
2. Invest In Better Maternity Clothes 
When you're shopping, look for clothes made in the UK, out of organic fabrics and recycled materials (try companies such as Frugi which has a maternity range, and also brands like People Tree, which makes sustainable and fair trade clothes - although there's no specific maternity range at the moment, you can always buy loose-fit dresses or bigger sizes).
Better still, buy second-hand – maternity clothes are only worn for such a short space of time that they will undoubtedly be in a good condition (and lots cheaper).
3. Take A Walk 
It's fine to exercise as normal during pregnancy - ask your midwife or doctor if you are unsure - so take this as a sign to leave the car at home and walk as much as you can. Walking is low impact, will help you sleep better and keeps you active during pregnancy.
4. Stay Hydrated 
It's important to drink lots of water during pregnancy, even if it does seem like you need the loo every two minutes. Instead of buying bottled water, invest in an environmentally-friendly reusable bottle to fill up when you're out and about.
5. Check Your Cleaning Products
It's important to avoid harsh chemicals during this time anyway, so it seems a good time to switch to more eco-friendly and natural products, for good.
Invest In Products For Your Baby
When it comes to shopping for your baby, it might seem like there is a lot of pressure to buy everything, but research and ask other parents about what they used to make a list of what you need. Look for hand-me-down products or buy things second hand, from bring-and-buy sales and specialist baby stores. Investing in reusable nappies means less waste goes to landfill, and you can even buy disposable wipes such as Cheeky Wipes.