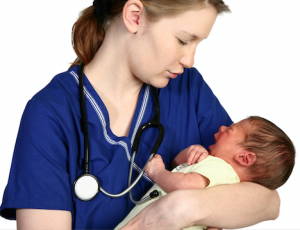 So how do you train to become a midwife, and is there still a demand for the job?
Programmes such as Call The Midwife, One Born Every Minute and BBC2's The Midwives have really sparked an interest in people wanting to retrain in the profession. Any for many others it's something they've always wanted to do. However there is still a national shortage of 2,300 midwives according to a recent report, so despite the renewed interest there is still a huge demand.
In our next instalment in Midwife Month, we ask our in-house midwife Summaya how you qualify to become a midwife, and the best - and worst - things about her job.
How Do You Qualify To Be A Midwife?



To qualify to become a midwife, you need to take an approved course in midwifery. This is a three year course for direct entry (that's if you have no nursing background). You can find out more on the NHS website.
What Qualifications Will I Need To Have To Take The Course?
You will need A-levels or equivalent qualifications - such as an access course - to commence a midwifery programme.
What if I'm Already A Registered Nurse?
You take the same midwifery course as everyone, but only for 18 months.
What About You, Have You Always Wanted To Be A Midwife?
No. As I was coming towards the completion of my A-Levels I was unsure whether to commence a vocation in medicine, as I have always wanted to help people and make a difference, however the length and cost of study didn't appeal to me and I did not want to do nursing, and was also considering osteopathy - confused I know.
So What Changed Your Mind?
Thankfully I was provided with an amazing opportunity to witness and participate in a homebirth and to this day it is the most beautiful, insightful, emotive birth I ever had the privileged to be a part of, and thus found my path to midwifery.
What's The Best Part Of Your Job?
The best part of my job is knowing that I have made a real difference to the lives of mothers their babies and their families, there is nothing like helping bring a baby into the world. It is a private moment and one of the most memorable times in a families life and to have assisted in that is a true honour.
And What's The Worst?
The worst aspect of my job has to be the politics that surround the vocation. A little too much to go into but to say the least we are overworked and underpaid.
Are you a midwife, or interested in becoming one? Leave a comment and let us know what most appeals to you about the job.
Thanks to Summaya! You can also read her previous blog post about healthy eating during pregnancy.