Today on TalkMum we're excited to welcome Charlotte, author of the lovely blog Write Like No One's Watching. This month on TalkMum is all about milestones and memories, and here Charlotte talks about how she feels as her little boy fast approaches a major moment, his first birthday: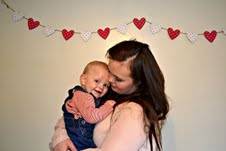 I'm just under a month away from the first birthday and, while I'm excited for that little boy I call Bill, I'm sad. I'm very sad actually.
There's a lot about the first year of my son's life that I regret. I didn't have a long maternity leave with him – in fact; it was just nine weeks in total. And to think that we are soon to be re-writing those months again, replacing his first experience with June with a new June, and new Julys, Augusts, Septembers... Well, that's hard. It signals, for me, that his babydom is over. He'll never be small enough to hold in one arm – at least not without my arm aching! He'll probably stop wanting to sleep, curled up on my chest, soon. He'll start needing me to be a different type of mummy.
It's harder to accept than I thought. When people coo at him and ask how old he is, I answer in weeks or months. But soon I'll have to gulp and say: "One. He's one."
I've settled in quite nicely into being the mother of a baby. He's still not yet walking. Though crawling is no easy thing to control, he still needs me, and I can still keep him close. What will I do with a toddler? What will I do with a little boy? How will I answer future questions about football, offside rules, girls. The first birthday marks the race to grow up. He'll be so eager to be a "big boy". So excited to start school. Reach double-figure birthdays.
While, I'll be there, on the sidelines, waving him off on his first day of school. Whooping, red-faced and cold, and cheering him on as he plays for Richmond Rovers, like his uncle and his dad, every Sunday morning. Clutching his father's hand tight and trying to stem the tears, as I watch, proud, as he graduates from university.
But hold on Mummy. He's not yet one. Your mind is running away with itself. But still, he has a lifetime ahead of him, and I so desperately want to be a part of it. I just hope he knows, as he learns and grows, how much I love him, and how bittersweet it has been to let him go. Year-by-year, he becomes much more his own, and much less mine.
But still, big or small, little or tall, he's still my baby. Whether he likes it or not!
The first birthday is such a big milestone and can be a very emotional time - how did you feel when your baby reached theirs?
Make sure you read Charlotte's blog, Write Like No One's Watching, about life as a working mum (and everything in between).