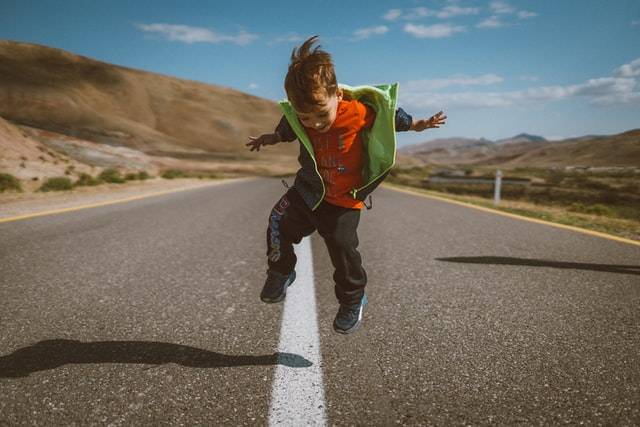 TalkMum blogger Eleanor from The Bristol Parent is currently on a road trip around Europe with her husband and toddler...
If you've got pre-school kids and are considering your holiday options, I thought I'd pass on some things that have really made a difference to us. We (me, my husband, our 27 month-old and our labrador) are currently half-way through a month-long adventure in France and Spain. The below is our route, and I'll be writing lots more on each part of the adventure soon, hoping to inspire folks to give the same a go – because it's been incredible so far!
Every single day has produced both extreme joy and eye-widening, teeth grinding challenges. But then, if you've got toddlers, you already knew that holidays are different now, right?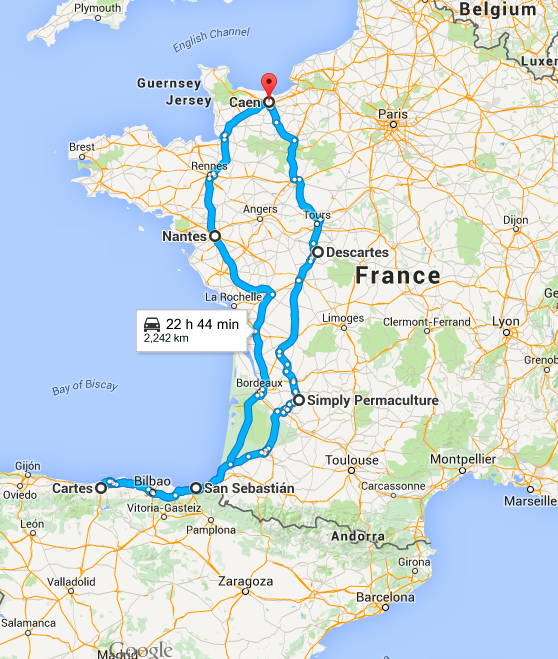 Here's my tips for a European Road Trip with toddlers...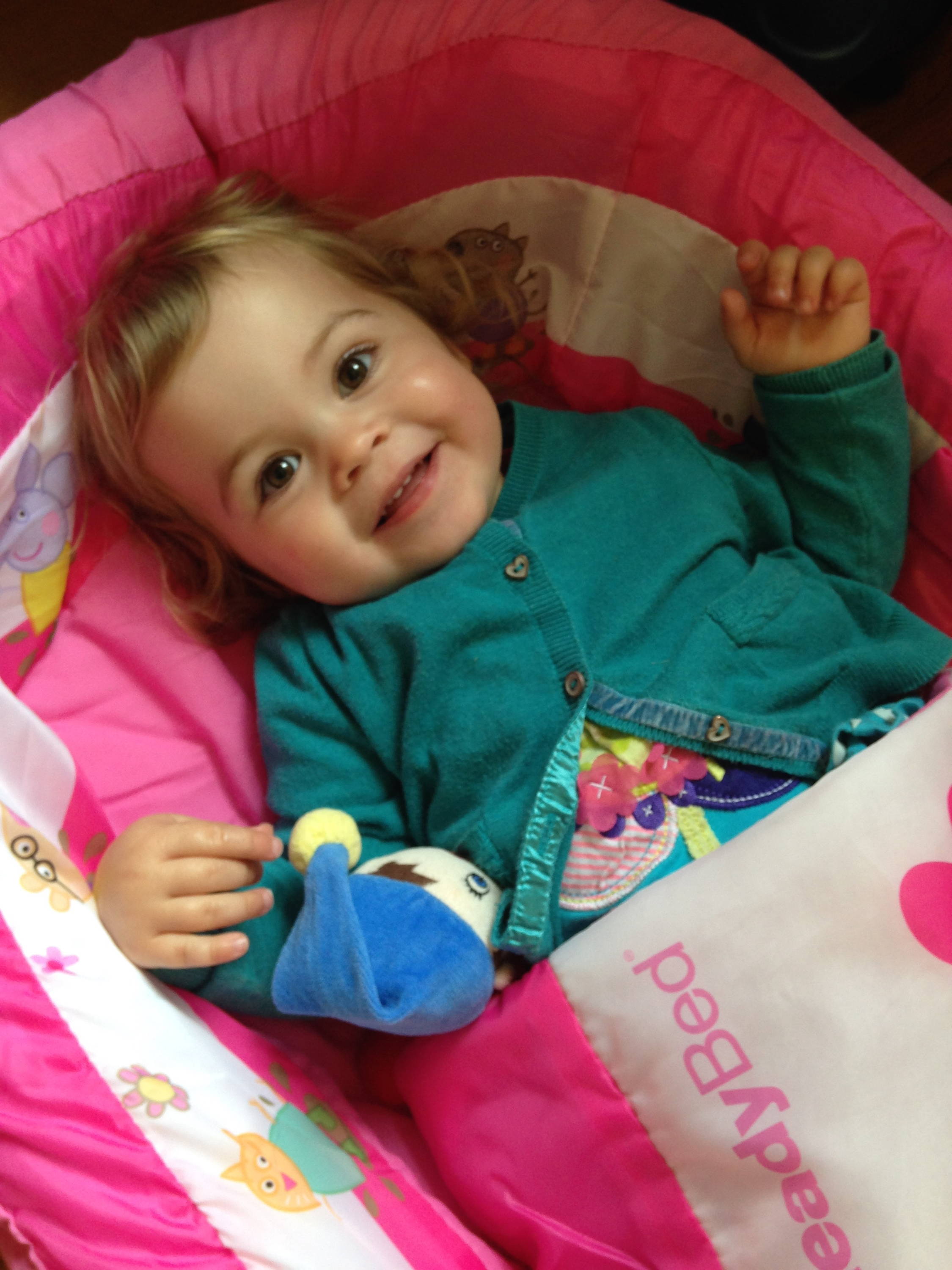 Get a ReadyBed
On this trip, we've slept everywhere from a safari tent in the Dordogne to an apartment high up on the bay of San Sebastian. Our night companions have included ants, scampering wild pigs, and, of course, mosquitoes by the squadron. Our daughter has slept like a log (we are amazed, this never usually happens) on her ReadyBed. Actually, one time, she slept face down on a wooden floor beside it, after some nocturnal shuffling. ReadyBeds are a wicked solution for a toddler who may be sleeping in a cot at home. They appeal to their developing sense of ownership, fold into a cardigan sized pouch and take three minutes to blow up. We've also used a travel net to stop the mozzies, and she hasn't had a single bite, unlike me! I'd try Argos if you're thinking of getting one.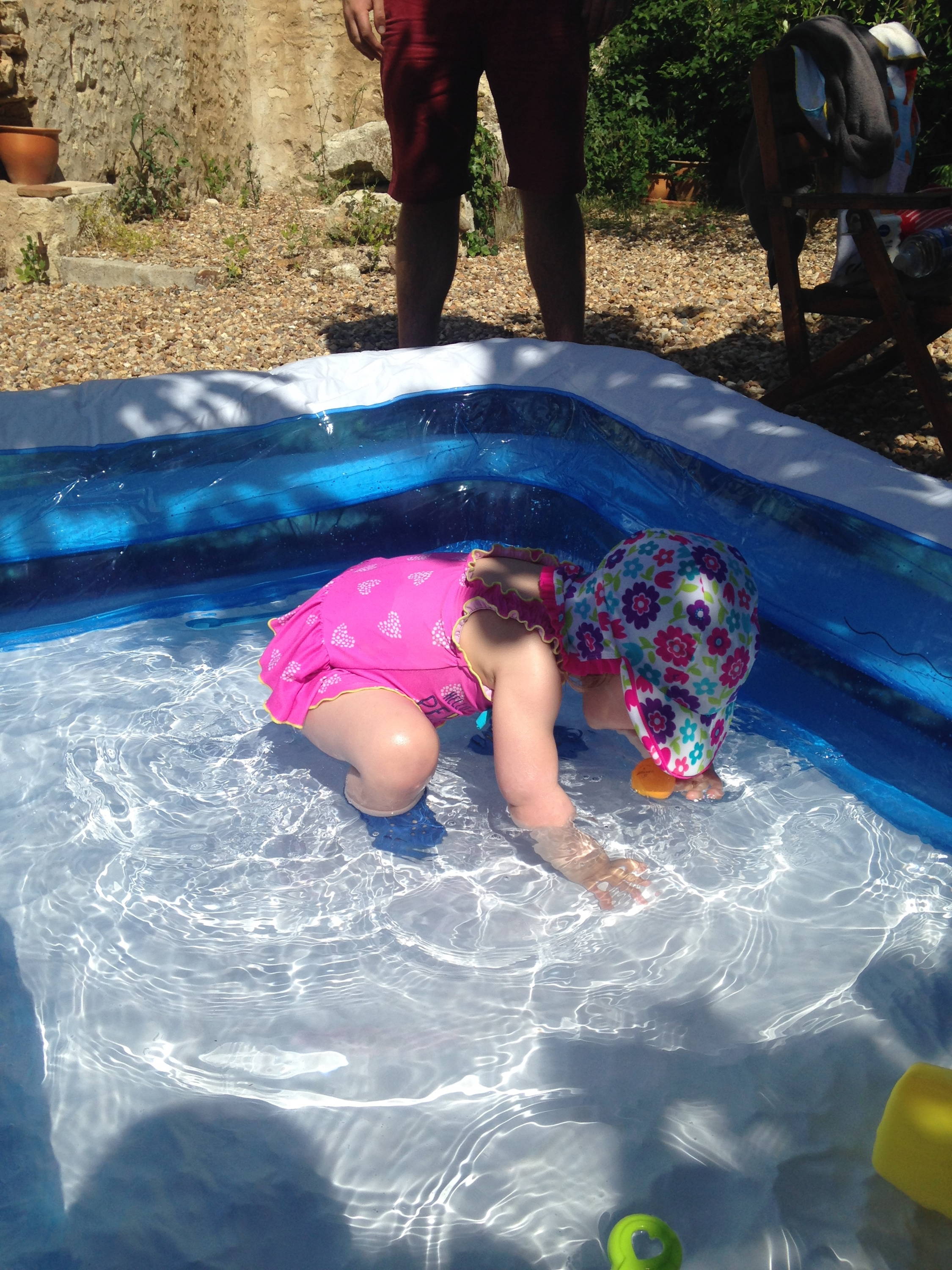 Take Your Own Paddling Pool
We also packed our own paddling pool. Again, this folds down to tiny, and is useful for two things. Firstly, if you don't have a pool but you want to create a splashy, cool afternoon without leaving your place, you can do it within minutes. Secondly, if you do have a pool but it turns out to be too cold, or not fenced off, and you need to distract your kid from it, then this works a treat. Best fiver spent.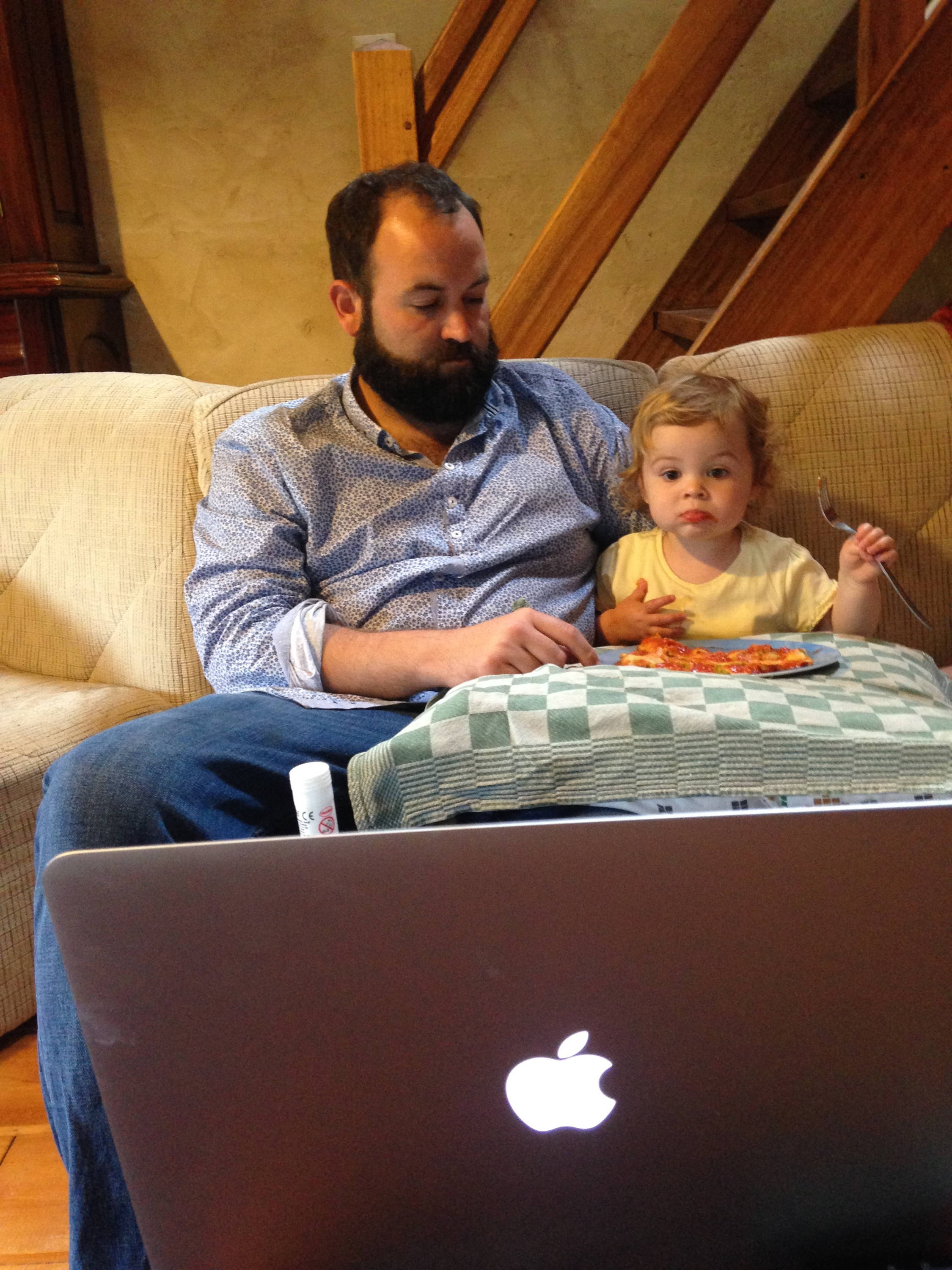 Get A VPN And Watch All The Home TV You Want
Toddlers are such creatures of routine, and, let's be honest, in those evenings where you might be sharing one dark room with your sleeping child, it's the home comforts like telly that you might miss too. We use Now TV at home to watch things like Game of Thrones (for me and him) and Nick Jnr (for Tibbs), and, after a quick Google search, I discovered that you can buy a VPN (Virtual Private Network) on a monthly basis, which is what enables you to stream UK TV, such as Netflix or iPlayer, whilst you're abroad. We're using Tunnelbear and it's awesome. If you have WiFi where you're staying, it's on like donkey kong. This has been our surprise travelling hit.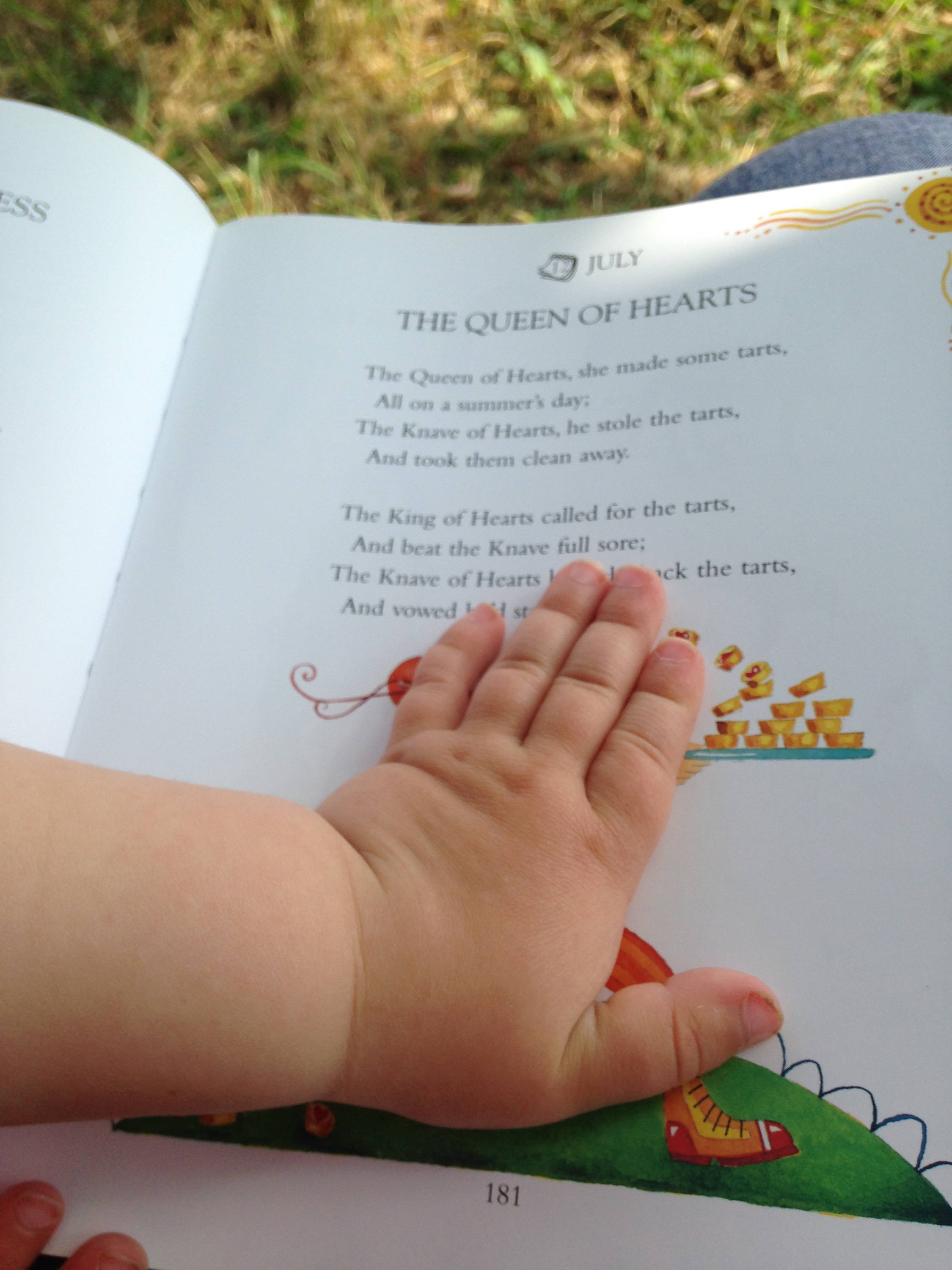 Take Some Holiday Reading
A big part of our routine at home, probably more so than the quick TV downtime, is reading in the mornings and at bedtime, so we brought along some books of course. My space saving tip here is that I bought a lot of compendiums of poems and nursery rhymes and picture books to make up my own stories. I have bought Bear Hunt and Gruffalo though, playing it safe in case we need that anchor memory of home to fend off a tantrum!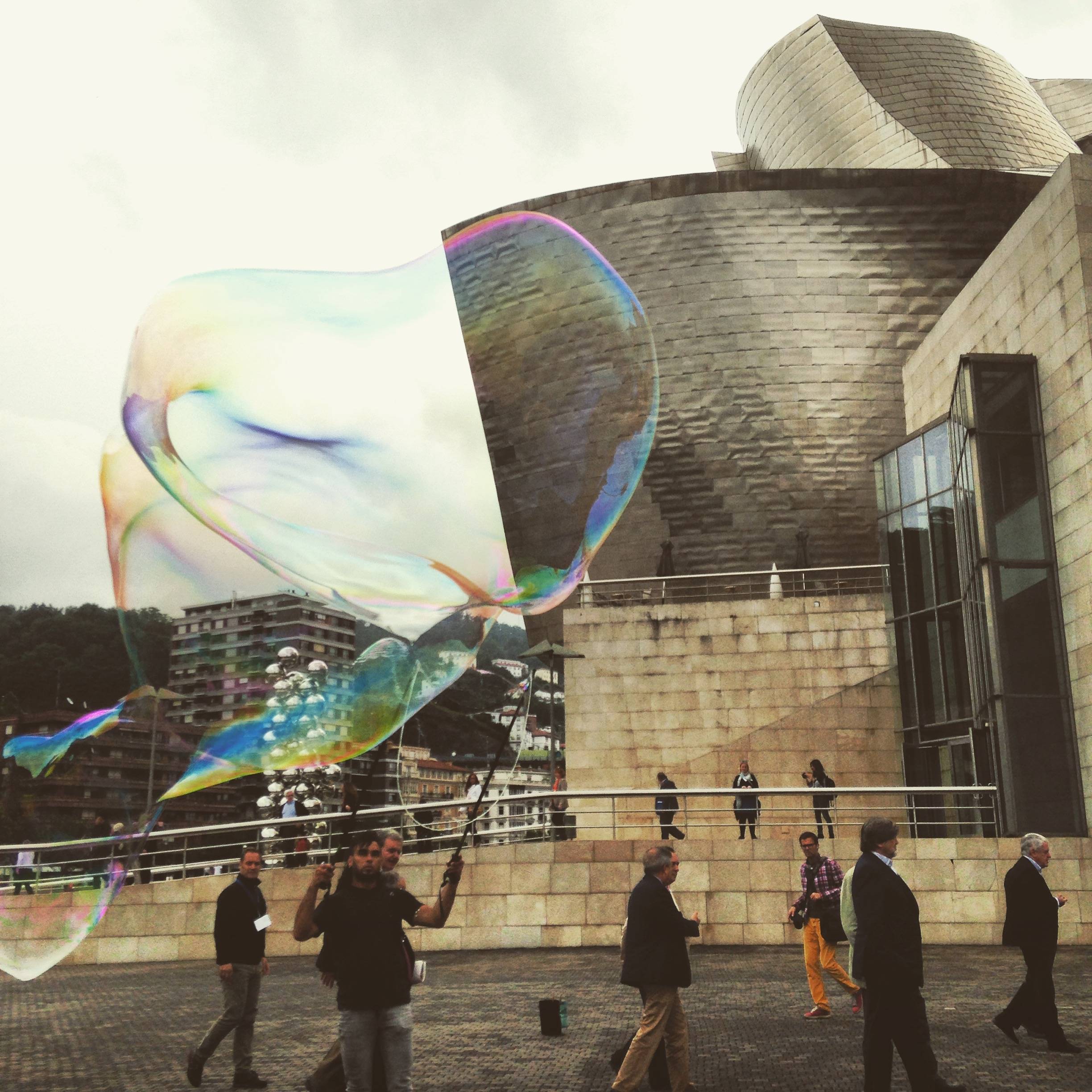 Don't Be Scared Of Cities
Travelling for a month has given me some real perspective on what is absolutely necessary for making my daughter's day perfect. In real life, we run around from activity to activity. Here, we revel in a slower pace and a simpler formula; the everyday is entertainment enough. For that reason, I can't recommend weaving a big city into your holiday with your kids. The above was taken outside the Gugenheim in Bilbao. What an astonishing city it is. So child-friendly, with the best inner-city playgrounds I have ever seen (just behind me when I was taking this shot is a massive playground, overlooking the museum and the river, flanked by a cafe). Playing in fountains. Running between cafe tables looking for leaves. Eating ice cream on a bench. It's all an adventure to her, so it becomes relaxation for us.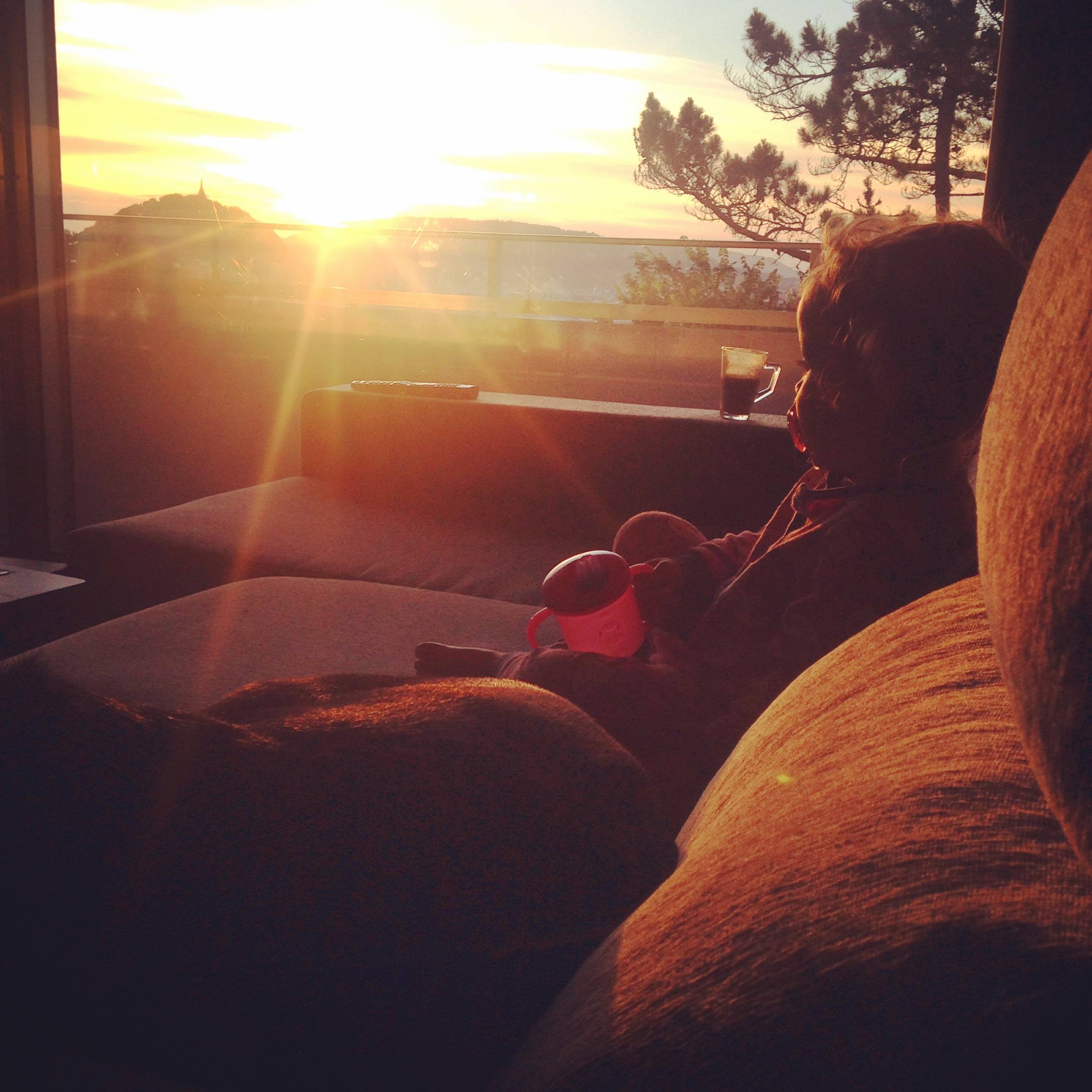 Memory-Bank The Perfect Bits
This trip hasn't been all plain sailing, we've all had our moments where it didn't feel like a holiday, such as the three days of solid rain in the mountains of Northern Spain, and our frustration when we realised that having the dog with us precluded us from all going on 99% of the beaches at once. However, there have been more than enough moments of absolute pleasure, including the above, where I got to see a breathtaking sunrise light up my girl's gorgeous face and warm my toes as I drank my coffee.
Holidays will never be the same again. And I'm presently very glad of it!
My last but vital tips:
Book a cabin if you're getting a ferry – even for daytime. You won't regret it
Planning – we haven't just planned our accommodation, we've also planned our journey break places too. By making a plan and sticking to it, we've limited the most likely arguments/stress points that we knew we'd have – the 'making a decision with a tired/hungry/bored kid row'!
Bring a travel stair gate just in case – sometimes, the pictures of your accommodation don't mention the mezzanine balcony bedroom with spiral stairs (trust me on this!)
Buy or borrow a roof box for your car if you're driving, they are so much better than travelling crammed in
Take your nail scissors – why do kid's nails grow so much quicker in the heat?
We've found that France and Spain in general lack two things mums rely on at home – high chairs and takeaway coffee. And you know what, it's not such a bad thing to have neither.
Read more about Eleanor's road trip on her blog and check out 5 tips for travelling with food allergies.