As a new parent one of the most difficult things to cope with is the lack of sleep. And when it's 4am and you're trying to soothe a crying baby, you'll often resort to anything that will help; rocking, the sound of the hoover, white noise, even driving round for hours in the car! Here's TalkMum Cath on one of the more traditional methods she found to be effective: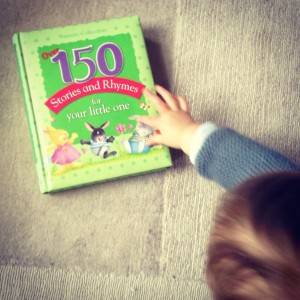 When my sons were tiny I used to sing nursery rhymes to them. Very quickly I discovered that Twinkle, Twinkle Little Star seemed to soothe them the quickest. I'm not the best singer in the world so maybe they quickly realised it was better to sleep than to have to put up with my singing! Nevertheless it worked and whenever I hear Twinkle, Twinkle Little Star I can't help but remember cradling a crying baby in the middle of the night.
One of the first - and best - presents we received was a beautiful book of nursery rhymes and when I was looking through it I was amazed at how many Nursery Rhymes there actually are. As well as the traditional ones that everyone knows like Baa Baa Black sheep and Humpty Dumpty there were many less common ones such as Anna Banana and Sally Go Round the Moon.
There are so many ways to enjoy nursery rhymes; babies love hearing your voice and it doesn't matter whether you can sing or not. As well as singing I also used to read nursery rhymes at bedtime instead of a story. As they got older we had CDs that we had in the car and would sing along to. The CDs are great because I found I had forgotten many of the tunes and the CDs reminded me how they went!
Our favourite nursery rhymes are
Twinkle Twinkle Little Star
Sing a Song of Sixpence
The Grand Old Duke of York
Incey Wincy Spider
Ring a Ring o' Roses
What are your tried-and-tested top tips for getting babies to sleep? Leave a comment and let us know!