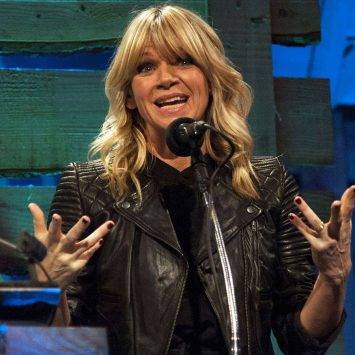 The menopause is coming out into the open, thanks to celebrities talking much more freely about their own experiences, revealed in a new study from Menopace.
Almost nine in 10 women believe it's now more acceptable to talk openly about 'the change of life' than it was in the past, say the results of a poll of 2,000 women who are going through, or have recently gone through the menopause.
Six in 10 women will happily talk to female friends about their experiences, while almost half share what they are going through with their partner.
Almost one in four would open up to their female boss if they were struggling with the menopause at work, while more than one in 20 would even be happy to confide in a male manager.
Famous faces encourage women to open up about their menopause experience
The study, undertaken of behalf of Menopace to coincide with World Menopause Day, found that while 81% put the new willingness to open up down to 'changing times', 31% think it's due to high-profile women talking about their own experience.
Stars including new Radio 2 Breakfast Show host Zoe Ball, 47, TV presenter Davina McCall, 50, and 49-year-old Loose Women star Andrea McLean have all spoken out about the menopause.
A spokesman for Menopace said: "A move to more open discussions about the menopause can only be positive. For generations, the menopause has been something many women have felt they could not easily discuss openly with colleagues, or even their partner.
"But thanks to female stars talking about what they are going through so openly, this has made it much easier for all women to talk to friends, their partner and even their boss about what they are going through.
"The menopause is natural and something which will happen to all women, so it's important to make it as easy as possible to talk about it in order for them to get the support that is available."
The menopause; why it's so important to speak out
Deborah Garlick, founder of website Henpicked, and co-author of Menopause: The Change for the Better, said: "This is not a women's issue, everyone needs to be able to talk about menopause and women need to feel comfortable asking for help if they need it.
"The easier and more normal we make it to talk about menopause, the better it is for everyone."
But still not everyone is at the point where they are happy to open up about the menopause with more than one in 10 saying they still wouldn't feel comfortable talking to their own partner.
Almost one in five wouldn't confide in a colleague and 17 per cent don't feel like they could share it with their children.
Worryingly, more than one in 10 even feel they couldn't talk to their doctor while one in five wouldn't want to tell their boss.
Forty-three per cent of those would keep quiet as they don't think their manager would understand and 27 per cent still worry what their boss would think.
Others worry it would affect their chances of promotion (12%).
Sadly, 21 per cent of women polled, via OnePoll, feel they don't have anyone at all they could talk to in complete comfort.
And 14 per cent admit their partner wasn't very supportive of them during the menopause.
Forty-one per cent also say friends, female relatives and colleagues who are yet to go through the menopause find it difficult to understand it.
But researchers found the support is important with 28 per cent of women feeling like the menopause affected their mental health, while another 34 per cent seeing their physical health decline.
And one in four turned to supplements to try and help them through the menopause.
Encouraging signs and the importance of understanding menopause facts
 Deborah Garlick added: "These are encouraging results but there is still a lot to do to help women (and men) talk about menopause with no stigma.
"But menopause IS becoming less of a taboo.
"Employers can play a huge part in this. Inspirational organisations like Network Rail and Severn Trent launched policies, awareness and education, seeing outstanding results, benefitting colleagues and the organisation.
"It helps at home too with colleagues feeling more confident to talk to partners, family, friends and their GP.
"And women have booked GP appointments to discuss issues they've been struggling with for a long time. Understanding the facts can dispel myths and poor, inaccurate perception of menopause.
To mark World Menopause Day, the British Menopause Society has also launched a brand new UK-wide menopause service where you can identify recognised menopause specialists in both the NHS and private clinics. You can search for specialists using the new tool on the BMS website.
Find more information about menopause on the British Menopause Society website