1st of May marks Folic Acid Awareness Day. Did you know that folic acid is important for all women of child-bearing age, not just those who are already pregnant? In a special guest post for TalkMum, here's Martine from the Go Folic! campaign which is supported by Vitabiotics, to explain why: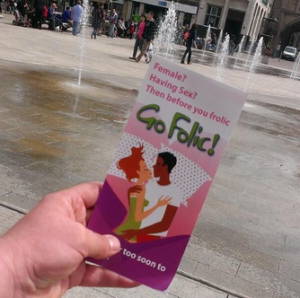 Every day at least two unborn babies in the UK develop a condition like spina bifida; that's about 800-1000 every year.
Go Folic! Is a national campaign started by the charity Shine (Spina bifida Hydrocephalus Information Networking Equality). Shine is Europe's largest organisation supporting those living with these lifelong disabilities.
Go Folic! calls on all women who might become pregnant to take folic acid each day, as recommended by the NHS, because it helps prevent birth defects such as spina bifida. The more people who come on board with our campaign, the more chance future babies have of being born healthy. The Go Folic! campaign is part of a wider Shine healthy pregnancy initiative, MayB-baby.

If you're having sex there is always a chance you could become pregnant even if you're not trying to! Doctors recommend that any woman who might get pregnant should take a daily vitamin tablet containing 400mcg of folic acid (vitamin B9). But why?
It's important to start taking folic acid before conception as it takes time to build up in your bloodstream. When taken correctly, folic acid can help to reduce the risk of Neural Tube Defects (NTDs) spina bifida and anencephaly by up to 72%. Folic acid is found naturally in green leafy vegetables, some fruits and fruit juices, and also in fortified cereals. But, it is impossible to get enough folic acid from your diet alone, so it's essential that all women planning a pregnancy and those women who could become pregnant eat a healthy well-balanced diet and also take 400 mcg folic acid daily. Recent studies also show that taking a daily supplement that contains vitamin B12 in addition to folic acid, with your main meal, may help to further reduce the risk of an NTD. B12 is particularly important for women who are vegetarian or vegan, or who have a diet low in animal based and dairy products.
Spina bifida occurs in the first 28 days of pregnancy, before many women are even aware that they're pregnant. This is the time when your baby's brain and spinal cord is forming. Folic acid helps the brain and spine to grow properly, so it is essential that supplements containing folic acid and vitamin B12 are taken prior to pregnancy and during the first 12 weeks of pregnancy.
Although most women need to take 400mcg daily, some women are at greater risk of having an affected pregnancy and will need to take a higher 5mg prescription dose. This includes women or their partners that have spina bifida or a family history of NTDs, women who have diabetes, women who are taking certain anti-epilepsy medications, those who have coeliac disease, and women who are very overweight, i.e. with a BMI of 30+. This dose is only available on prescription from your GP.
On 1st May 2013, Shine launched the first ever Folic Acid Awareness Day, which has now become a widely supported national event. This year, there will be many activities spread across England, Wales and Northern Ireland, in shopping centres, universities, colleges, hospitals and city centres. Show your support on Facebook and twitter and help spread the word by sharing your photo with the hashtag #FumbsUP4Folic.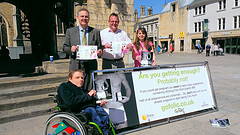 For more information on Go Folic!, go to gofolic.co.uk and for information about planning a healthy pregnancy see mayb-baby.org.uk.
If you would like to get involved with Go Folic! you can follow the campaign on Twitter at @GoFolicUK or follow the hashtag #folicacidawarenessday