Jointace Collagen
Jointace Collagen
Product Description
---
Nutritional tablets with collagen, glucosamine & chondroitin plus trace minerals and vitamins including vitamin C, which contributes to normal collagen formation for the normal function of bones and cartilage. More Info
Jointace Collagen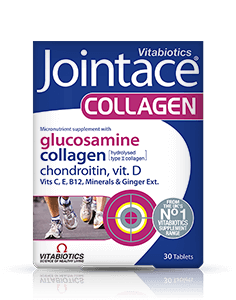 3 for 2
95 Reward Points
95 Reward Pts
---
Jointace Collagen Formula
---
Micronutrient supplement with collagen, glucosamine, chondroitin, vit D, minerals & ginger extract
Nutritional Information
Av. per 2 tablets
% EC NRV*
Collagen Type II Complex
300 mg
-
Glucosamine Sulphate KCl†
1000 mg
-
Chondroitin Sulphate†
100 mg
-
Vitamin D (as D3 800 IU)
20 µg
400
Vitamin E
40 mg α-TE
333
Vitamin C
60 mg
75
Folic Acid
400 µg
200
Vitamin B12
20 µg
800
Zinc
10 mg
100
Copper
1000 µg
100
Manganese
4 mg
200
Selenium
120 µg
218
Ginger Root Extract equivalent to:
80 mg
-

*NRV = Nutrient Reference Value,
µg = microgram mg = milligram, IU - International Units,
†USP - United States Pharmacopeia
Glucosamine Sulphate (from Crustacean) (as Potassium Chloride) USP† , Maltodextrin, Hydrolysed Type II Collagen, Bulking Agent: Microcrystalline Cellulose, Chondroitin Sulphate Sodium (from Fish) USP† , Vitamin C (Ascorbic Acid [Carrier: Hydroxypropylmethylcellulose & Tartaric Acid]), Tablet Coating (Hydroxypropylmethylcellulose, Polydextrose, Talc, Maltodextrin, Medium Chain Triglycerides, Natural Source Colours [Titanium Dioxide, Iron Oxides]), Anti-Caking Agents: Silicon Dioxide, Stearic Acid & Magnesium Stearate, Vitamin E (D-Alpha Tocopheryl Acid Succinate)(from Soya), Vitamin B12 (Cyanocobalamin [Carriers: Trisodium Citrate, Citric Acid, Maltodextrin]), Zinc Sulphate, Manganese Sulphate, Vitamin D3 (Cholecalciferol [Carriers: Acacia, Sucrose, Corn Starch, Medium Chain Triglycerides Antioxidant: DL-Alpha Tocopherol]), Ginger Root Extract, Copper Sulphate, Folic Acid (as Pteroylmonoglutamic Acid), Sodium Selenate. †USP = United States Pharmacopeia Allergy Advice: For allergens, see ingredients in bold.
Directions
TWO TABLETS PER DAY WITH YOUR MAIN MEAL. Swallow with water or a cold drink. Not to be chewed. Do not exceed the recommended intake.
Jointace Collagen contains glucosamine sourced from natural chitin. Diabetics and those taking anti-coagulants (blood thinners) should consult their doctor before using this product. This formula replaces other Jointace supplements. A regular intake is recommended. Jointace Collagen is recommended with a balanced diet, rich in fish oil.
No artificial colours
No preservatives
No lactose or yeast
Jointace is not tested on animals
Food Supplement
As with other food supplements, consult your doctor or pharmacist before using if you are under medical supervision, pregnant, breastfeeding, suffer from food allergies, or are allergic to any of the ingredients.
Allergy Advice: For allergens, see ingredients in bold. Made in a site that may handle nuts. Food supplements must not replace a varied and balanced diet and a healthy lifestyle.
Store below 25°C in a dry place, out of sight and reach of children.
Jointace Collagen FAQ
---
Why have Jointace Collagen tablets been developed?
Jointace Collagen tablets have been scientifically developed to help safeguard your diet with specific nutrients which help to support normal cartilage and bone health which are important for long term wellbeing and maintaining an active lifestyle.
Top
Can Jointace Collagen tablets be simultaneously used with medicines?
Jointace Collagen tablets are a food supplement and contain only moderate levels of vitamins and minerals. For specific advice on taking Jointace Collagen tablets with medicines, we recommend that you contact your doctor or pharmacist first. Diabetics and those using blood thinning medication (e.g. blood thinners) should consult their doctor before using this product.
Top
How many tablets does one pack of Jointace Collagen contain?
Jointace Collagen contains 30 tablets per pack. It is recommended to take 2 tablets per day.
Top
How and when should Jointace Collagen tablets be used?
Two tablets per day are recommended with or immediately after your main meal, with water or a cold drink, and not tea or coffee as this may cause the tablets to disintegrate too early. Jointace Collagen tablets should not be chewed. Taking the tablets with a large meal maximises the absorption of the nutrients and can reduce nausea, which is sometimes experienced if vitamin supplements are taken on an empty stomach.
Top
Are there any side effects whilst taking Jointace Collagen tablets?
Jointace Collagen tablets have no known side-effects when taken as directed. Do not exceed the recommended intake. In case of overdose, seek medical advice immediately. Jointace Collagen tablets may not be suitable for use by those allergic to fish or shellfish. Diabetics and those using blood thinning medication (blood thinners) should consult their doctor before using this product.
Top
Need help swallowing a tablet or capsule?
Difficulty in swallowing tablets is quite a common experience. Vitabiotics have researched this extensively and recommend after chewing some food (e.g. banana), just before you swallow, pop the tablet into your mouth and swallow it together with the chewed food, followed by some liquid. The throat opens up wider to swallow the chewed food and so the tablet should go down with greater ease. Alternatively, the tablets may be swallowed with thicker liquids such as yoghurts or smoothies.
Top
What are the active ingredients?
Please see nutritional information click here
Top
For how long should Jointace Collagen be used?
Results vary amongst individuals. There is no maximum length of time over which Jointace Collagen tablets may be used. A regular intake is recommended.
Top
Are Jointace Collagen tablets recommended with any other Vitabiotics' product(s)?
The benefits of Jointace Collagen tablets may be enhanced by use alongside other topical (external use) products in the Jointace range, such as Jointace Patch & Gel. Jointace Collagen is also ideal in combination with a calcium supplement, such as Vitabiotics Osteocare, and/or additional fish oil, such as Vitabiotics Ultra range.
Top
Why has Calcium not been included in the formula?
Calcium is an essential mineral as it is needed for the maintenance of normal bones. However, it has not been included in the Jointace Collagen formula as it is not possible to include the right amount in one or two tablets as well as the other ingredients in Jointace Collagen. Rather than including a token amount of Calcium, Jointace Collagen has been designed so that it can also be taken with Vitabiotics Osteocare tablets, chewable tablets or liquid.
Top
Some Nutrient Reference Value (NRV) levels are above 100%, is this safe?
Certain vitamins are very safe at levels tens or even hundreds of times the NRV, whereas for others the safety level is much closer to the NRV. For this reason every vitamin and mineral needs to considered on an individual basis in terms of its upper safe level.

The Nutrient Reference Value (NRV) is the amount of a vitamin or mineral which has been calculated to help prevent basic deficiency states in the general population. However, certain vitamins and minerals at optimal levels, above the NRV, have consistently been shown to have positive benefits in specific areas of health. This is why some Vitabiotics formulas have certain nutrient levels greater than 100% NRV.

All Vitabiotics products have been developed using the latest research and contain effective levels of vitamins and minerals, while avoiding any excessive amounts, in accordance with official upper safe limits for vitamins and minerals.

Vitabiotics avoids 'mega dose' levels of isolated nutrients and instead we have always stressed the importance of safe, moderate and sensible levels of vitamins and minerals, carefully balanced to maximise their combined effect; an approach which has been supported by many experts and researchers over the years.
Top
---
"Hello. I just wanted to let you know that your Jointace Gel is the best! I am so very thankful and impressed with it. Can't rate it high enough. Thank you"Mrs P Matthews , United Kingdom
"I discovered Jointace after a family recommendation and have been taking it regularly for two months. Thank you Vitabiotics for a brilliant product! I've been recommending it to all my friends."Mr A Bhatti , United Kingdom
"Having ran the Mad Dog 10k in Southport yesterday I found one of your Jointace Gel samples in my goodie bag. I tried it on my aching thighs and was pleasantly surprised at how fast it had an effect (10-15 mins) that with its amazing smell has prompted me to place an order today"Mr T Davidson , United Kingdom
"Been taking Jointace Max now for three months and there is a considerable improvement. Will definitely continue to use this product." M K. , United Kingdom
"I'm very addicted to the gym, especially jogging on the treadmill , despite the scientific claims that being overweight and running that might hurt the knees and joints of the runner. After months of jogging and running, almost 4-5 times a week, and due to my age, 38 years old, I felt my knees and joints are exhausted. I went to a doctor to check on my knees, and he prescribed Jointace Collagen tablet, after a couple of months of using Jointace Collagen tablets every day , I feel now my joints and knees are much stronger. Most importantly I still keep running with no worries. Thank you so much for this amazing product , I hope others get benefits from my experience. "Mr A A , Saudi Arabia
Jemiah Umolu is a true up and coming football star of the future! At just nine years old, he is already signed by Arsenal FC to play in their Under 12 team and is rated one of their best in his age group. Jemiah is a convert to Vitabiotics and this is his father's testimonial…
"Roughly eight weeks ago my son was registered injured by his football club, Arsenal FC. He was advised to have three to six months rest from all sport. Given he plays for a professional academy, he couldn't afford to take this amount of time off. A week later he started a course of Vitabiotics Jointace, Osteocare and Ultra Omega 3, and just three weeks later he was himself once again. He has and will remain taking Jointace and other Vitabiotics products to maintain healthy joints, teeth and bones as he is still growing." Mr J Umolu , United Kingdom
"All my family use jointace gel, including my 90 year old mother, this is a great product. Also find the website very easy to use and like the reward points."Mrs G Robins , United Kingdom
"Jointace patches are keeping me active. I live in the French alps and despite old knees, I'm 76, I still ski tour , cycle in the summer, and lead and active life. The patches work!! I order online and they are with me in 3 to 4 days."Mr T White , United Kingdom
"Dear Sirs, I'm really impressed with Jointace Collagen. I was diagnosed with Ehlers Danlos syndrome by a rheumatologist last year having suffered from severe pains and cramps in several quite hypermobile joints for a number of years. I started taking Jointace Collagen in March 2013 and many of the symptoms have reduced significantly. Very many thanks, Ben Hargreaves"Mr B HARGREAVES , United Kingdom
"I have been using Jointace Gel for years and it's brilliant. I recommend it to friends; It's a fantastic product - thank you."Mrs S Bellamy , United Kingdom
"For months I have been taking Wellman 50 and Jointace Sport and have no doubt that these supplements have helped improve my fitness. I used to have to take a day off after every game but now I'm playing flat out almost every day. Middlesex County over 50 squash team member, British Amateur (Jesters Trophy) over 45 runner up (2008 and 2009), and competitor at recent World Masters event in Cologne."Mr G Kerr , United Kingdom
"On my recent visit to the UK, I was introduced to Jointace for my knees. After a few days I could climb many castles while over there and will continue to use Jointace. I am Rock and Rolling again! Thank you Vitabiotics."Ms I Armstrong , Australia
"'Using Vitabiotics Jointace and Wellman Sport has helped keep my body and joints in perfect condition allowing me to become the first and only ever finisher of The High Ultra-marathon in India, a gruelling nonstop 222km race over the Himalayas at altitudes reaching 18000ft'
Mark Cockbain, one of the UK's most accomplished ultrarunners who has run over 150 marathons.
Mark will now be training for the Trans USA Race 2011, an epic 3,100 mile race from Los Angeles to New York in 71 days"Mr M Cockbain , United Kingdom
"I have always taken cod liver oil but 3 weeks ago i bought Jointace and within 2 weeks to my amazement, my knees felt great .I went running 4 times this week with no problems .I couldn't believe how well it worked. I took 2 tablets every day on till the first box was finished (30 tablets). I will continue to take this product also because my joints feel good even after all the exercise (football, boxing, running, cycling and weight lifting).I can't tell you how pleased and how happy i am with this product ,all i can say is THANK YOU!"Mr J B , Ireland
"I have been using Jointace Aromatic Massage Gel on both knees for over a year, and it has been great . Two weeks ago i felt my circulation was affected. I rubbed my feet, after my knees ... to my delight it felt good and I am now rubbing in a small amount of Aromatic Gel twice a day. The benefit has continued and I am delighted! "Mrs M C , United Kingdom
"Ive been taking Jointace capsules and Gel for over two weeks and my knees feel great. Ive been doing 8 mile walks with a sense of freedom in my knee joints. Bizarre! Do at least try it for a month; this stuff works."Mr S Upton , United Kingdom
"I think Jointace gel is a great product that works. Lovely smell and nice texture to rub in, not runny like other products. Hard to find in shops. Will buy in bulk now i have found website and also try some other products too!"Mrs S Gornall , United Kingdom
"I only found out about the product by chance after finding a leaflet in my GP'S waiting room and I went and ordered some, through my local chemist. I find the gel great and it really relaxes especially after having a warm bath. Its nice to have a good nights sleep and 75mls goes a long way. I would recommend it to anyone. Also a lot cheaper by buying online at www.vitabiotics.com"Mrs E Hurren , United Kingdom
"My son gave me a sachet of the Jointace Gel. Well, I have tried the Gel and have had great benefit. I am now going to purchase a tube of the Jointace Gel and use it regularly. An excellent product."Mrs R Rivieccio , United Kingdom
"Dear Professor Beckett, At the young age of 73 years, I recently ran the Great North Run, to raise much needed funds for the dental charity, Dentaid. Now retired, I am the present President of the Dental Practitioners Association. In our 'Goodie bag', was a sample of your gel, which I applied -more in hope than expectation! to my surprise (and pleasure) I had almost immediate benefit. Once home, I had to order the gel from Boots but twice daily application, coupled with exercise leaves me able to continue preparations for another race. You have my permission to use this letter in any promotion. Yours sincerely, B Lux. LDS.RCS"Mr B Lux , United Kingdom
"Having joined my husband in Newcastle for the Great North run,I discovered the sachet of gel in his bag. I decided to try the gel.I cannot believe how good I felt and how quickly it worked.I have stocked up and will be recommending to others. Thank you"Mrs J Taggart , United Kingdom
"Very impressed. I have tried other products but nothing gave noticable results quick enough so i gave up. However a combination of Fizz and Omega 3 capsules have made a huge difference(after 1 month). Highly recommended."Mr P Tozer , United Kingdom
"Jointace Gel has proved very efficient for my husband and myself. We saw it recommended in a newspaper and it has lived up to expectation."Mrs M Frame , United Kingdom
"I already take Jointace Fizz but have been unable to get the gel anywhere. I have had had two knee operations in the last year and find that Jointace is helping whereby other products have failed."Mrs J Andrew , United Kingdom
"Ran 32 miles on my bad knees (strapped up) at the weekend in the UK Peak District. Had difficulty kicking earlier in the week in my martial arts classes. Took some last night , woke up after only 4.5 hrs of sleep and they feel GREAT !!!!Wow - I am amazed (and no, I don't get commission !). Was getting down thinking at 31, my fell running and high kicking days were over and it got me down. I'm buying this regularly from now on (hey Vitabiotics - I'll be happy to praise this in public as it's cheered me up no end)."Mr S Ali , United Kingdom
"Fantastic results. Have been taking Jointace Fizz for the last 10 days."Mr M Georgiades , United Kingdom