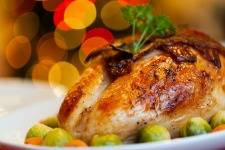 TalkMum blogger Laura from Chez Mummy on the reality of living far away from your family at this time of year...
Christmas is now only a couple of days away. Families prepare to gather together, celebrate, eat turkey and exchange hugs, kisses, gifts and guffaws. Heck, Chris Rea is probably driving home for it as I type.
But what if you can't all be together for Christmas?
What if there are hundreds, thousands, or even hundreds of thousands of miles separating you from your relatives?
I live more than 150 miles away from the rest of my family. I didn't mean to live so far from them, it's just how life worked out.
It's not a major distance, but it is far enough that it can make a difference.
While I try to ensure that my children have a bond with my side of the family – thank goodness for technology like Skype - this gap is never felt as acutely as it is at Christmas.
My husband and I used to alternate our Christmases between families, spending one year with mine and the next with his. But we haven't spent a Christmas with my family since before my eldest was born.
That's more than five years ago.
Having children is a game-changer: travelling at Christmas can be a nightmare at the best of times, but the logistics involved when you add children to the mix can make it near-impossible.
Young children plus a car overloaded with luggage and presents (half of them secret – Santa needed a favour in getting them moved), plus inevitable motorway traffic jams which make your journey at least twice as long as it should be, plus at least one child shouting desperately for the toilet, plus 67 cries of "I'm bored", plus temper tantrums, plus a gazillion squabbles, plus a continuous chorus of "Are we nearly there yet?"…
It's pretty stressful. And definitely not fun.
Add to this the fact that my husband is part of an industry which expects him to work weekends and either Christmas Day or Boxing Day as well as New Year.
And then there's also my husband's side of the family; the relatives we live close to who want to see us all at Christmas too.
It can be a struggle.
If you live a distance away from your close relatives, how do you celebrate Christmas?
For us it normally involves a quick day trip either just before or after the New Year. The downside to this is that I often don't have time to see any other relatives other than my parents and possibly my grandparents.
Thankfully, my husband managed to negotiate his work schedule so that we could do something different this year. Although yet again we're unable to travel far from home due to work commitments, we have just spent the past weekend with my family enjoying an 'early Christmas Day' together.
For the first time in years I was surrounded by my relatives, unwrapping presents; sharing cards, laughter and hugs; eating chocolate and turkey (although not at the same time); watching festive films… it was glorious.
Like I say, long-distance Christmases can be hard. If you're in the same boat as me, how do you manage your festive celebrations?