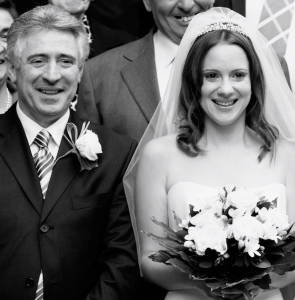 It's Father's Day on Sunday 15th June. To celebrate, we've asked our TalkMum bloggers to share some of their favourite fatherhood memories and photos with us:
Fran, The Parent Social - From when I was born until I was 12, my dad was a manager of a very successful West End restaurant. He worked long, unsociable hours; he was that very traditional 'provider.' He worked hard so that my brother and I could have what we needed, and more besides. It meant I rarely saw him. He got home in the early hours and was still in bed - to just say goodbye to - when I left for school. Our Sunday's (his day off) were sacred. We'd always do something as a family - going out for nice meals and going to St James' Park in London for a wander and to feed the birds are things that particularly stick in my mind.
It's safe to say that despite his unquestioned love for us, my dad had very little hands on experience of bringing us up or looking after us - he'd be the first to admit that my mum did practically all of it on her own. This is why it's so amazing to see what a major part he plays in his grandaughters' lives. There's no doubt that my mum would have been a doting and fantastic granny to my children, but sadly that was never to be. She always made my dad promise that if anything ever happened to her, he'd do everything he could for my brother and I. He's stayed true to his word and has done a fantastic job. Just one example is that, despite still working part-time, he helps me out with the morning school run every day. My mum would have been proud.
He has taken on his role as nonno (Italian for grandad) with gusto. He does so much for us all; the girls love him to bits and my husband is a massive fan! You can also read Fran's post celebrating her Mum on what would have been her 60th birthday.
Fozia, Muslim Mummy - 'It is a wise father that knows his own child' William Shakespeare.
One thing that was great about our recent holiday was the fact that the girls had their father for a whole week. They loved it as he wasn't always working.
It is so important for dads to spend time with their children. Blink and they will be grown up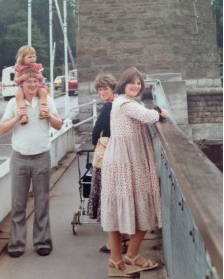 Eleanor, The Bristol Parent - This picture was taken in June 1978, maybe even on Father's Day itself, on the suspension bridge. On the right is my lovely Mum, heavily pregnant with my sister who arrived a few days later. On the left is my fabulous dad, with me on his shoulders.
Everything's just as it should be. Mum's incredible maternity fashion, complete with wedges I couldn't have worn past month four of pregnancy. Dad's flared slacks and his short sleeved shirts (Not sure he actually owns a long sleeved one to this day). And me, riding on his shoulders. He looks a lot like me, and I look a lot like my daughter. Weird.
I've chosen this for Father's Day as my dad is even more outnumbered by women these days. My folks are divorced and he has a wonderful partner of 20+ years, and two new granddaughters. So it seemed right to show him, at the start of a family life, right here in Bristol where they lived happily and brought my sister into the world.
Bristol has happy memories for both my parents and they are so excited that I've moved here. Dad's even been to visit (this happened once in 13 years in London). I love hearing his stories about living in Brecon Rd (up in Henleaze) and Mum's tales of being a new parent here. She was one of the first ever women to do an NCT course, and had to go to Bath to do it! They both tell me of how much things have changed, the harbourside, the house prices, the pubs. And the things that haven't – that making friends in Bristol is a pleasure, that the green spaces and the easy-going lifestyle makes you happy.
I think my dad is permanently in awe of his granddaughters, and I've done my best to make him and mum proud of me. Ahead of Father's Day, where I hopefully get to thank Dad in person, I just wanted to give a small tribute to my parents, the original Bristol parents themselves.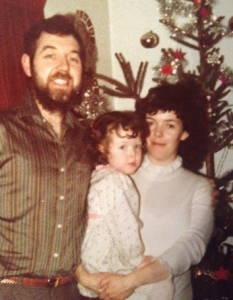 Chloe, Knittenden - I found this picture while I was up at my mum's recently. I love it because I love all things depicting early '80s fashion.
Also, I love how it shows that Samuel's grumpy face is just like my grumpy face. We're both rather well-practiced in that regard.
But what I love most about this photo is how happy my dad looks. Happy with his family and resplendent in his beardy, shiny-shirted glory.
Read the rest of Chloe's post, Grumpy faces and love bubbles.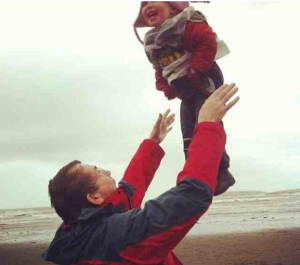 Rachel, The Little Pip - My sister took this photo of my Dad and Pip - when I saw it I was reminded of the photos of my Dad and me, and my Dad and my sisters in this exact same position.
I love seeing my Dad with Pip - he has patience were mine is often running thin and the two of them spend hours digging in the garden, or assembling things.
She adores helping him and he seems to adore the assistance.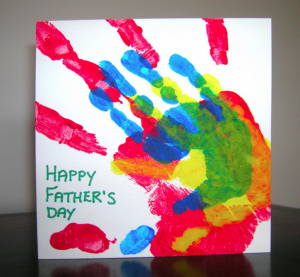 Laura, Chez Mummy - There are so many things that I cherish about my father from my childhood and that always put a smile on my face. That's one of the things my dad does so well.
Like when he would take us to the beach and bury his beloved children in the sand (up to our waists obviously). Or all the times we would go bike riding, just the two of us. Or when I melted one of my beloved Doc Martens on his motorbike by accident. It wasn't funny at the time, but I can smile about it now.
Fathers may not always get the recognition they deserve - I find that my children instinctively turn to me for help and support most of the time - but I wouldn't be without mine. And I know my children wouldn't be without theirs. Read Laura's post on special dad moments.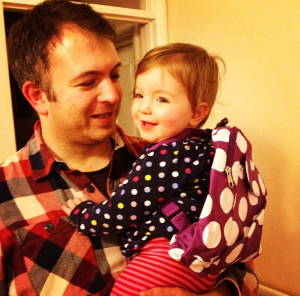 Gill, A Baby on Board - One of my favourite moments of the day is when my husband, Alex comes home from work. Not just because I'm pleased to see him - or that I'm relieved that we get to share parenting duties - but because of my daughter's reaction. Eliza and I stand in the window to watch him walk down the street, and as soon as she spots him she shouts his name, jumps up and down then runs to the front door to greet him. It's pure, undiluted joy every day.
I was always a daddy's girl, and I love that she is too. Having a baby changes so much about your relationship, but one of the best parts is getting to see your partner grow as a parent. I chose this photo of the two of them just because they both look so happy, and it doesn't get much better than that really.
Happy Father's Day to all our dads, and readers, and fathers everywhere.