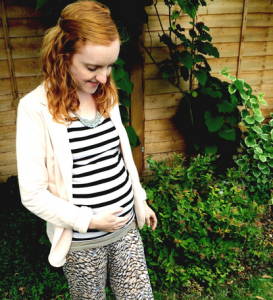 Now at 33 weeks with her second pregnancy, here's Gill's latest update:
So I'm 33 weeks and I know it 's a big cliche to say this, but time seems to be flying by. There's just over six weeks left to my due date now. I had a minor wobble last week so we've now started to get things ready (well, my mum is coming up to help and wash all the baby clothes - which is a start, isn't it?)
My toddler daughter is very excited at the moment, and keeps having chats with my bump where she tells the baby to come out soon they can play together. I'm not sure she's quite aware of the impact it's going to have on her life - or how happy she'll be about sharing me - but it's very, very cute.
I guess I'll have to think about things like writing a birth plan and getting a hospital bag together soon. Does anyone have any good tips?
One of the things I'm less concerned about this time round is what to wear during labour. Having agonised over this first time round, I actually gave birth in the top I wore to hospital, as it ended up being so quick once everything got started (you can read the story of my planned induction birth storyhere). I was speaking to a group of mum friends this week, and almost everyone admitted to wearing nothing at some point and not caring at all. Which I imagine will be the case this time round!
At the moment I'm still feeling fine, although I feel much bigger than last time round. So it was a surprise at my latest midwife check-up this week to be told the baby is actually measuring lots under, and I'll need to have another growth scan. I have a thyroid condition which means I need growth scans anyway, and at the last scan two weeks ago I was told the baby was spot on with measurements. So I'm not too worried, although I can't help but be slightly anxious as it's all been going so well so far. But I guess it's better to be on the safe side.
Did you need additional growth scans during pregnancy?
Read Gill's previous update about the third trimester, and you can also read her blog over at A Baby on Board.