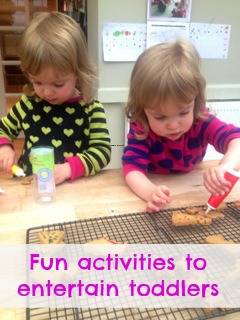 Looking for some original, different and fun ways to entertain your toddler, especially during the holidays? Here's Fran from The Parent Social with a guide to toddler-focused activities...both at home and out of the house
I always did a wide range of activities with my eldest daughter from rainy day arts and crafts to cooking and nature trails and I've continued this with my twins, who are two-and-a-half years old. I've found that they (and I for that matter) need a focus for each day, even if it's just painting or making collages.
At home activities
I recently discovered that big Sainsbury's stores stock loads of really affordable arts and crafts items and sets. Stickers, sticky shapes for collages, paintbrushes, foam paint brushes and fancy pipe cleaners are all perfect for toddlers. You can also pick up a pack of 500 sheets of A4 printer paper for a very modest £2.50. Just supplement with odds and ends of ribbons, foil, lolly sticks, corks (though obviously we never have those knocking about)… and you've got a great art box.
A few ideas that have proved popular:
Pasta pictures – This is great for young toddlers, but much older children also really enjoy making pasta art. All that's required is PVA glue, a variety of pasta shapes, paper and imagination. We create landscapes and faces
The cardboard box – it's not a myth: kids really do love cardboard boxes. They're great for developing imagination. The twins immediately jumped inside the box that I gave them. One insisted it was a pirate ship, the other that it was a rocket. I attached a paper plate with a paper fastener to make a steering wheel; it then became a car. They were made up. Not only did they love playing in it, they also spent ages decorating it
Baking – Our two fallback baking activities are biscuits and fairy cakes
I prefer baking biscuits because as well as being able to cream, mix and knead they are able to use cookie cutters independently (whereas it can be a bit laborious having two-year-olds trying to help dollop runny cake mixture into small cake cases). I've found the easiest ever recipe for biscuits on Netmums. It consists of three ingredients and works every time. After they've cooled we use squeezy tubes of coloured icing to decorate them. Again this is easier than creamy icing for cakes as it's a lot less messy and they have much more control.
I find making fairy cakes is an activity better suited to my five-year-old. This is the recipe we use: fairy cakes. Again it never fails.
Out of house activities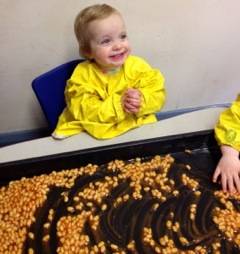 I'm a massive fan of Sure Start centres. Not only are they great for children (and adults) to socialise at, but also they often have really creative sensory activities.
Here are some of the ones we've enjoyed at our local centre:
Cold baked beans in a massive tray - Squelching their fingers in the sticky mess. Toddlers love it and are fascinated by the sensation.
Cloud Dough (sometimes called moon dough) - Made of flour and baby oil. Has a great texture, which again the kids absolutely love. Additional bonus being that your hands will be silky smooth.
Flat perspex shapes submerged in jelly – very messy, very fun, (who isn't amused by wobbly jelly?) and can be eaten!
Cornflour, water and food colouring - This makes a wonderful gloopy mixture in a tray. It feels like plastic when you run your fingers through it. Some farmyard animals were put inside and a minty flavour was added for extra interest. The girls were a little unsure about the texture to begin with but then loved it and played for ages.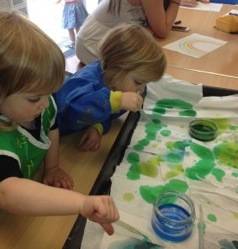 Hay bales – Great for imaginative play, but also great for physical play. My girls loved ripping it apart and jumping on it as well as using it creatively with toy animals.
Food colouring on paper towels – A really simple idea, but literally had them engrossed for a good 45 minutes. The centre had set up a number of beakers filled up with water and different colours of food colouring alongside pipettes. The children simply used the pipettes to suck up some of the coloured liquid and squirt it onto the towel. It blotted and made great patterns. They were fascinated.
Outdoor activities
There are so many individual outdoor activities I could talk about, so I'll just focus on the National Trust. We've been members for a number of years and this has proved money very well spent, so much so, I wrote about it on my own blog.
With membership, we just jump in the car and go without worrying about admission prices or parking tariffs. There are almost always craft activities to do indoors and there are usually family tours of the houses with dressing up etc, but aside from that it's all about being outdoors, spotting things, doing nature trails, running, jumping, picnicking…
Check out their 50 things to do before you're 11¾ for more inspiration.
Fran is a graduate, wife, mother of three girls and former PR manager for a global financial website. She blogs about all things parenting on her site The Parent Social but also blogs about some of her other favourite subjects, which range from food, wine and dining to Italy, investing and football.