Looking for arts and crafts ideas for kids? We have ten projects that use household items you are likely to already have lying around the house. Let's get raiding the recycle box!
From paper craft ideas, to ideas for using up leftover toilet roll tubes, to crafts for toddlers, these craft projects will take and transform all the recyclable materials you have at home, and keep your kids busy and occupied for hours, too.
Here Are Ten Quick and Easy Arts and Crafts Ideas for Kids Using Household Items
1. Plastic Container Planters
Supermakeit is a brilliant Instagram account that's full of ideas for easy crafting projects made using recycled materials. We like these plastic bottle planters, taking everyday items such as milk bottles and bathroom cleaner containers, and turning them into something much more fun.
2. Recycled Paper Craft for Fans of Colouring
If you have old work printouts waiting to be recycled, re-use them to print colouring sheets for your toddlers and little ones.
Googling most subjects + 'colouring sheet' will bring up designs featuring popular characters or fun patterns, which you can them print off on the plain side of old paper for them to colour to their heart's content.
Turn something boring into something beautiful!
3. Pom Pom Crafts Using Leftover Wool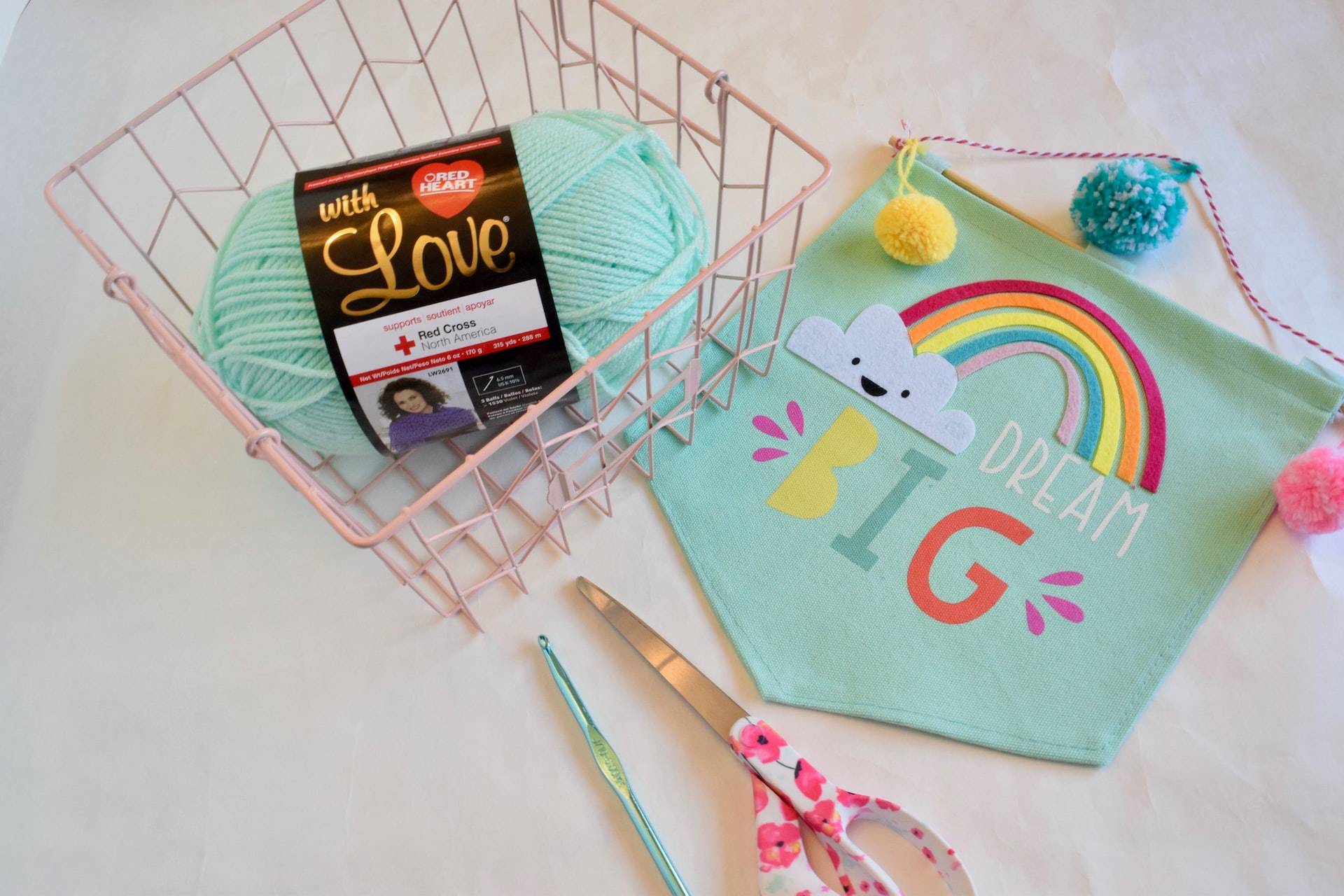 Want to make pom poms with your kids? All you need is old cardboard and any spare or leftover pieces of wool you might have lying around the house.
Watch this video to find out how. As this technique involves sharp scissors, you'll need to work with your child depending on their age.
4. Make A Cardboard Box Camera
Do you have an old mobile phone box lying around? Use it to make a fun toy camera for your child. You can also add other recycled objects such as a ketchup bottle lid 'lens cap.'. Read this guide to a cardboard box camera over on A Baby On Board.
5. Make Elmer the Elephant with This Fun Milk Bottle Craft
If your children are fans of colourful patchwork character Elmer, use a plastic milk bottle and leftover scraps of paper to make this cheerful craft on The Imagination Tree.
6. Nature-Themed Pinecone Crafts
Do you have a collection of pinecones picked up on your walks? Baker Ross has lots of kids craft project ideas for transforming them into something fun, including this pine cone pineapple.
7. Make a Pair of Binoculars
Want to entertain your child and use up all the spare cardboard tubes you have lying around the house? Craft these loo roll binoculars for your animal and adventure-loving toddler. For hygiene reasons you may want to use paper tubes from kitchen roll instead.
8. Make Japanese Fish Kites
Craft blogger Emma Scott-Lee is behind the Ladyland Craft Club over on Instagram, with regular art and craft ideas for kids. We love these Koinobori fish kites using leftover toilet roll tubes and tissue paper.
9. Make a Recycled Robot
All toddlers love robots, and with this fun craft you can make your very own robot and use up lots of odds and ends from the recycling box at the same time. Read this post on Day Out With The Kids to see how they did it.
10. Craft A Cardboard Play House
There are lots of fun ideas over on the Recycle And Play account. We like this cardboard play house, featuring old magazine cut outs.
Once you have read our post on arts and crafts for kids using household items: