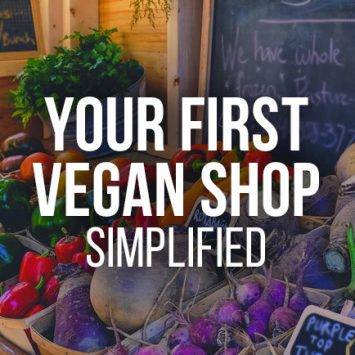 Going vegan is a great way to ensure you're eating healthier, not to mention supporting the environment and animals too. If you're switching to a vegan diet, it can be a little daunting to figure out exactly what you can and can't eat, and how to introduce these new foods into your diet.
We've put together some great ideas for easy vegan foods and cupboard staples, and have top tips from vegan bloggers about what to put on your vegan shopping list for beginners. Take a look at these below!
What is vegan food
A vegan diet is one that contains no animal products whatsoever. This includes non-meat items such as butter, cheese, honey and milk. Vegan diets are commonly made up of fruits, vegetables, grains, beans, and meat substitutes, amongst others.
Although you may think that a vegan diet sounds limited, they are generally colourful, varied and most importantly - delicious!
Spotting vegan items
If you're looking for vegan items in the supermarket or when out and about, there are a few ways that you can find what you are looking for. The first is to check whether the item says 'suitable for vegans' on the packet, or has the Vegan Society logo on it, both of which will confirm if an item is completely free of animal products.
If the food does not have either of these signs on it, spend some time looking through the ingredients list. Keep an eye out for meat, dairy or egg ingredients which will make a product unsuitable for vegans. Also look for E numbers which may not be vegan suitable - you can find a handy guide to these here.
Vegan basics
There are a number of basic vegan ingredients and items that will help you to get going with a vegan diet. Take a look at our favourites here:
Store cupboard staples
There are many store cupboard staples that are vegan-friendly, easy to put together and form the basis of delicious and nutritious vegan meals or snacks. These include:
Chickpeas
Dried pasta
Tinned tomatoes
Beans and other legumes
Plenty of herbs and spices
Lentils
Nutritional yeast (gives food a cheese flavour)
Nuts and seeds
Dairy-free milk
Liquid smoke (to give food smoky, meaty flavour)
Fresh fruit and vegetables
With just a few of these basic ingredients, you'll be able to put together a range of quick, tasty and nutritious meals that are suitable for a vegan diet.
Ready meals and items
Many supermarkets will now carry vegan items, which can be found in the 'free from' sections, or along with the vegetarian food section. Keep an eye out for products such as:
Quorn vegan ranges
Cauldron tofu and falafel
Dairy-free cheeses and spreads
Linda McCartney food ranges
Oumph! meat replacements
Alpro soy yoghurt and desserts
'Accidentally' vegan foods
Although you may not realise it, some of your favourite food items may in fact be vegan. It's worth checking the ingredient list of your items, but some great accidentally vegan foods include:
Oreos
Skittles
Many packets of flavoured noodles, including meat flavours
Some meat flavoured crisps
Certain flavours of Doritos crisps
This is by no means an exhaustive list, but just goes to show that you can still enjoy some of your favourite foods whilst following a vegan diet. Take a look at some more accidentally vegan foods here.
Top vegan tips for beginners
We took to Twitter to ask vegans and bloggers what their favourite foods are, and what tips and advice they have for beginners. Here are some of their suggestions:
Chickpeas, coconut milk, bananas, tin toms, pasta. If you happen to go past a health food shop as well chuck a vego chocolate bar in there, you won't regret it!! 😋 #Vegan

— Kirsty (@KirstyPennies) 5 July 2018
If say tell people not to be afraid to buy meat substitutes to ward off cravings for familiar foods. The vegan diet that is best is the one you can stick to.

— Jeremy (@Pusssboy) 9 July 2018
Linda MC burgers!! They're the absolute best. And frozen fruits like berries and mango chunks- perfect for smoothies, in porridge, on cereal... and cheap.

— Grace (@GraceC_12) 10 July 2018