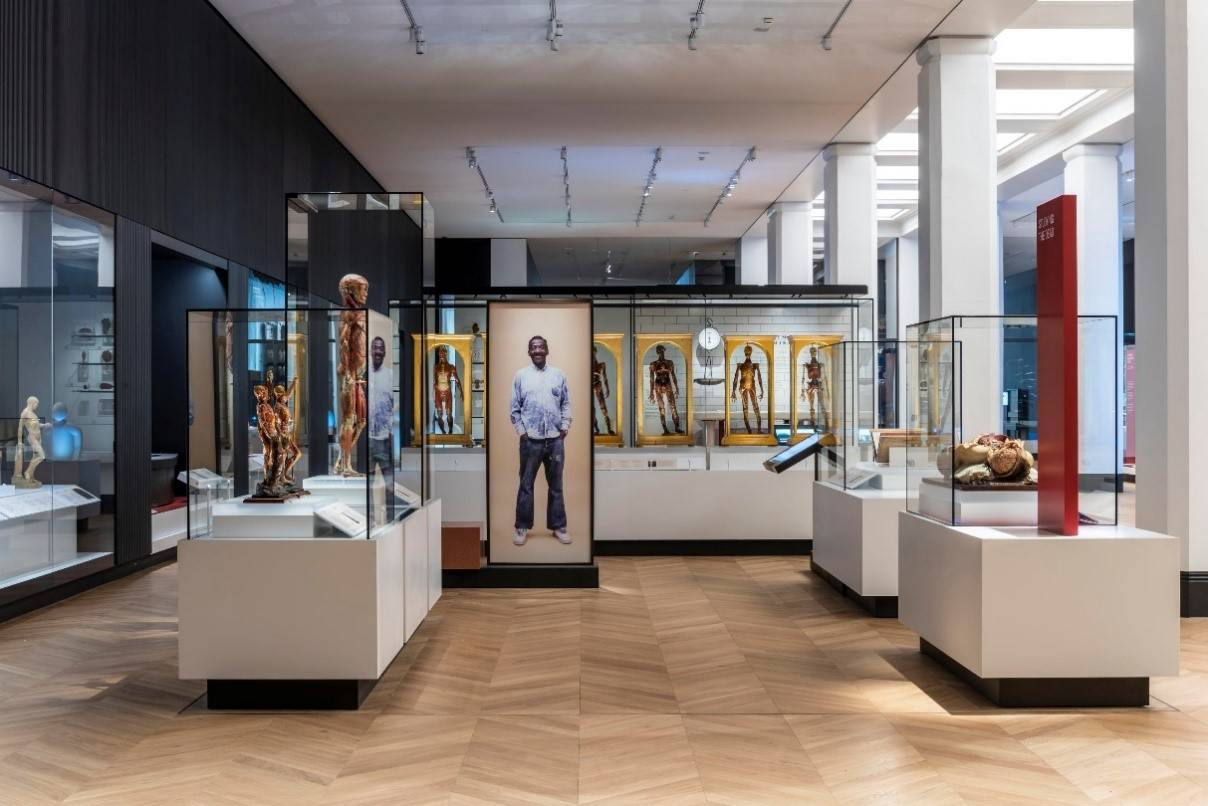 The Medicine and Bodies gallery in Medicine: The Wellcome Galleries © Science Museum Group
Medicine: The Wellcome Galleries has transformed the first floor of the Science Museum with five vast and visually stunning new galleries for visitors to explore

The world's largest medical galleries feature more than 3,000 medical artefacts, striking artworks, interactive games and immersive experiences that bring the history of medicine to life

New art by Marc Quinn, Eleanor Crook, Siân Davey and Studio Roso will go on show for first time alongside significant medical artefacts and thought-provoking contemporary objects

With the completion of the £24m Medicine: The Wellcome Galleries, over half of the Science Museum has now been transformed since 2010
We all have our own history of medicine. From birth and broken bones in our adventurous youth to routine trips to the dentist, doctor and optician, visits to loved ones in hospital and experiences of loss. We are deeply invested in our own health and that of friends and family. Opening on 16 November, Medicine: The Wellcome Galleries creates a magnificent new home for the most significant medical collections in the world, providing a rich historical context for our experience of medicine today and featuring moving personal stories from patients and practitioners.
Designed by WilkinsonEyre, the vast galleries cover more than 3000m², an area equivalent to 1,500 hospital beds. The five new galleries reveal how the quest to better understand the human body has transformed medicine. They examine treatments that save, improve and sometimes harm lives, highlight the health challenges faced by populations and uncover our hopes and fears about health.
Over three thousand medical artefacts from the extraordinary collections of Henry Wellcome and the Science Museum Group will go on public display in the world's largest medical galleries. Visitors will see ground-breaking objects from the history of medicine, including two hundred year old wax anatomical models, the very first stethoscope, lancets used by Edward Jenner in his smallpox vaccinations, medicine chests used on expeditions to Mount Everest and Antarctica, an intricate model of a 1930s hospital, a rare iron lung used by patients with polio and the world's first MRI scanner, protein model and paramedic bicycle. Within the galleries, visitors can step inside a real Victorian pharmacy, brought to life through an immersive digital experience, discover what it takes to perform heart transplant surgery and treat a critically ill patient in an interactive game.
The faces, voices and stories of patients and practitioners are featured throughout the galleries in films, displays, interactive experiences and portraits. Visitors can listen to stories from therapists and their clients, see objects selected by staff and patients representing their experience of the NHS today and hear rehabilitation stories from people affected by brain injuries. The galleries also explore the experiences of patients with mental health issues through films and audio recordings produced by a group with extensive experience of mental health services in the UK. Stories from individuals impacted by how medicine defines 'normal' will also encourage discussion, with visitors able to listen to their stories next to life-size portraits by award-winning photographer Siân Davey.
Davey's portraits are one of four commissioned artworks in Medicine: The Wellcome Galleries which act as powerful visual interventions into the galleries' themes and give visitors a different way to connect with the objects and stories on display. The artworks include Self-Conscious Gene by Marc Quinn, inspired by the tattooed body of model Rick Genest this monumental bronze sculpture greets visitors as they enter the galleries; Bloom by Studio Roso, an aerial sculpture which represents the spread of diseases through populations using a large network of propellers that spin, glow and change colour; Santa Medicina by Eleanor Crook, a beautiful and intriguing bronze sculpture of a figure that is both surgeon and saint which encourages visitors to contemplate their relationship with mortality.

(L) Marc Quinn's Self-Conscious Gene in Medicine: The Wellcome Galleries. Courtesy and © of Marc Quinn studio
    Visitors in the Medicine and Communities gallery © Science Museum Group
(R) Santa Medicina by Eleanor Crook © Science Museum Group
Sir Ian Blatchford, Director of the Science Museum Group said: 'Medicine: The Wellcome Galleries are intellectually adventurous, rich in personal stories and at times incredibly moving. Covering more than 3000m2 – an entire museum within a museum – the scale and ambition of these five vast galleries is unprecedented. Over 3 million visitors a year, each with their own personal experiences of medicine, can now uncover remarkable stories about our health in the world's largest medical galleries.
These five vast and visually stunning new galleries are at the very heart of the Science Museum. They complete our ambitious Masterplan project which has transformed more than half of the museum since 2010, creating aesthetically and intellectually stimulating new spaces for our visitors.'
Featuring significant objects in the history of medicine from the first stethoscope to the first model of a protein, the Medicine and Bodies gallery explores how the quest to better understand the human body has transformed medicine. Studying the dead has expanded our knowledge of the body, inspiring the creation of dramatic anatomical models, with early X-ray apparatus and the world's first MRI machine revolutionising our ability to see inside ourselves. The gallery also reveals attempts to measure and understand the body and examines our understanding of medicine on the microscopic scale. Visitors can get hands on through a series of interactive exhibits in the gallery, trying out surgical instruments used to examine the oesophagus, listening through a model of an early stethoscope and treating a patient in a critical condition. A simplified microscope reveals different cells in the body, while visitors can discover how imaging the body has transformed over time using a large touchscreen display.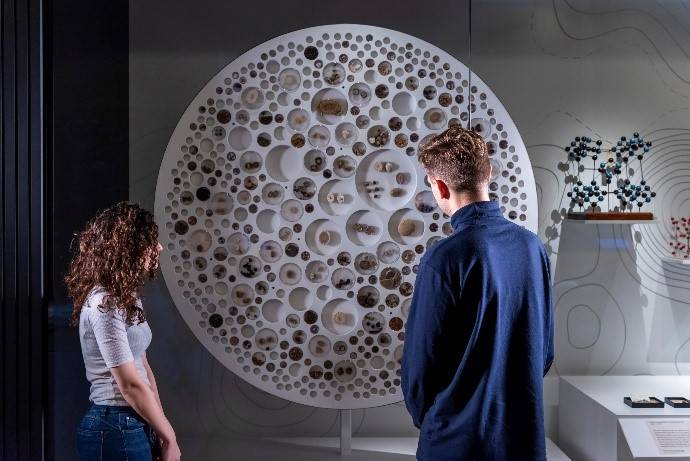 Visitors in the Exploring Medicine gallery © Science Museum Group
Medicine and Treatments: The GSK Gallery will examine the core purpose of medicine, treating people. With a focus on personal experiences, this gallery reveals a range of treatments that save, alter and extend lives, exploring their capacity to harm as well as heal. Visitors can investigate three major areas of treatment – surgery, therapies and drugs – meeting the people who develop, deliver and experience them. The gallery explores how the role of a surgeon has transformed, from the ancient practice of trepanning skulls to blood transfusions in the trenches and features the equipment used in the UK's first robotic surgery. Visitors can step inside Gibson's Victorian pharmacy, which has been brought back to life through an immersive digital experience. This gallery also explores how the discovery of penicillin transformed modern medicine and includes stories from people affected by thalidomide. Visitors will see personal items, such as Ed Freeman's prosthetic legs and the wedding suit worn by Kevin Donnellon and can watch a film produced with the Thalidomide Society that explores the drug's impact on everyday lives.
Mr Gibson's Pharmacy in the Medicine and Treatments gallery © Science Museum Group
Natasha McEnroe, Keeper of Medicine at the Science Museum, said: 'The rich human stories embedded in these galleries illustrate our enduring fascination with the human body and how it functions. Three thousand incredible medical artefacts are on display, many for the first time, enabling visitors to examine the skills and technologies of medical breakthroughs throughout time and explore the emotional impact of treatment on both patients and practitioners. The universal experience of medicine makes it accessible to all, and I am delighted this complex subject now has the significant space it deserves in the Science Museum.'
 Stepping back from our personal experience of medicine, Medicine and Communities examines health challenges faced by groups, cities and populations, from deadly epidemics to the provision of health services. Visitors will discover the medical challenges of living in an increasingly urbanised world, the impact of infectious diseases and how our behaviour can affect our health. After studying objects related to the history of vaccination, visitors can attempt to control the spread of a pandemic disease in an interactive game or gaze upwards at Bloom by Studio Roso, a kinetic aerial sculpture which represents the spread of disease. Visitors will encounter a stunningly intricate scale model of a 1930s hospital and can also explore the global impact of infectious diseases. Significant objects on display include a lancet used by Edward Jenner for the first smallpox vaccinations, a rare Iron lung used by patients with polio and protective clothing worn during the 2014 Ebola epidemic. Visitors can also see the impact of leprosy on the human body. The 600-year-old skeleton of a Danish woman who lived with leprosy for decades is on display, with the effects of the disease clearly visible on her skull, shoulders and feet.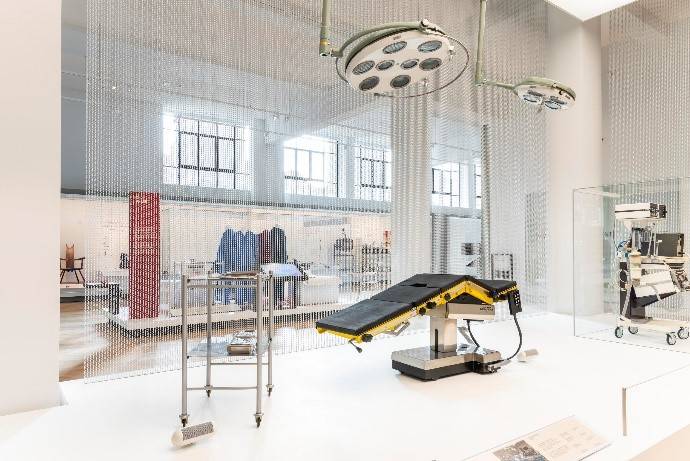 Hospital equipment in the Medicine and Communities gallery © Science Museum Group
The contemplative Faith, Hope and Fear gallery explores the trust we place in medicine and features cultural and religious items that represent hopes and fears about our health. Spanning centuries and continents, the mass displays of religious statues, amulets and anatomical votives showcase the wealth of cultures represented in the medical collections. Visitors can see artist Tabitha Moses' embroidered hospital gown and hear Tabitha describe her experience of infertility and IVF. Tabitha was awarded the 2013 Liverpool Art Prize for her series of artworks exploring infertility and this is the first acquisition of Tabitha's work by a national museum. This gallery also features sculptor Eleanor Crook's Santa Medicina. This beautiful and intriguing bronze sculpture of a surgeon and saint encourages visitors to contemplate their relationship with their body and mortality.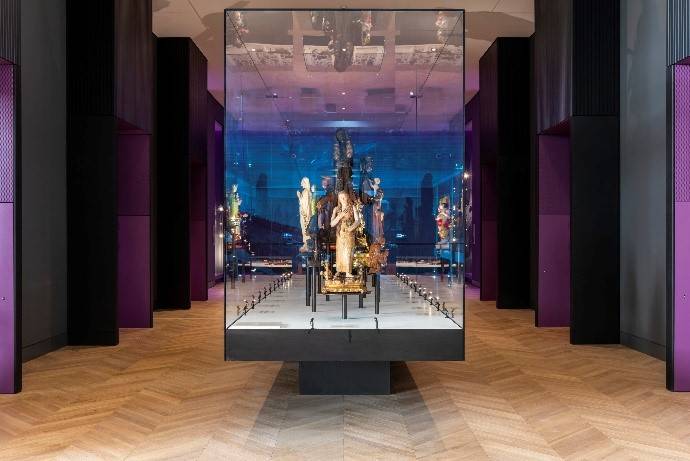 A view of the Faith, Hope and Fear gallery © Science Museum Group
Jeremy Farrar, Director, Wellcome, said: 'Wellcome and the Science Museum have a deep connection built from the legacy of Henry Wellcome and the breadth of his collections, which are a core part of these spectacular new galleries. We also share a fundamental belief that human experience – at every level from individuals, family, and communities to society as a whole – is at the heart of science, medicine and improving health for everyone.'
Sir Peter Luff, Chair of The National Lottery Heritage Fund, said: "Over the twenty five years of the National Lottery, we've been pleased to support the Science Museum Group as it has told the inspiring stories of science and engineering. Telling those stories has opened up whole worlds of scientific heritage to be enjoyed and to inspire new generations to play their own part in shaping the world in which we live. Thanks to National Lottery players over nine hundred million pounds has been invested into science museums and science related projects. I am delighted to count the magnificent Medicine: The Wellcome Galleries among them."
Medicine: The Wellcome Galleries has been created to cater for visitors with a range of accessibility needs. Each gallery contains large print books which include descriptions of the galleries and information about highlight objects on display. Many films in the galleries are British Sign Language (BSL) interpreted and BSL-led tours of the galleries will be available as part of the Lates programme in 2020. A new audio-description app has been created to support independent visits by blind or partially sighted visitors and will be available from December 2019.
Accompanying Medicine: The Wellcome Galleries are two books. Medicine: An Imperfect Science, published by Scala and The Medicine Cabinet, published by André Deutsch. Both books and a range of medical and anatomy inspired items, including an edible chocolate heart, skeletal apron and pill pot shaped coffee mug, are available from the Science Museum shop.
Medicine: The Wellcome Galleries has been generously supported by Wellcome (Title Funder), National Lottery Heritage Fund (Principal Funder), GSK (Principal Sponsor), The Wolfson Foundation (Major Funder), Vitabiotics (Major Sponsor), Art Fund (Funder), Stavros Niarchos Foundation (SNF, Funder), Britford Bridge Trust, Dr Martin Schoernig, Medical Sciences Historical Society and an anonymous donor. The Observer are the Media Partner for Medicine: The Wellcome Galleries.
The galleries opened at the Science Museum in November 2019, with further information available at sciencemuseum.org.uk/medicine. A series of unique public events have been programmed to mark the opening of the galleries, including the UK premiere of gene editing documentary Human Nature, a panel discussion exploring the anti-vaccination movement, volunteer tours of the galleries and a special edition of the Science Museum's adults-only Lates.
The Currator's Tour of Medicine: The Wellcome Galleries at The Science Museum
To see a virtual tour of The Wellcome Galleries at The Science Museum please click here