Expectant parents often have lots of questions about childbirth: what pain relief should I go for? How much is giving birth going to hurt? And how on earth am I going to get the baby out? However, the question all my pregnant friends wanted to know was much more fashion-orientated - what should I wear to give birth in?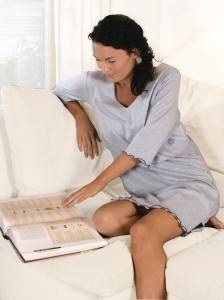 It seems like a frivolous problem when faced with one of the biggest events of your life, but in light of all the unknowns about your first delivery, what you wear to give birth in is one thing you can plan and control in advance.
Who remembers the One Born Every Minute episode with the mum in the specially designed neon birthing bikini? Unfortunately, for many people the answer to your childbirth clothing conundrum is likely to be much more mundane. But the good news is, unless you're having a c-sectionor any further intervention, there's no reason for you to have to wear a hospital gown.
So here's our guide to the perfect birthing outfit:
Labour wards are notoriously hot, so make sure whatever you wear is loose and cool
As it's likely to get ruined, go for an old nightshirt, a big t-shirt or something cheap from Primark or a supermarket (stock up on Bridget Jones-style big post-pregnancy pants when you're there)
Shops like Mothercare also have a range of maternity nightwear that isn't too expensive, including nightshirts that button down the front
You can get special gowns which are designed with giving birth in mind, with easy breastfeeding access for when the baby arrives. Try Cariwell's Sarah Sleep Shirt (pictured) £25.99 from various stockists including the NCT Shop
Take a thin dressing gown you can whip on and off again easily. I gave birth in winter so had a struggle to find something that wasn't towling or fleece, but ended up with one from The White Company I still wear now
If you're having a water birth, pack a bikini!
If you want a bit of covering, why not go for a nursing bra to allow for easy breastfeeding access? The new Bravado Essential Embrace bra is £35, availalbe online or from John Lewis.
It sounds ridiculous but you may get cold feet, so take socks. If you really want to push the boat out, buy these cashmere socks
And of course, some people prefer to wear nothing at all, and for others - like me - it all happens so quickly they don't even have time to get changed.
What did you wear to give birth in?
Gillian blogs over at A Baby on Board about London life as a new mum, covering everything from baby clothes to beauty products and breastfeeding.She lives with her one year old daughter Eliza and husband Alex in south London.