Are You Suffering From Back Pain In Pregnancy? Here's How To Help Ease Back Pain When You Are Pregnant
During pregnancy you may experience many different pregnancy symptoms and ailments, one of which can be back pain.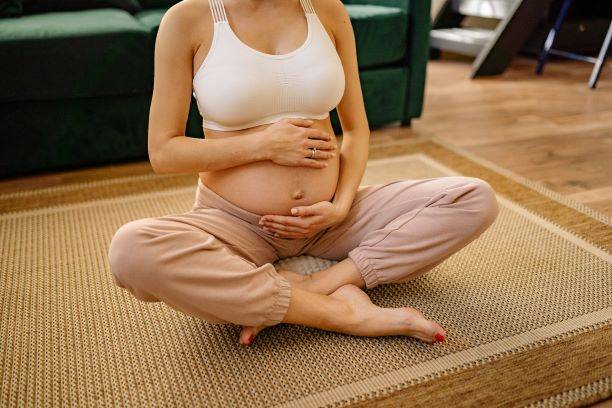 We're looking at back pain in pregnancy, including why you suffer from it when you're pregnant, and what you can do to help ease back pain.
Why Do I Suffer From Back Pain In Pregnancy?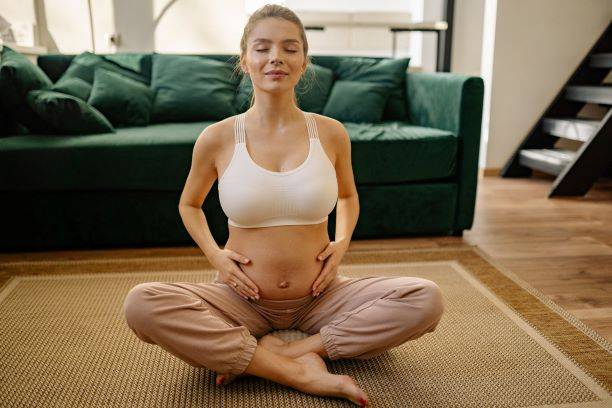 Are you suffering from back pain or a sore back during pregnancy? Mild back pain is common when you're pregnant and lots of women suffer from some degree of lower back pain and middle back pain while expecting a baby.
When you are pregnant, the ligaments in your body naturally become softer and stretchier. While this helps prepare your body for labour, it can also put a strain on the joints of your lower back and pelvis, which can cause your back to ache.
It is also common to suffer from back pain in pregnancy as your baby grows bigger, which naturally adds extra weight to your body and shifts your centre of gravity forwards. This puts pressure on your back muscles and increased stress on your joints.
Some women also develop a condition called sciatica during pregnancy, where changes in your body mean your spine presses on nerves in your back. However, this is rare.
When Am I Likely To Experience Back Pain In Pregnancy?
Back pain is common in the first trimester, as your body adjusts to pregnancy and pregnancy hormones.
You may also experience it later in pregnancy, as your baby and bump grow bigger.
What Are The Best Exercises For Lower Back Pain In Pregnancy?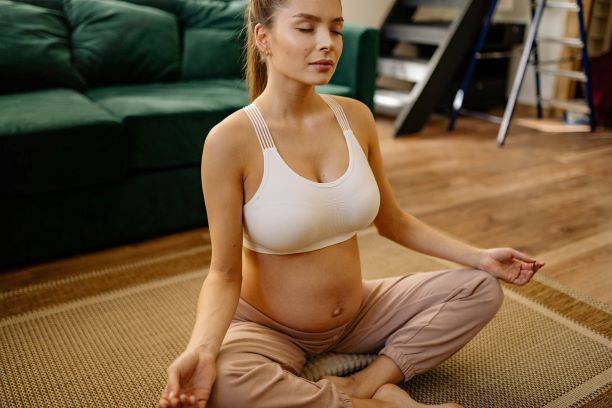 Stretching your back can help with back pain; ask your midwife for advice on the best exercises you can do during pregnancy. These will include stretches and exercises for lower back pain that can help ease your aches.
Yoga for back pain can help. Taking a specialist pregnancy yoga class, with a qualified instructor, can help to strengthen your back muscles and relieve lower back pain.
Swimming, or pregnancy swimming classes, can also help ease an aching back. Swimming is also very relaxing during pregnancy, as it relieves the additional pressure on your body.
Making sure you get enough rest is also important to help with back pain, particularly later in pregnancy as your baby grows and you become more tired.
You can also try having a pregnancy massage from a qualified masseuse to relieve back pain. A warm bath can also help.
More Tips To Help Ease Back Pain In Pregnancy
Try these tips to help prevent and ease back pain in pregnancy:
When bending to lift items from the floor, make sure you bend your knees and not your back
When shopping or carrying bags, try to balance the weight evenly
Avoid lifting heavy or large objects
Wear flat shoes to evenly distribute your weight (your feet will thank you too!)
What Are The Best Sitting And Sleeping Positions For Lower Back Pain In Pregnancy?
Make sure you keep your back straight and well supported when you are sitting down. If you have a maternity support pillow, this can help support you.
If you have back pain, exercise can be more beneficial than lying in bed. However, if you have trouble sleeping, ask your midwife for advice about different sleeping positions.
In terms of the best mattress for back pain, use a firm mattress that supports your back properly. If buying a new mattress is not an option, it can help to place a piece of hard wood under your existing mattress.
When To Get Help For Back Pain In Pregnancy
If your backache is very painful and persistent, talk to your GP or midwife for help. They will be able to suggest stretches for back pain and back pain exercises.
They may be able to make a referral for you to a physiotherapist, who can give you tips, advice and exercises.
According to the NHS, you should contact your midwife or GP if you have bad back pain and you:
Are in your second or third trimester – this could be a sign of early labour
Also have a fever, bleeding from your vagina or pain when you pee
Have pain in one or more of your sides (under your ribs).
Call 999 or go to hospital if you have back pain and have lost sensation in one or both of your legs or your bum.

Once You've Read Our Post On Back Pain In Pregnancy:
Please note that the contents of this post are not intended as medical advice. Always consult with your midwife and / or GP if you have any specific medical queries.