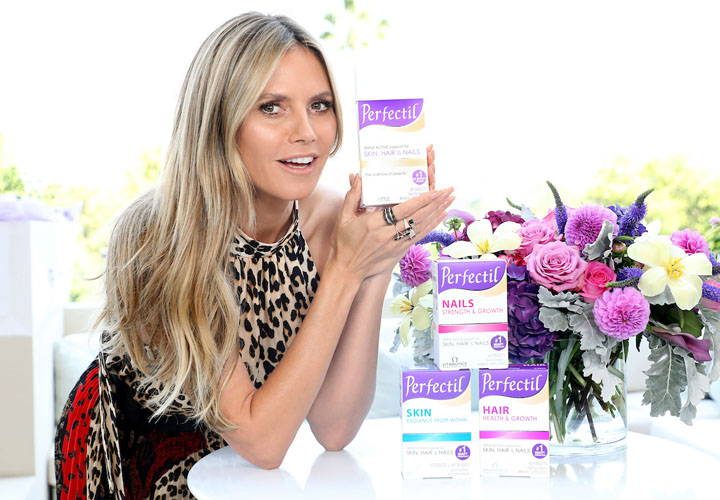 Introducing our International Brand Ambassador
World renowned supermodel joins forces with Perfectil, the UK's No 1 beauty vitamin with triple active support for skin, hair and nails.
Perfectil is proud to announce Supermodel, Emmy-Award winning television host and businesswoman Heidi Klum as Perfectil Brand Ambassador.
Known for her dedication to living a healthy, balanced lifestyle and incredible contribution to the fashion industry and television, the partnership between the UK's number one beauty supplement brand and Heidi Klum builds on the global supermodel's longstanding advocacy for beauty from within.
I believe in the saying you are what you eat. I love preparing healthy food for me and my family every day. In addition to that I love a multi-vitamin for myself to enhance more beautiful nails, skin and hair. I believe that Perfectil does that for me.
What Was The Inspiration For The Partnership?
Perfectil approached me and asked if I wanted to try their product. I've seen it over the years since they've been in the UK for so long. Since my time using it, I believe my hair has become shinier, my nails feel stronger than ever and my skin is glowing!
What Is Your Favourite Thing About Perfectil?
I try to live a healthy, balanced lifestyle, which perfectly complements the brand's positioning – beauty "from within." I tried Perfectil and loved how my hair, skin and nails looked and felt. It has a range of beauty vitamins and minerals and backed by over 20 years of research, that's really something that grabbed my attention.
What Type Of A Difference Have You Seen In Your Hair, Skin And Nails Since Adding Perfectil To Your Daily Wellness Routine?
I've been taking Perfectil over the summer and shortly after taking it, I noticed my skin was more radiant, my hair was shinier and healthier and my nails were stronger. I love that there is any easy multi-vitamin that helps with all of this in one shot!
Between Your Television Shows, Modelling And All Your Other Business Ventures (Not To Mention Kids!), How Do You Manage To Keep Up With Your Appearance?
Eating healthy and taking care of my body has always been important to me. You feel better when you put better quality items into your system. We're not a household that orders in pizza twice a week for dinner. We cook every night in our house, getting fresh vegetables from our garden and having lots of protein. Taking Perfectil is like an added bonus of vitamins and minerals!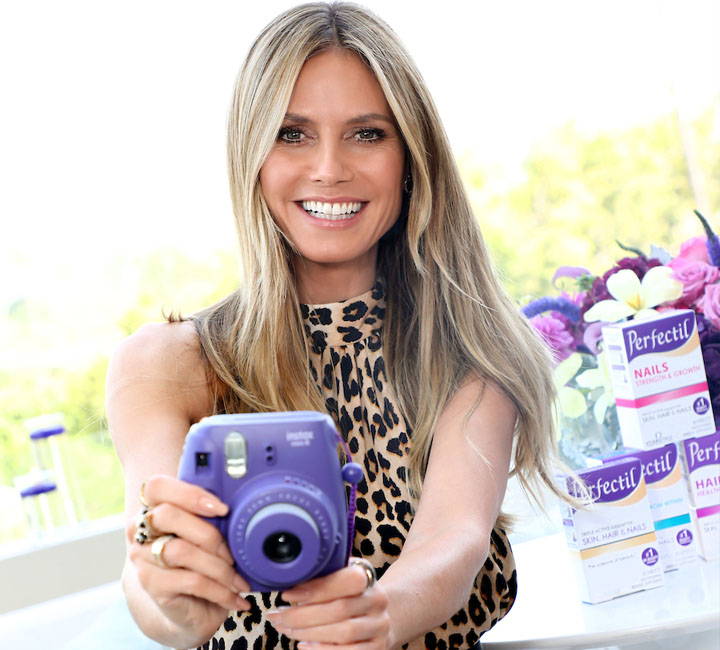 In April 2018, Perfectil received the highest award for innovation from Her Majesty, The Queen, for constant innovation and research in beauty vitamins. The Queen's Awards for Enterprise are the UK's highest and most prestigious awards. Out of over 12,000 of these awards granted, Vitabiotics is the only award recipient for Innovation in multivitamin supplements.