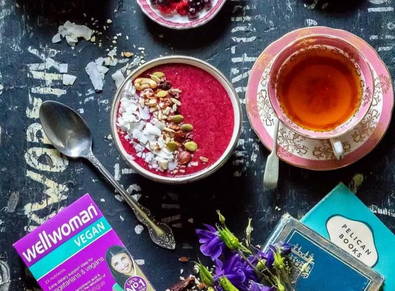 Here's How To Reset Your Health, With Lisa Oxenham From Marie Claire
We have a special guest post by Beauty and Style Director for Marie Claire, Lisa Oxenham, with five ideas for how to kick your health into a new gear:
For me the transition into autumn feels like impending doom, despite all the festivities - including my birthday - on the horizon. I'm a fan of the hazy days of summer and a surfer sort who needs a constant hit of Vitamin D, so the chill and darkness really doesn't fill me with joy.
To make he change of seasons less brutal, I'm filling my mind with thoughts of personal transformation and have created a wellness program that will result in healthy, positive changes and restore a sense of self post-summer. Want in? Adjust your health habits with these five micro-changes that don't require silly amounts of cash.
1. STRETCH IT OUT

-
When we sleep, our body starts to glue together and stiffen. If you don't stretch it out, this will start to become cumulative. To combat the negative effects of tight muscles and sluggish circulations, try stretching in the morning; it's much faster to improve flexibility than it is to increase your cardio or strength fitness. Extra bonus? Not only will you feel less pain in your back and neck, it actually feels really good too as you do it. Remember to breathe deeply through each stretch to get fresh blood and oxygen moving around your body.
2. GO VEGAN -
It's not all about avocado on toast; going plant-based in a healthy sense means making sure you're getting enough of what your body needs. It's a myth that it's difficult to get enough protein in a vegan diet, but you do need to eat different sources, such as beans, seeds, nuts and nut butters, as well as pulses like chickpeas and lentils. Soy beans and quinoa are complete proteins so they provide all the essential amino acids. Remember to add flax seeds, walnuts and rapeseed oil to your diet to get enough Omega 3, and make sure you are getting adequate nutrition by taking a multivitamin like Vitabiotics Wellwoman Vegan to ensure you are not missing out on vitamins such as B12, which you simply can't get on a vegan diet.
3. SNOOZE TIME FOR BOOZE -
It's a new season, so detox your system and swear off alcohol for at least a month. In doing so you will likely notice how clear-headed you are and also, possibly, that you don't need alcohol anywhere near as much as you think. Replace nights on the wine with other relaxers like candle-lit baths, or teach yourself about Ayurveda. You may also begin to connect with others on a deeper level, fuelling your inspiration and realising this is the part of you that you will want to connect with all the time.
4.

LAY OFF THE SWEET STUFF

-
We often loosen up our diet rules over the summer in favour of ice cream, but now's the time to quit. Giving up sugar is difficult, particularly when you have tip three to master, but there are tips like eating cinnamon and increasing your protein intake that help enormously with beating cravings, as well as trying to change what you see as a reward. Another strategy is to consume more carbs, which also helps combat seasonal affective disorder and amp up your mood because carbs raise your level of insulin, which can help the brain convert tryptophan into that feel-good neurotransmitter serotonin. Just make sure that you focus on complex carbohydrates such as wholegrain pasta and bread, since starchy, refined carbohydrates like white bread have a high glycaemic index and can cause substantial fluctuations in blood sugar, which is not ideal.
5. BRING ON BEDTIME -
Instead of rejecting the seasonal shift, embrace it by treating yourself to something you love like having an early night and getting a really good night's sleep. Dim the lights and avoid any screen time at least one hour before you hit the sack to make sure your melatonin production isn't inhibited (melatonin is a hormone that's naturally produced in our brains and it starts to pump through the system when the sun starts to set to induce sleepiness and keep us asleep throughout the night). Do the opposite in the morning; when you wake up get as much natural light as you can to stop melatonin production. This will wake you up and help keep a more consistent 'bedtime and wake up' schedule.