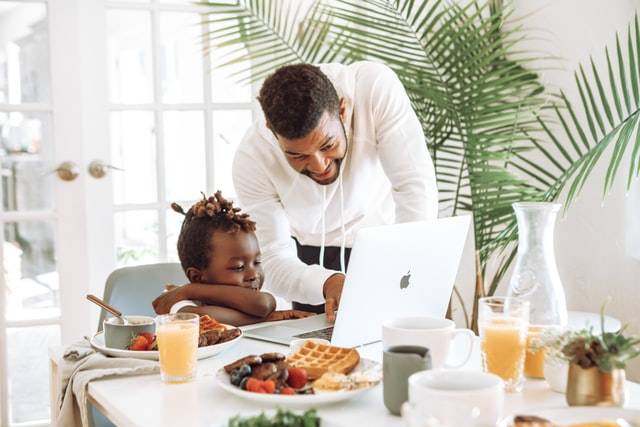 How easy is it to adjust to life as a working parent? Here's New TalkMum blogger Laura on how she coped with going back to work, and how her situation changed again after the birth of her second child.
I always knew that I'd be a working parent.
Not in a naive 'when I grow up and have children, I want to carry on working while being a domestic goddess and have it all' kind of way. No, when my husband and I decided it was time to try for a family it was our circumstances that dictated I would need to return to the realm of employment once my maternity leave ended. I didn't mind. It didn't bother me. Not for my first child.
Seven months after the birth of my daughter, I went back to work. My employers insisted I return full-time and so I did. In all honesty I found it a breeze. I enjoyed dusting off and dressing up in my 'nice' clothes, being in the company of adults and reclaiming a part of my pre-mother identity. My career carried on almost as if I had never been away; I got a new job – a promotion even – and life seemed to be going well.
But then I got pregnant again and everything changed. The pregnancy itself was planned. How it would change my whole perception of life was not.
Gazing into my newborn's eyes after a nine hour labour, I fell completely and utterly in love, just like I had done when my daughter was born two years previous. I enjoyed more than ten glorious months at home with my children and saw so many milestones that I may not have witnessed otherwise. I helped Sophia develop her speech, I organised her potty training and I settled her into a new pre-school routine. I got to see Dexter's first smile, watch him crawl and take his first steps. Above all, we had tremendous fun and I found it phenomenal being around these two amazing children.
Going back to work after that was hard, so hard. It wasn't just me having to adjust to a new routine, but my children too. Sophia, being nearly three-years-old, took it hardest of all and my heart would break to see her so upset when I had to leave in the mornings. There were times when we would crumble in each other's arms, both exhausted and stressed out by this new work-life balance. All I wanted was to be at home with my babies, but we couldn't afford to become a single income household and my employers insisted (although not directly to me) that full-time employment was the only option.
I've written about my struggle to balance work commitments with my home life on my blog, Chez Mummy. It's not something I think you can ever find a true equilibrium for; you just have to manage the best you can. Having said that, in my nearly two years of being back at work, I've learnt there are some things you can do to make the transition from 'baby mama' to 'working parent' a little bit easier.
1. Start thinking about your return to work a few months before it happens. Prepare yourself. Stagger your return to work by using any annual leave you may have accrued to give you some shorter working weeks. It will make a difference.
2. Look into your flexible working options. Your employer may be adamant that your role is a full-time one, but that doesn't necessarily mean you can't work some of your hours from home, or that it can't be done as a job-share. Look at the working patterns of others in your company and in other companies. When you fill in your application think about all the arguments your company might put forward and answer them. Also, make your flexible working 'ask' greater than you actually want it to be. Your employer will inevitably try to negotiate you down so by doing this you'll end up agreeing on the flexible working option that you actually wanted in the first place.
3. If you're finding it hard getting back into corporate life after maternity leave, give yourself a set period of time to see how things go before reassessing how you feel. Sometimes a routine may fall into place on its own. If it becomes clear that things aren't improving, then you can start thinking about what happens next.
4. Make the most of your weekends and any other time you have with your children. I once wrote a post asking if being a working parent makes me a better parent because it makes me treasure my time with my children so much more. That housework can wait!
5. Don't compare your situation to others who may be working more flexibly than you. It achieves nothing other than to make you feel worse about your own situation. You may envy the mother who only works two days a week, but you might find that she's always made to feel guilty, is expected to cram the responsibilities of a full-time job into that very limited timescale, and she's actually jealous of you.
How did you adjust to working life once you had children? Leave a comment and let us know your tips.