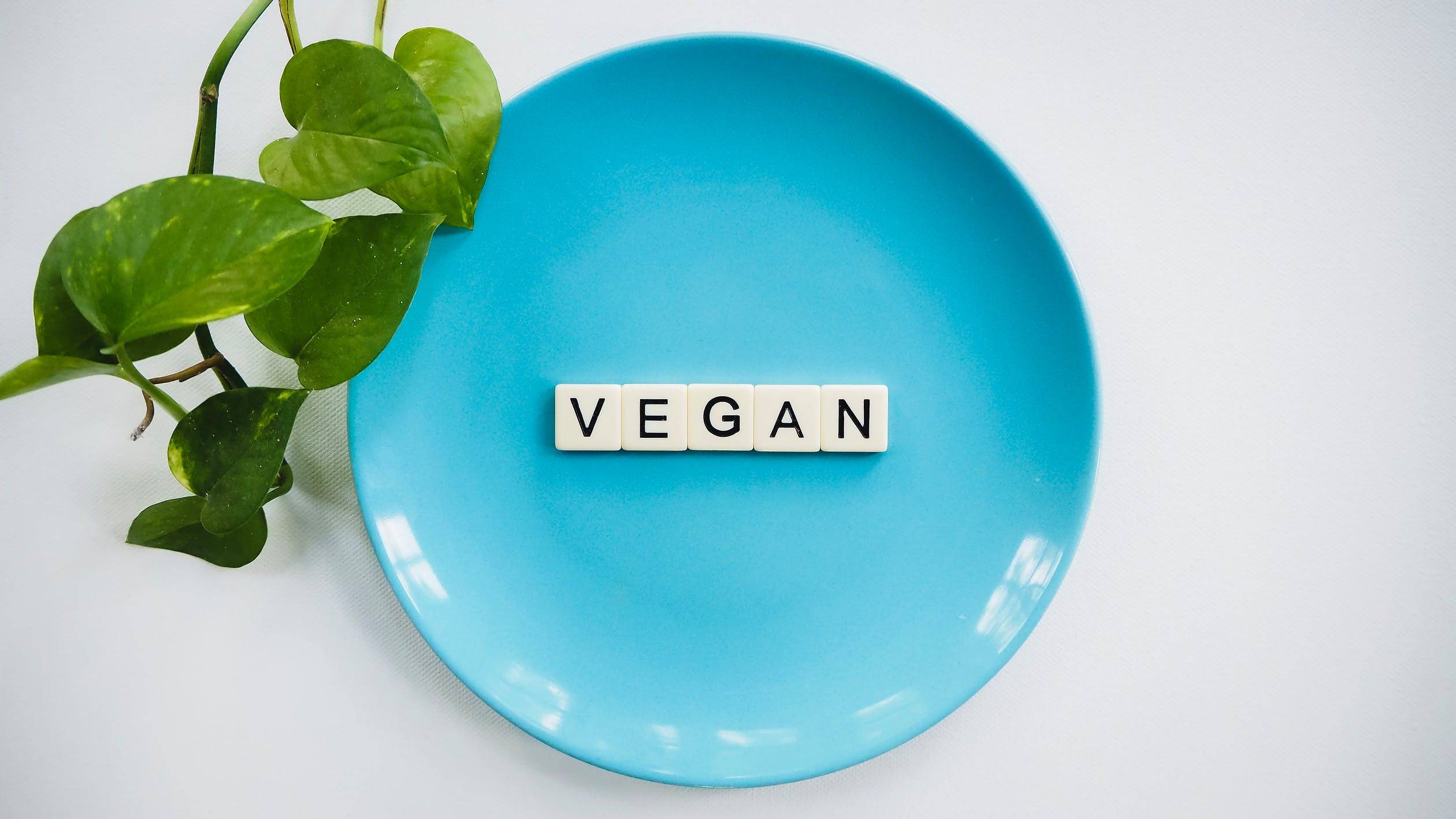 If you're looking to make some healthy changes to your lifestyle in 2020, going vegan or experimenting with veganism could be the perfect way to start.
Over the years, the vegan lifestyle has become increasingly popular and many food corporations have now started to provide a variety of plant-based options for consumers. Not only is a vegan diet fantastic for your health, it's also great for the environment and animal welfare, too.
If you're not used to a meat and dairy-free diet, we understand that it can be difficult to come up with a vegan meal plan that is both delicious and varied. However, you might just surprise yourself with the diverse range of meals that are available to you.
Let's start with breakfast - the most important meal of the day! Breakfast sets you up for the day, which is particularly important when you're making significant diet changes and adjusting to vegan nutrition.
So, without further ado, let's take a look at some easy vegan breakfast ideas:
1. The Classic Vegan Breakfast Burrito

There is nothing like a good breakfast burrito to kick-start the day - especially one that is packed with all kinds of healthy goodness. You'd be intrigued to know that this vegan breakfast burrito is stuffed with the likes of scrambled chickpea and smashed avocado. Before your mouth starts to water, have a read of the recipe:
Preparation time - 20 minutes
Cook time - 20 minutes
Ingredients
4 wholewheat wraps

1 green bell pepper

7-8 cherry tomatoes

1 avocado

Fresh spinach
1 can (14ov/400g) chickpeas drained and rinsed

¼ tsp garlic powder

½ tsp ground cumin

¼ tsp chilli powder

¼ tsp smoked paprika

1 pinch ground turmeric
100 g (3.5oz) seitan

½ tsp chilli powder

¼ tsp smoked paprika

¼ tsp ground cumin

Salt and pepper
Instructions
Preheat the oven to 180°C.

Slice the green bell pepper and place on a flat baking sheet with the cherry tomatoes. Roast for 20-25 minutes until soft.

Mash up the chickpeas until they are chunky, or use a food processor. Combine this mixture with all the spices and stir.

Slice the seitan into thin slices, then mix with all the spices.

Place the chickpeas on one side of the frying pan, and the seitan on the other side. Cook for 5-10 minutes until completely hot all the way through, stirring both sides frequently.

Assemble your burritos with the cooked mixture and the roasted peppers and tomatoes. Serve with some salsa and avocado, and enjoy!
2. Vegan Apple Pie Baked Oats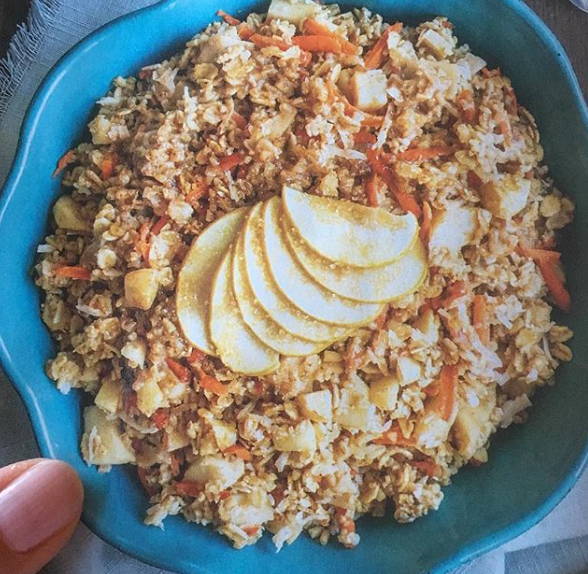 This is for all the sweet-tooths out there. Have you heard of apple pie baked oats? More importantly, did you know that this particular recipe is vegan? The great thing about oat-based breakfasts is that they are packed with heaps of energy to get you through the day. What's better is that it is so easy to make - just take a look at the recipe.
Preparation time - 15 minutes
Cook time - 30 minutes
Ingredients
1 cup rolled oats (120 g)

1 cup boiling water (250 ml)

2 diced apples

1 sliced banana

½ cup raisins (80 g)

¼ cup oat milk (65 ml)

2 tbsp maple syrup

2 tsp ground cinnamon

¼ tsp ground nutmeg
Instructions
Preheat the oven to 180ºC.

Place the oats in a bowl and add boiling water until the oats are fully covered.

Let the oats stand for about 10 minutes and then add the rest of the ingredients.

Then, mix thoroughly and place the oatmeal in a baking dish.

Bake for 30 minutes or until golden brown.
3. Delicious Vegan Pancakes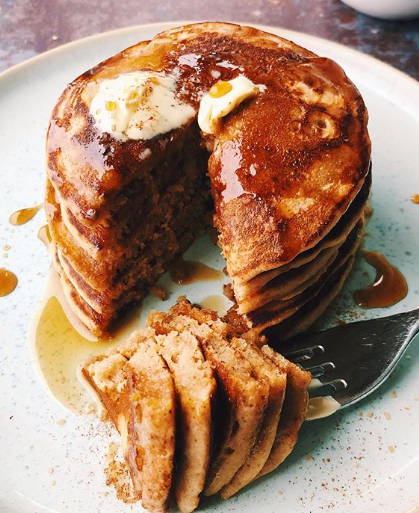 When it comes to vegan breakfast ideas, we definitely can't forget about the pancakes. Thick, fluffy and tasty - you can't say no to a stack of hot pancakes in the morning. What's so great about vegan pancakes in particular is that they're so simple to make. Have a read of the recipe.
Preparation time - 10 minutes
Cook time - 10 minutes
Ingredients
1 cup flour (125 g)

2 tablespoons organic sugar

1 tablespoon baking powder

½ teaspoon salt

1 cup non-dairy milk (240 ml)

1 tablespoon apple cider vinegar

1 teaspoon vanilla

Maple syrup
Instructions
Place the flour, sugar, baking powder and salt all in one bowl and stir thoroughly.

Pour the almond milk, apple cider vinegar and vanilla all into one bowl and stir thoroughly.

Combine the liquid mixture with the dry mixture and whisk until smooth.

Let the batter rest for 5 minutes.

Pour about 65g of batter onto a non-stick pan over medium heat.

When the top begins to bubble, flip the pancake and then cook until golden.

Serve the pancakes with runny maple syrup, and dig in!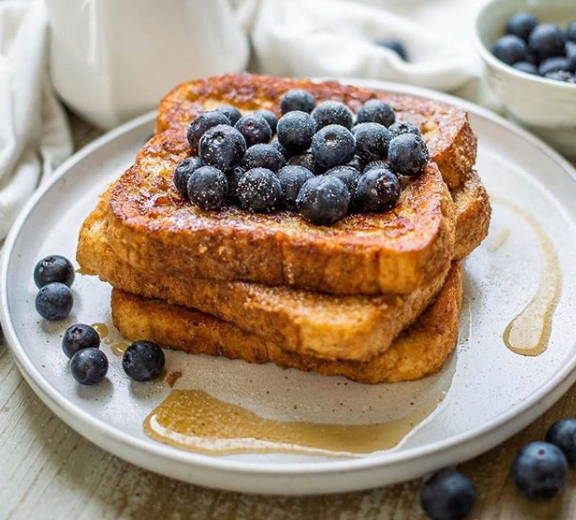 Yes, you read that right - vegan french toast! If you find that you have a bit more time on your hands than usual in the morning, then why not treat yourself to a glorious helping of french toast? Take a look at this recipe:
Preparation time - 20 minutes
Cook time - 6 minutes
Ingredients
1 tbsp chia seeds

½ tbsp agave nectar or maple syrup

1 cup non-dairy milk

½ tsp ground cinnamon

½ tsp vanilla extract

4-5 slices rustic bread
Instructions
Mix all the ingredients except the bread in a large bowl and place mixture in the fridge for 10-20 minutes.

Preheat your pan to medium heat and add 1 tbsp of vegan butter or coconut oil.

Dip each slice of bread in the batter for about 20 seconds on each side.

After this, place your bread on the griddle and cook until golden brown. Flip and cook until the other side is golden brown as well.

Finally, serve with desired toppings! You may want to opt for some delicious strawberries and maple syrup!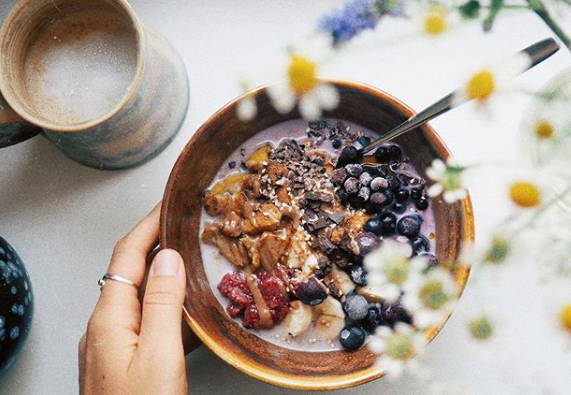 Last but certainly not least, we have the classic porridge! For a quick vegan breakfast or a vegan breakfast to go, you can't beat a hearty bowl of porridge. Whether you decide to top your porridge with some fresh fruit or a dollop of creamy peanut butter, you're sure going to be set up for the rest of the day!
Preparation time - 5 minutes
Cook time - 10 minutes
Ingredients
50g porridge oats

250ml almond milk

Small pinch sea salt
Instructions
Put the oats and almond milk in a saucepan and bring to a gentle simmer.

Cook gently on a medium-low heat for 10 minutes, stirring often.

Finish with a pinch of sea salt. If preferred, add more almond milk to thin the porridge.

Last but not least, add some delicious topics. This could be peanut butter, juicy strawberries or maple syrup!

We're sure that these tasty breakfast options will help to keep your diet varied all year round, as well as making sure you're getting all the vitamins and nutrients you need. If you'd like a little extra boost, consider adding a vegan-friendly supplement to your daily routine. We have a wide variety of vegan supplements available across the Vitabiotics collection, to help you stay on top form no matter what your dietary requirements are. Find out more about our vegan suitable ranges here.