Pregnacare Breast-feeding
Pregnacare Breast-feeding
Product Description
---
A healthy, varied diet is vital for new mothers, to help produce nutritious breast milk and maintain their own health during the postnatal period. Pregnacare Breast-feeding is an all-in-one pack, formulated with key specific ingredients for the postnatal period, including essential fatty acids such as DHA, calcium and vitamin D. More Info
Pregnacare Breast-feeding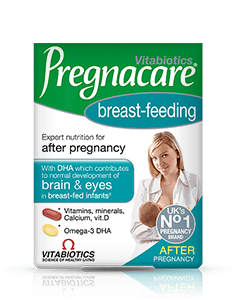 3 for 2
115 Reward Points
115 Reward Pts
---
Pregnacare Breastfeeding Formula
---
56 Pregnacare Postnatal vitamin & mineral tablets with calcium plus 28 Omega-3 capsules with DHA
Post-natal micronutrient tablets
Nutritional Information
Average per 2 tablets
% EC NRV*
Vitamin D (as D3 400IU)
10µg
200
Vitamin E
20 mg α-TE
167
Vitamin K
70 µg
93
Vitamin C
70 mg
88
Thiamin (Vitamin B1)
5 mg
455
Riboflavin (Vitamin B2)
2 mg
143
Niacin (Vitamin B3)
20 mg NE
125
Vitamin B6
10 mg
714
Folic Acid
400 µg
200
Vitamin B12
6 µg
240
Biotin
150 µg
300
Pantothenic Acid
6 mg
100
Calcium
700mg
88
Magnesium
150 mg
40
Iron
16 mg
114
Zinc
15 mg
150
Copper
1000 µg
100
Selenium
30 µg
55
Iodine
150 µg
100
Betacarotene (Natural Source)
2 mg
--

*NRV = Nutrient Reference Value, µg = microgram
mg = milligram, IU = International Units.
Tablet Ingredients: Calcium Carbonate (Carrier: Maltodextrin), Bulking Agents: Maltodextrin & Microcrystalline Cellulose, Magnesium Oxide, Tablet Coating (Hydroxypropylmethylcellulose, Hydroxypropylcellulose, Capric/Caprilic Triglycerides, Natural Source Colours [Titanium Dioxide, Iron Oxides], Glycerin), Vitamin C (Ascorbic Acid [Carrier: Glyceryl Tristearate]), Anti-Caking Agents: Silicon Dioxide, Stearic Acid & Magnesium Stearate, Ferrous Fumarate, Zinc Sulphate, Vitamin E (D-Alpha Tocopheryl Acid Succinate) (from Soya), Crosslinked Cellulose Gum, Niacin (as Nicotinamide), Vitamin B6 (Pyridoxine HCl), Betacarotene (Carriers: Starch, Water, Antioxidant: DL-Alpha Tocopherol), Thiamin (Vitamin B1 as Mononitrate), Pantothenic Acid (as Calcium Salt), Vitamin B12 (Cyanocobalamin [Carriers: Trisodium Citrate, Citric Acid, Maltodextrin]), Vitamin D3 (Cholecalciferol [Carriers: Acacia, Sucrose, Corn Starch, Medium Chain Triglycerides, Antioxidant: DL-Alpha Tocopherol]), Riboflavin, Copper Sulphate, Vitamin K (Vitamin K1 [Carriers: Acacia, Sucrose]), Folic Acid (as Pteroylmonoglutamic Acid), Potassium Iodide, Biotin, Sodium Selenate. Allergy Advice: For allergens, see ingredients in bold.
Pregnacare Omega-3 Capsules
Nutritional Information
Average per capsule
% EC NRV*
Omega-3 Fish Oil
600 mg
Providing:
DHA (Docosahexaenoic Acid)
300 mg
--
EPA (Eicosapentaenoic Acid)
60 mg
--

*NRV = Nutrient Reference Value,
mg = milligram
Capsule Ingredients: Omega-3 Fish Oil (Docosahexaenoic Acid Concentrate) (from Fish), Capsule Shell: Pharmaceutical Grade Gelatin (Bovine source), Glycerin & Natural Flavour Lemon Oil. Allergy Advice: For allergens, see ingredients in bold. NAFDAC B4-0870
Directions
TWO (2) PREGNACARE BREAST-FEEDING TABLETS PER DAY, PLUS ONE (1) OMEGA-3 CAPSULE PER DAY. Swallow each with water or a cold drink and take with a main meal. Not to be chewed. Do not exceed recommended intake. Take on a full stomach. Can be started at any point after childbirth, and used for as long as required during and after breast-feeding.
No artificial colours
No preservatives
No lactose
No yeast
Pregnacare is not tested on animals
Food Supplement
Food supplements must not replace a varied and balanced diet and a healthy lifestyle. As with other food supplements, consult your doctor or pharmacist before using if you are under medical supervision, have epilepsy, a thyroid condition, haemochromatosis, suffer from food allergies, or are allergic to any of the ingredients.

If you are breastfeeding a premature baby, please speak to your doctor or neonatal health professional for advice before using this product.
Allergy Advice: Made a site that may handle nuts. For allergens, see ingredients in bold.
As Pregnacare contains vitamin K, if you are taking oral anticoagulants (blood thinning medication) do not take Pregnacare except on the advice of a doctor. This product contains iron, which if taken in excess, may be harmful to very young children Store below 25°C in a dry place, out of sight and reach of children.
Pregnacare Breastfeeding FAQ
---
Why has Pregnacare Breast-feeding been developed?
Pregnacare Breast-feeding is a dual pack providing a postnatal micronutrient tablet and fish oil supplement formulated to help support the nutritional requirements of new mothers throughout the postnatal period and while breast-feeding. It provides micronutrients including 700mg calcium and 10mcg vitamin D3, the recommended levels for lactation plus an Omega-3 capsule to provide a rich source of docosahexaenoic acid (DHA) as maternal intake contributes to the normal brain and eye development of breast-fed infants**.
Top
Why are Omega-3 fatty acids important?
These fatty acids are passed to the baby via breast milk and helps in the development of the baby's brain and eyes. Pregnacare Breast-feeding provides 300mg DHA, the level recommended by international experts*.
Top
When is Pregnacare Breast-feeding recommended?
Pregnacare Breast-feeding is recommended after childbirth to help safeguard your nutritional needs during the postnatal period. During breast-feeding, there maybe extra nutritional demands placed on your body and intake recommendations of certain nutrients maybe increased whilst lactating. YOU DO NOT HAVE TO BE BREAST-FEEDING TO USE THIS PRODUCT, AS IT IS IDEAL FOR ALL NEW MUMS. The formula will also help new mums following pregnancy as a general postnatal supplement following pregnancy to replace depleted nutrients.
Top
How pure is the fish oil in Pregnacare Breast-feeding?
Only the purest pharmaceutical grade fish oil, has been used in Pregnacare Breast-feeding capsules. To ensure maximum benefit the oil is carefully concentrated to increase its DHA and EPA content and further purified. Each batch is rigorously tested, certified, and fully compliant with stringent EC and WHO rules on environmental pollutants.
Top
What do I need to know before starting to use Pregnacare Breast-feeding?
Pregnacare Breast-feeding has been carefully developed by a team of medical experts including highly qualified pharmacists and medical consultants, and is based upon solid scientific research evidence, as a nutritional safeguard for women after pregnancy whilst breast-feeding. Pregnacare Breast-feeding replaces your usual daily multivitamin.
Top
Can Pregnacare Breast-feeding be used alongside medicines?
As a general rule, Pregnacare Breast-feeding can be taken alongside medications because it contains only moderate levels of vitamins and minerals. However, if you are already taking prescribed supplements or medications, seek advice from your doctor or health professional first. As Pregnacare Breast-feeding contains vitamin K, if you are taking oral anticoagulants (blood thinners) do not take Pregnacare Breast-feeding except on the advice of a doctor.
Top
How many tablets and capsules does one pack of Pregnacare Breast-feeding contain?
Pregnacare Breast-feeding contains 56 postnatal micronutrient tablets (two per day) and 28 Omega 3 DHA capsules (one per day).
Top
How and when should Pregnacare Breast-feeding be used?
Two tablets and one capsule per day is recommended with or immediately after your main meal, with water or a cold drink. Taking Pregnacare Breast-feeding with a large meal maximises the absorption of the nutrients, and can reduce nausea which is sometimes experienced if supplements are taken on an empty stomach. Pregnacare Breast-feeding should only be taken on a full stomach. Always ensure that Pregnacare Breast-feeding is taken with plenty of liquid to wash down the tablet and capsule. We do not recommend chewing the tablets or capsules because they have not been formulated as chewable preparations.
Top
Are there any undesired effects whilst taking Pregnacare Breast-feeding?
Pregnacare Breast-feeding has no known side-effects when taken as directed. Do not exceed the recommended tablet and capsule intake. In case of overdose, seek medical advice immediately.
Top
Is Pregnacare Breast-feeding suitable for vegetarians?
No. Pregnacare Breast-feeding is not suitable for vegetarians as it contains a fish oil capsule. Adults can obtain DHA and EPA indirectly through the conversion of the essential fatty acid alpha-linolenic acid (ALA), present in vegetable oils such as flaxseed but this process is very inefficient. Pregnacare Breast-feeding contains fish oil as it provides a much more reliable, direct source of DHA and EPA. The foetus and infant in early life need to receive these fatty acids directly as they only have a limited capability to convert essential fatty acids to more active long chain fatty acids such as DHA.
Top
What are the active ingredients?
Please see nutritional information click here
Top
Some Nutrient Reference Value (NRV) levels are above 100%. Is this safe during Breast-feeding?
NRV levels are calculated to help prevent the most basic vitamin and mineral deficiency states. The levels contained in Pregnacare Breast-feeding are specific to normal requirements whilst lactating. This is why some levels of nutrients in Pregnacare Breast-feeding are higher than the NRV (e.g. Vitamin D, the recommended level is 200% NRV). Importantly, all levels are safe and well within upper safety guidelines for daily self-supplementation.
Top
Does Pregnacare Breast-feeding contain Vitamin A (retinol), because excess may be harmful during pregnancy?
Pregnacare Breast-feeding does not contain any vitamin A either in the multivitamin tablet or the special fish oil DHA capsule. The multivitamin tablet has been carefully formulated specially for pregnancy to contain a moderate (non-excessive) level of betacarotene (provided as natural mixed carotenoids) instead of vitamin A. Betacarotene (pro-retinol) is converted into vitamin A naturally by body as required, and is safe and suitable for pregnancy. The Omega 3 capsule in Pregnacare Breast-feeding is produced from fish oils that are certified free from Vitamin A and therefore safe to take throughout pregnancy.
Top
What happens if I forget to take my Pregnacare Breast-feeding and miss a day?
A regular intake is recommended, but don't worry, this will not have done any harm. Simply take Pregnacare Breast-feeding on the next day when you remember, and take as directed. You should not take more than the recommended amount on subsequent days to make up for any day(s) that you have missed. Whilst it is important to take a supplement every day, if you miss one day this is fine because the beneficial effects of the vitamins and minerals build over time.
Top
Can i take Pregnacare Breast-feeding before i give birth?
Pregnacare Breast-feeding can be taken during pregnancy if required as you change over from Pregnacare, Pregnacare Plus or Pregnacare Max. It does not matter whether the day you change over to Pregnacare Breast-feeding is before or after giving birth.
Top
Difficulty swallowing tablets or capsules is fairly common - do you have any advice?
Difficulty in swallowing tablets is quite a common experience. Vitabiotics have researched this extensively, trying different methods, and hope that our tips will help you swallow tablets with ease.

The usual advice for those who have difficulty in swallowing tablets, is to break the tablets into 2-3 pieces, before swallowing with plenty of liquid. For capsules (which contain liquid), and in cases where people have more difficulty in swallowing tablets we recommend after chewing some food (e.g. banana), just before you swallow, pop it into your mouth and swallow it together with the chewed food, followed by some liquid. The throat opens up wider automatically to swallow the chewed food and hence it should go down with greater ease. Alternatively the tablets or capsules may be swallowed with thicker liquids such as yoghurts or smoothies. We hope these tips are of help.
Top
---
"I started taking this tablet beginning of November 2018 and I'm pregnant within a month. I would highly recommend this tablets. "Mrs K S , United kingdom
"Best thing iv ever used I fell pregnant with twins happy days highly recommended" Mrs C L , United kingdom
"I used pre-pregnancy Pregnacare for one month after trying to get pregnant for 9 months. I am now 6 weeks pregnant. Thank you for making our dreams become reality!"Ms N K , United kingdom
"I'm amazed at the Pregnacare Breast-feeding support vitamins. I have a 4 month old and have been breast-feeding since birth. Initially I didn't take any vitamins and suffered fatigue, cracked skin, brittle nails, lacklustre hair. I discovered these breastfeeding support vitamins and ever since taking them I have felt wonderful. My daughter is absolutely thriving. She started life at 6lb8 and 4 months later is a wonderful 15lb9oz. She couldn't be healthier.lthier. "Mrs C B , United Kingdom
"I had a failed attempt at IVF and on my second attempt I used Pregnacare and honestly think this is what increased my egg count and also my chances, I strongly believe this is what helped me as I am currently 5 weeks pregnant, early I know... I feel you should know your products really helped!, THANK YOU!!"Miss S D , United Kingdom
"I have used Pregnacare throughout my pregnancy. I would like to let you know that only Pregnacare is the best supplements for pregnancy, Trust me. Highly recommended!"Mrs E K , United Kingdom
"I would like to say that this product is absolutely amazing cos we've been trying for the last 4 months without no results and I decided to start taking your product, started out on the 1st of April I can happily say that on the 8th of May I got a positive pregnancy test due to using your product and I cannot thank you enough, this product is amazing"Mrs M S , United Kingdom
"After 2 years of trying and after some bad news that I may never conceive due to a rare medical condition, I decided to give it one last try and decided to buy Pregnacare Conception. And after 6 weeks I can now happily confirm that I am 4 weeks pregnant and although it is early days I am hopeful that I will have a healthy baby as I have now progressed onto your Pregnacare Plus with Omega-3."Miss N Sh , United Kingdom
"Brilliant product used with my first child conceived within 3 months and the same with my second child would highly recommend this product."Mrs S G , United Kingdom
"My heart is full of joy. Thanks to Pregnacare. Now I have a beautiful baby girl after 6 years of marriage. A friend from UK introduced me to this wonderful multivitamin and after 2 months of continuously taking it, I got pregnant. Thank you."Mrs D Madam , United States Of America
"Hello, I just wanted to let you know that I think your conception his and hers are fantastic. Me and my wife were trying to have a baby for a very long time and we resorted to your vitamins and after only two months she fell pregnant. I just wanted to share my happy story with you. "Mr H Heshmati , United Kingdom
"We were trying to conceive around 5 months and I got to know I have polycystic ovaries. We started him and her conception after and within the first week of my third pack we got to know that we are 4 weeks pregnant. Couldn't say how happy we are now. Highly recommended this product. "Mrs A A , United Kingdom
"Pregnacare original is the best trust me...even my baby in the tummy dances whenever I take it."Mrs K A , Ghana
"I would just like to say how fantastic your product is and I have used the pregnancy and am still using the breastfeeding vitamins now as they are so brilliant for me and my little one."Mrs L Curwen , United Kingdom
"I think your conception supplements are really good and I recommended them to my friends. I really feel that they helped me conceive my baby so thank you."Mrs F Abboud , United Kingdom
"The best cream I've ever known for stretch marks. I delivered a baby boy and had no marks at all. I started applying from my 4th month pregnancy until after my delivery. I recommend to all ladies out there."Mrs M Leitao , United arab emirates
"Pregnacare is amazing I was told it might take me up to 18 months to conceive due to health problems, got pregnant within a month of using it."Mrs N P. , United Kingdom
"100% recommend Pregnacare. I don't think I ever would have fell pregnant without it."Mrs C H. , United Kingdom
"I was told I would need fertility treatment to conceive but after a course of Pregnacare I fell pregnant 2 months before treatment was to start!"Mrs S C. , United Kingdom
"Me and my partner took over the counter Pregnacare supplement and we fell pregnant [after] 27 days in 30 days supply! Now we've got a cheeky 2 year old son! 100% recommended!!!"Mrs N J. , United Kingdom
"I used Pregnacare throughout my pregnancy my son is nearly two and is so very physically strong I believe this is down to the supplement. Some people are more receptive than others, every story is different."Mrs C T. , United Kingdom
"I fell pregnant with twins after taking Pregnacare for 4 weeks!"Mrs B W. , United Kingdom
"I've been taking these vitamins for the last 25 days and I'm happy with the results already. I have more energy, I don't feel constantly tired, I just feel better in myself"Mrs A R , United Kingdom
"I've used Vitabiotics vitamins throughout my pregnancy and I've tried using a supermarket brand, before reverting back to Vitabiotics. I feel secure knowing I'm getting all of my nutrients in one hit, and I do notice when I am deficient in something (magnesium and iron in particular). As someone that suffered with morning sickness for over 20 weeks, I started with the Liquid as it tastes nice (a novelty!) and is easier on your stomach. I then moved onto Pregnacare Plus. Since taking Pregnacare Plus I've been told my skin is glowing and I've noticed a difference in my hair and nail strength. I haven't had cravings since I've been taking Vitabiotics so I am a complete convert, I will continue with Vitabiotics after my daughter is born."Mrs S Creedon-Gray , United Kingdom
"It's my testimony. My wife is based in UK (Bradford). But for about 7 years we've been looking for another baby after our first born. Just this year, she told me about Wellman for me and Pregnacare Conception for us both. After about two months of taking lo and behold she's pregnant now. Thanks"Mr A Olusesi , Nigeria
"I would just like to say thank you for the fabulous quality of your vitamins I have used then throughout my whole pregnancy and now I'm breast feeding. Thank you so much for giving my little girl the best start in life."Miss J Moor , United Kingdom
"I have been recently using pregnacare his and hers conception. Can't wait to now start using pregnacare plus now. Great product and exciting times with my first! "Miss K Wilkins , United Kingdom
"Thanks so much. Taking Pregnacare during my time of my first conception, my lovely daughter came out strong and healthy. She is now 4 months, myself and my baby are more than superb. I recommend to all."Mrs P Abbey , Ghana
"I took Pregnacare Conception to get a baby. Now I am pregnant. "Ms B Boateng , Ghana
"I have used your Pregnacare products for a year of trying to conceive,42 weeks of pregnancy and so far 13months of breastfeeding. I just wanted to say it's a great all in one product and gives me some piece of mind that my body and my baby is getting what it needs even if my diets lacking sometimes. Thanks Pregnacare."Miss C Rayner , Ireland
"The Vitabiotics cream is seriously underrated next to all the posh ones on the shelf and I loved it."Ms H Wright , United Kingdom
"Hello, I would just like to say a very big thank you for the wonderful pregnacare support tablets. I have been taking these throughout my pregnancy and they have helped to support me 100% along the way. Thank you so much "Mrs K Cory , United Kingdom
"Hiya, Just wanted to say how good pregnacare conception is. I found out I was pregnant not long ago and was only taking them for a month. I am now expecting my second child (possibly twins). Not sure how it works but done a super job. Would recommend this to anyone. Thank you! "Mrs J W , United Kingdom
"Never did I think after reading reviews I'd get pregnant after 1 month of using these vitamins. After 6 months of trying, me and my partner decided to use these to boost our chances. 3 positive tests in 2 days ?? Highly recommend, and will definitely use them again if we plan another child! "Mrs L B , United Kingdom
"I'm 31 yrs old and have been trying to conceive for over 1.5yrs now. I came across Pregnacare Conception tablets and decided to give them a try. I have been taking them for about 5 months now and I was just about to give up......but hey the 2 stripes showed on a pregnancy test today....I'm the happiest gal on earth."Mrs B , United Kingdom
"My best friend started taking Pregnacare in December 2015, within her first packet after 10 years of hoping for a baby she fell pregnant. I decided after having my own struggles to conceive (12 years ttc) and being told I have high testosterone and signs of pcos and irregular periods thinking "it will never happen for me". I bought Pregnacare thinking, worse case scenario, I get some vitamins in me. Well first pack down (just) and we have found out I am pregnant. It has just blown my mind."Mrs D Allen , United Kingdom
"These pills are really good! It's been 6 years since I've been TTC, done a lot of research on fertility and pills and came across Pregnacare vitamins after reading the info I decided to give it a try. I found out I was 5 weeks pregnant! I'm so excited. Thank you Pregnacare"Ms M Brown , USA
"I naturally conceived aged 48 years old, and my son was born when I was 49. I believe I am now the oldest first time mum, who conceived naturally, in the uk. I took Pregnacare Conception before I became pregnant, and I believe this contributed to my fertility at this older age; for this I would like to thank your company."Mrs S REDMOND , United Kingdom
""Hi Pregnacare! I would just love to compliment you on your product! It is amazing! It has helped to keep me and my baby healthy throughout my whole pregnancy and I have no doubt it will carry on. I will be suggesting to all my friends and family it's just amazing! Thank you so much for creating this product! I will also be going on to using your breast feeding one too when my baby is here! Thank you! Lucy ""Miss l hughes , United Kingdom
"I've been taking Pregnacare Conception for just over a month now and have just gotten pregnant. I think the tablets did definitely help prepare my body for pregnancy. I would recommend to everyone TTC to try them."Mrs R Begum , United Kingdom
"I started taking Pregnancare Conception when myself and my partner started trying for a baby (He was also taking the male supplement). This was purely just to prepare my body for pregnancy after 5 weeks of taking Pregancare I was pregnant! I really believe the extra vitamins help. Thank you Pregnacare!"Mrs C , United Kingdom
"My husband and I have been trying to get pregnant for over two years. I am thirty years old and read the reviews on pregnacare conception. I started my first no during my last period and took a pregnancy test this morning and its positive. Thank you pregnacare for your products I plan to use the others for my pregnancy thanks again."Mrs J , Trinidad
"Been trying to conceive for over a year bought these and within the first packet I am pleased to say I am pregnant :) so happy xx miracle pills"Miss H Mommy , United Kingdom
"Hi me and my fiancee have been trying for a baby for 4 years. I started taking Pregnacare Conception, I bought my second packet and a pregnancy test and found out pregnant! After 1 packet of the vitamins, we are really happy and would thanks the vitamin. I would really recommended these to any couples trying to conceive. Thanks again, Stephanie Wood"Miss S Wood , United Kingdom
"Hi, thanks for making Pregnacare it is such a great product. I used it as soon as I found out I was pregnant the first time and found it helped so much, I had a healthy pregnancy and everything went much more smoothly for me than friends who never took Pregnacare. I have now started taking pregnacare again on my second pregnancy as i felt constantly tired without it so the product definitely works, thanks for making this product it is excellent :)"Miss G ANDERSON , United Kingdom
"I would just like to say what wonderful products you sell. I have been using Pregnacare tablets and cream since the day I found out I was pregnant, I've now gone onto Pregnacare breastfeeding tablets."Miss E W , United Kingdom
"I just wanted to say what a super product Pregnacare is. I used it all through my first pregnancy and have used it again with my second baby. My friends are pregnant so I have advised them to take it too as it was the best and a reasonable price too. Keep up the good work and thanks for being such a good company to us mums."Mrs R D , United Kingdom
"As I sit here typing this with my 11 week old beautiful little baby girl in my arms I realise how very lucky I am. After 12 hours of labour my little girl was stuck and had to be delivered with forceps. I lost 2 litres of blood and I firmly believe that the reason I did not require a blood transfusion was because of your product Pregnacare which I took throughout my pregnancy. You see my haemoglobin level was very high and dropped, but still to a safe level. I feel it was a key part in helping throughout the birth process and after emergency surgery. So thank you from the three of us!"Mrs M B , United Kingdom
"I started using Pregnacare conception and I didn't even finish my first box and fell pregnant...Its amazing and really works. Thank you, I will be recommending to everyone."Ms M N , Ireland
"I just wanted to say how wonderful the Pregnacare Breast-feeding supplements are. I have a 7 month old baby and I am breastfeeding. I had been extremely run down and struggled to get day to day tasks done. My mother in-law saw these tablets in her local chemist just over a month ago, and I have been taking them ever since. Myself and my husband noticed a change in my energy levels within 2 or 3 days of taking them. Thank you for making this wonderful product, I feel like the old me again - I only wish I'd found them sooner! "Mrs A A , United Kingdom
"My husband and I had been trying to conceive for 17 months. I took Pregnacare Conception for one month and conceived before I'd even finished the first packet! I'm now 11 weeks pregnant and have been taking Pregnacare Plus for the past 2 months and am so far, having an easy pregnancy - I feel great. I would definitely recommend these tablets to anybody else."Mrs A E , United Kingdom
"I just want to thank you for your wisdom and expertise in coming up with Pregnacare. This product helped my wife give birth to a very bouncing and active baby boy. My baby will be 7 months old and he has been crawling and learning how to stand up already. Before pregnancy she was on WELLWOMAN and switched to PREGNACARE right from conception. By taking Pregnacare she has had a very healthy pregnancy and my baby was born healthy with a good weight. There were no complications during her pregnancy. Thank you."Mr I I , Namibia
"I am 7 months pregnant and for the first 3 months I was using... just folic acid and iron tablets. I decided to move onto Pregnacare after the pharmacist recommended them to me. I've been on Pregnacare ever since and I wouldn't go back. They give me all the vitamins I need to have a healthy baby. My pregnancy is going fantastically well, thanks to Pregnacare."Miss G B , United Kingdom
"We decided to try for a baby after 8 years of marriage. I decided to take Pregnacare Conception and after the first box, I fell pregnant and I had a very good pregnancy. I went on to take Pregnacare Plus and I gave birth to a health baby boy on his exact due date. I continued to take Pregnacare breast feeding, I would highly recommend this product. "Ms A U , United Kingdom
"I have just started using Vitabiotics Pregnacare Conception after a close friend recommended it to me as she has had trouble conceiving for years. She took Pregnacare Conception and didn't even finish the box and is now six months pregnant. I have heard of the effectiveness of the product from several people and cant wait to soon live its wonders..! "Miss P S , United Kingdom
"I used Pregnacare for both my pregnancies and after my second pregnancy I used Pregnacare Breast-feeding and I cannot express how brilliant this product is! It is fantastic and gives you all of the vitamins you need! if I ever have another baby I will certainly be using these products again as both my boys are very healthy and happy :) thank you Pregnacare!"Mrs T H , United Kingdom
"After being told I would have trouble conceiving I decided to take Pregnacare conception and after a year I fell pregnant, during my pregnancy I took Pregnacare with Omega and when my baby was born he was very strong and alert and he is very advanced for his age, so I definitely think it's down to Pregnacare. "Miss S Y , United Kingdom
"I just wanted to say that the Breastfeeding supplement is amazing! I was determined not to supplement my son, despite slow weight gain so started taking Pregnacare Breast-feeding myself a month ago. He is a different baby which I am putting down to more nutritious milk. Thank you so much, would recommend to anyone"Mrs A B , United Kingdom
"I just wanted to say a big thank you to Pregnacare! I am now 33 weeks along with a very active baby and have been taking Pregnacare with Omega 3 from the first month onwards. I am quite a fussy eater and was worried about not eating any fish during the pregnancy. With Pregnacare, I didn't have to worry about missing out on anything needed for my baby (DHA, Omega oils, Folic Acid) and so many people have commented on how healthy I looked during my pregnancy - they were amazed! I was so happy that I was able to get them when I was in Hong Kong because of your superb mail order service and I am now ordering them from Japan. I have stocked up on Pregnacare Breastfeeding for after the pregnancy and have even ordered Wellman for my husband to try. Thank you so much and I would highly recommend Pregnacare to anyone who is thinking about getting pregnant or is pregnant now - it really works!"Mrs A M , Japan
"After trying to conceive for 2 years, we both started to take Pregnacare His and Her Conception about 2 months ago. I am now 6 weeks pregnant-it really does work! Thank you."Mrs P D , United Kingdom
"I travelled to London in September 2009 and bought Pregnacare tablets at Boots. After several months, I found I was pregnant and now my lovely baby is 3 months old. I also gave Pregnacare to my 5 good friends, all of whom will have a baby soon. It`s really amazing and I wanted to share this story with you." L G , China
"My husband and I had been trying to conceive for 2 years. I started to taking Pregnacare conception about 3 months ago. 8 weeks ago I decided that my hubby needs to start taking Wellman Conception and BAM I am now 6 weeks pregnant! It really does work! Thank you."Mrs M C , United Kingdom
"I took Pregnacare Original throughout my pregnancy and not only did it ensure that both baby and I were getting all the best vitamins possible, but we now have a beautiful baby boy who at 4 months old surprises us every day with how strong he is. I'm convinced all the vitamins and minerals in Pregnacare helped him to be as strong and healthy as he is today and as parents it's great to know you've given him the best possible start, even before he arrived! I would absolutely recommend Pregnacare to any mum-to-be."Mrs L Parker , United Kingdom
"I have taken Pregnacare in my last pregnancy, and felt so healthy compared with my other pregnancies. We are now planning our next baby and have started to take them again, i have recommended them to every pregnant women i come across so thank you."Mrs N B , United Kingdom
"I have been taking Pregnacare Breastfeeding for 3 months and I am very pleased with it. I would definitely recommend it ."Mrs E Prinsloo , United Kingdom
"I have been using Pregnacare from early in my pregnancy,and now I feel healthy and my baby is growing big. I would recommend it to every woman out there."Mrs S Masis , South Africa
"After trying for seven months i was told about Pregnacare Conception by my friend. I then got pregnant after one month of taking it, and truly recommend this."Mrs R P , United Kingdom
"I decided to take "Pregnacare Conception" for a month as recommended by a friend. It works, it works, it works... I am confirmed 3 week pregnant today. Thanks to Pregnacare!!!"Miss E N , United Kingdom
"I started taking Pregnacare Plus as soon as I was pregnant through the whole 40 weeks and what a difference it made in my wellbeing. My son was born very alert and wide eyed right from the first minute. His motor skills for a new born are amazing. I am continuing with the Pregnacare breast-feeding & new mum and am sure it will continue to keep me and my son very healthy and strong. Thanks for a very good product."Miss M Wemegah , Canada
"I'm soo happy after months of trying, Pregnacare Conception gave me all my missing vitamins and after just two weeks of taking them i found out i'm pregnant soo happy "Mrs S Darlington , United Kingdom
"AMAZING - I have 3 children and my partner said let's have another so i started taking Pregnacare Original and then found out i was pregnant. I am now 7 weeks and i just know it's down to Pregnacare. A BIG THANK YOU "Mrs L Holland , United Kingdom
"I think Pregnacare His & Hers (for women and men) is brilliant. We have been trying for a baby for about 11 months and after taking Pregnacare His & Hers tablets for only 2 weeks I have found out that I'm pregnant after the first month. I am now about 3 weeks pregnant. Thank you, my husband and I are soooo happy."Miss J H , United Kingdom
"My Husband and I have been trying for a baby for 3 years now. I decided to try Pregnacare Plus Omega 3, I took this for 2 months and I am 5 months pregnant now, our scan shows our baby is developing perfectly with great movement in the womb. I believe this is all due to Pregnacare, thank you so much!"Mrs L Fay , Ireland
"I took pregnacare from about three months until the end of my pregnancy. My baby boy was born very very alert and could follow my partners finger the day he was born. He only weighed 6lb at birth but even the midwives commented on his alertness. I tell everyone it's due to pregnacare ... I'm sure it is :) now breatfeeding I take pregnacare breast-feeding and feel happy knowing I'm providing my baby the healthiest milk I can especially as I'm a fussy eater. Definitely recommend!"Ms M E , United Kingdom
"I was using Pregnacare Conception 2 and a half months before I became pregnant. I thought they were very good and also they weren't too hard on the stomach. I am nearly 7 weeks gone now and I am using up my remaining tablets."Ms C S , United Kingdom
"Dear Vitabiotics, after two years trying to conceive, my partner and I started fertility treatment as we were told we would need ICSI/IVF . I started taking Pregnacare Conception and my partner switched to Wellman Conception as soon as we found out about it. Less than two months later and I am five weeks pregnant - naturally. We are both 42 years old. I will be recommending your product to anyone trying to conceive."Ms N Golding , United Kingdom
"During my first 2 pregnancies i was prescribed high dose iron tablets which had side effects. The 3rd time round i decided to try Pregnacare which had a good level of iron and along with a healthy diet i didn't have any problems .I can't praise it highly enough!"Ms L Mcwilliams , United Kingdom
"I used Pregnacare Plus Omega 3 all the way through my first pregnancy and I felt great. My baby was so strong and healthy when he was born, and has continued to be so. When tested he was 7 months ahead in his intelligence and progress and although I can't prove it, I put a lot of this down to combining the Pregnacare Plus with a good diet. I will be using Pregnacare now I am pregnant again. I am just glad I am able to get these now I have moved to Chile."Ms M S , Chile
"After 3 IVF attempts with no luck we decided the our fourth will be the last one, on the way to the clinic we saw the Pregnacare ad in the tube and decided to try..... What a difference that made, everything was so much better this time round and the result..........a twin pregnancy!!! So just like to say a big thank you. I have recommended Pregnacare to quite a few people, one family member who was going for IVF took it as well and now has twin girls also!!!"Mrs D J , United Kingdom
"Just want to say Pregnacare is a great compact multivitamin. The antenatal doctor recommended your product and I have never looked back or regretted it. They are easily tolerated and instead of having to take folic acid separately I was happy with just the one pill to take. I have taken Pregnacare for just under one month & am feeling great. Highly thanking your team."Ms L F , United Kingdom
"Since I found out I was pregnant I have been taking your Pregnacare Plus Omega 3 and have been so so happy with the product and the way it has kept me healthy and given me the right amount of everything needed for me and baby. I have also used daily or every other day your Pregnacare streching cream which is fab and I have not one stretch mark on my body none at all, I have again used this from the beginning. I am 8 month's 1 week pregnant so really am at the last stretch and can't say enough how pleased I am I chose Pregnacare products."Ms T H , United Kingdom
"my husband and i want to say thank you very much for your product pregnacare conception.We've been trying for almost ten years to have a baby and nothing happened, but with the help of this product...I am almost a months pregnant now...thank you again."Mrs E G , Philipines
"Dear Sir/Madam, i have been trying for a baby for 3yrs and after using Pregnacare Conception for 1month i finally conceived. Thanks for the production of this supplement."Mrs A B , United Kingdom
"I would highly recommend Pregnacare Conception - i have been taking Pregnacare then changed to Conception - I got pregnant before the end of my first box. They are easy to take (with food) with plenty of vitamins & iron for energy - especially in the first few weeks of pregnancy. Thank You!!"Ms A L , United Kingdom
"This product is Awesome. I wanted a prenatal supplement and went to the pharmacy to shop around. The packaging looked informative and appealing so I chose it. This was November, by December I was pregnant (1mth)! I took it every day. My baby was born in the ending of July at a whopping 8lbs11oz. He was beautiful: skin glowing, healthy and vibrant. I made it a point of my duty to invite every pregnant mother at my work place to use it. Currently there are six and they all testify wonderful things about their pregnancies on this pill. I would definitely recommend it to every mother. Thanks, Pregnacare. "Mrs K Sawyers , Jamaica
"I've already had two children so when the pregnancy test kept being negative i was worried! We tried for 1 year,then i read about your before you conceive vitamin. I thought i would give it a go and a month later a was with child,sooooo thank you i am sure its thanks to you guys!i feel great as well so fingers crossed"Mrs J C , United Kingdom
"Since taking Pregnacare, I feel much more full of energy. Thanks!"Ms S Weston , United Kingdom
"An email to thank you for creating good products for me. When I wanted to get pregnant,I took Pregnacare- and had a healthy baby (naturally) at 46 ! "Mrs K Gold , United Kingdom
"Pregnacare is a lovely supplement for pregnant women. It gives me so much energy that without it my pregnancy would have been very difficult and dull!! I never forget to take Pregnacare since I first started…and no other supplement compares to Pregnacare!! It's fabulous!!"Miss K Marwaha , United Kingdom
"Hello, Just a quick note to complement you on your excellent, fast delivery and communication of despatch with my order of Pregnacare tablets. I have never ordered from you before and I am always dubious about internet transactions, but I needn't have worried as the standard of service is excellent. The bonus point scheme is a great idea also, I shall certainly use you again and shall recommend you to friends and family. Thank you. "Mrs V Thorley , United Kingdom
"Working in a new job and just finding out you're pregnant is not easy! Of course you need to focus on trainings, inductions and all the rest, and you don't want to appear unethusiastic. Well, for the first 8 weeks, I had a tough time. Luckily, a colleague recommended Pregnacare. Ever since I started taking it, I have felt energetic and more alert during the day. "Mrs S Nwaozuzu , United Kingdom
"I would like to thank vitabiotics for developing Pregnacare tablets, I took them every day for a year before I became pregnant and all through my pregnancy, and after, I had a very healthy 9lb 2oz baby girl now 17 months and now I am taking the Pregnacare again, whilst trying for another baby. My consultant in hospital said it was excellent that I was taking such a good combination of minerals and vitamins throughout my pregnancy, as it gave my unborn baby such a great start. Many thanks"Miss P Mcgrath , United States Of America
"I am 12 weeks pregnant, and recently started taking your Pregnacare tablets. I have already found them making a great difference and wellbeing. Thank you."Mrs V Rajput , United Kingdom
"When I first found out I was pregnant, I was lacking iron. I saw a leaflet that was given to me in a mum-to-be pack which was pregnacare. I thought I'd give it a try and ever since taking them I have felt great, and had no problems with the amount of iron and also my baby's growth is well too. I definitely recommend these to anyone. 21 years old, 30wks pregnant. (at time of this review 30/06/04)"Miss S Adams , United Kingdom
"I just wanted to tell you how wonderful Pregnacare is. I was ill all the way through my first pregnancy with terrible sickness and anaemia, was off work almost constantly and ended up in hospital. I dreaded the same thing when I became pregnant again. However I took Pregnacare all the way through as I was still breastfeeding my son as well and this time I sailed through the pregnancy with no problems at all. In fact the only day I was sick was the one day I forgot to take my Pregnacare pill the night before. Coincidence? Who knows? I know that every pregnancy is supposed to be different but the difference was rather extreme - from a miserable shivering wreck who could do nothing but lay down all day to an active healthy women full of life and energy. Thank you so much. I am still continuing to take Pregnacare as I am breastfeeding and would recommend it to anyone. "Miss D Hoynes , United Kingdom
"I am trying for a baby, so I decided to start taking pregnacare,they give you every thing you need to keep you healthy, all the right nutritions so you dont have to keep buying all different ones. It has everything you need to keep you both healthy"Mrs J Nadeem , United Kingdom
""Pregnacare has made me feel terrific during my pregnancy. I have more energy than ever before and feel healthy overall. My doctor stressed the importance of folic acid duing my pregnancy and I feel confident I'm doing the best for my baby by taking Pregnacare everyday. I plan to continue taking it after childbirth to ensure my baby and I are getting all the vitamins and nutrients we need.""Mrs M P , United States Of America