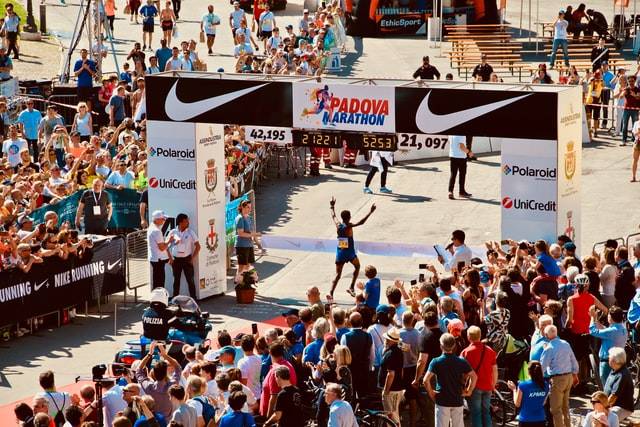 Getting ready for a marathon is as much about the mental groundwork for the race as it is about the physical preparation.
Regardless of whether you're an experienced runner or a novice, marathons can push the body to its limits, and as a result, you'll need to prepare your your mind for the potential pain and exhaustion that you will be faced with. Mind training for sport, in general, is a crucial part of the preparation process because it can give you the motivation to power through to the finish line when things get tough.
To help you get your head in the zone before marathon day, we're providing our top mind fitness tips to help you prepare mentally and maximise your chances of success. Read on to learn more.
Break The Marathon Down Into Stages
It can be a daunting task trying to tackle all 26.2 miles of a marathon at once. However, once you break this distance down into smaller stages, you're faced with much more realistic and achievable mini-goals to approach.
You could use each lamp-post as a goal, or even each individual mile, if you'd prefer. You'll find it easier to motivate yourself to reach each small milestone than trying to tackle the whole marathon in one go.
Looking For More Marathon Training Inspiration? 
We asked 7 seasoned marathon runners for their training tips and tricks in our beginners guide here: 7 marathon training tips brought to you from previous London Marathon runners
Focus On Yourself Rather Than On Others
Mental preparation in sport is all about focusing on yourself and not being distracted by what others are doing. When you start your marathon, it'll be difficult not to watch other runners and compare your progress to theirs. However, this can have a negative impact on you and it can be detrimental to the preparation you've taken to achieve your goals.
In the run up to marathon day, remember that you're running your own race and no-one else's. Simply focus on what you've set out to achieve, stick to the timing you have planned and you'll have the best chances of success.
Learn The Dissociation Technique
This is a technique that many endurance runners use to distract themselves from the pain and soreness experienced while running. The dissociation technique involves 'tuning out' and focusing on your external surroundings instead of any negative thoughts or pain you may be feeling.
If you're running with a partner, you can use them as a positive distraction and engage in chatty conversation. Alternatively, anything from cheering spectators to the scenery along your running route could act as a focal point away from any negative thoughts that could slow you down.
Support Your Body With Vitabiotics' Vitamin Supplements For Men And Women
Now that you've conquered the mental challenge of running, it's time to make sure your body is in peak condition to tackle your marathon.
Our Wellman vitamins for men and Wellwoman supplements can help to support your all-round health and vitality. With the right nutritional help and a good training programme, you'll have all the tools you need to power through any long distance run.