We Review Your Baby, Your Birth By Hollie De Cruz
Have you considered trying hypnobirthing? Make sure you read our latest TalkMum Book Club review of Your Baby, Your Birth – Hypnobirthing Skills for Every Birth by Hollie de Cruz
Hello, and welcome to the latest issue of our TalkMum Book Club, where each month we review the newest releases and best books and podcasts relating to fertility, pregnancy, parenting and family life.
We recently reviewed Izzy Judd's book Mindfulness for Mums, and have also looked at Marie Kondo's The Life-Changing Magic of Tidying, the Little Book of Self-Care for Mums and Mother Ship by Francesca Segal.
Next up is the book Your Baby, Your Birth by Hollie de Cruz, a book about hypnobirthing skills that can apply to every type of birth.
Your Baby, Your Birth By Hollie De Cruz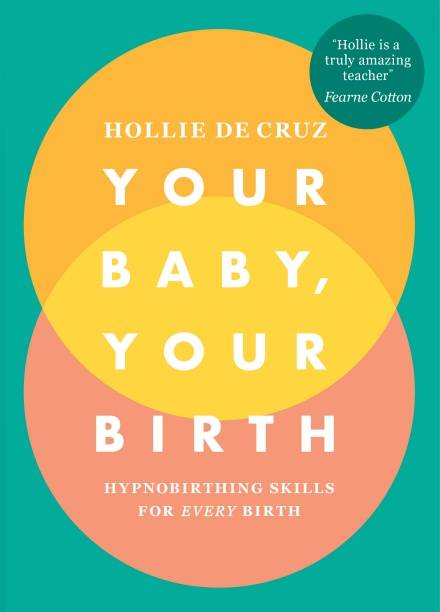 Who Is Hollie De Cruz, The Author Of Your Baby Your Birth?
Hollie de Cruz is a hypnobirthing coach and creator of the YesMum positive affirmation cards, which use mindfulness techniques to help mums with confidence and self-belief in their day-to-day lives.
You may also already be following Hollie over on Instagram, where she posts daily updates as The Yes Mum:
As a hypnobirthing coach Hollie has worked with many new mums, and even coached Giovanna Fletcher and Fearne Cotton before the births of their children.
You might have recently seen her on ITV's This Morning, where she talked about the benefits of hypnobirthing after it was revealed that the Duchess of Cambridge used it during her pregnancies.
What Is Hypnobirthing?
Hypnobirthing is a technique that uses simple self-hypnosis, visualisation, relaxation and breathing techniques to make you calm and relaxed before and during childbirth. You can read more in our TalkMum post on what hypnobirthing is and how it can help you.
What Is Your Baby, Your Birth About?
One of Hollie's aims with the book is to demystify hypnobirthing, with a down-to-earth, realistic approach. She draws upon the experience of giving birth to her own children and working with many other mums-to-be to help prepare you for a positive birth experience and give you the tools to approach motherhood with confidence.
Your Baby, Your Birth is a hypnobirthing guide designed to be relevant to all types of births. It also includes:
Exercises and breathing techniques for labour and birth for you and your birth partner, along with guided meditations keep you calm and engaged.
Tips on how to listen to your body, prepare your mind and relax during pregnancy.
First-person experiences from Hollie's clients and mums who used hypnobirthing for their own labours.
Why Should I Read Your Baby, Your Birth?
Hypnobirthing has been in the news recently, with the Duchess of Cambridge talking about the positive benefits she gained from using it, both before and during the birth of her three children (read more here). While hypnobirthing can't help you have a pain-free labour or guarantee you will have the birth you want, it can potentially help to make you calm, relaxed and beforehand and focused while you're giving birth, whatever the circumstances.
Whether you're a first-time mum-to-be who is curious about the benefits of alternative birth techniques or a parent looking for a different experience with your next labour, Your Baby, Your Birth offers and easy to read guide to hypnobirthing with tips for simple tools you can use to help you stay calm and centred during pregnancy and during childbirth.
Make Sure You Also Read Our Post On mindfulness on the school run.
Here Are Some Of Our Other Book Reviews You May Be Interested In:
1. Izzy Judd's Mindfulness for Mums
2. TalkMum Book Club: Mother Ship by Francesca Segal
3. TalkMum Book Club: Annabel Karmel
4. The TalkMum Book Club - Happy Mum, Happy Baby by Giovanna Fletcher