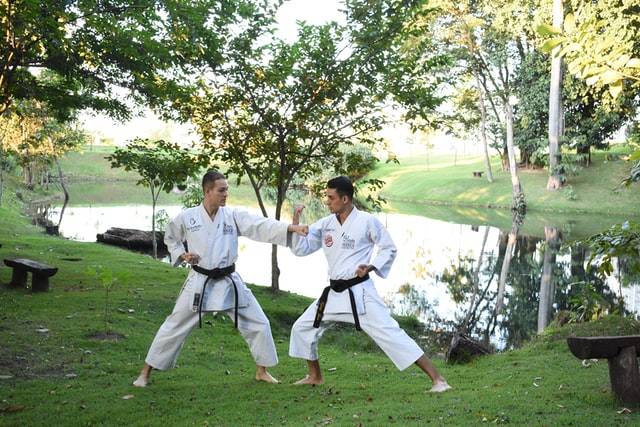 When thinking of martial arts as a sport, you might compare it to the more boisterous and highly active sports like rugby or boxing. However, karate is the complete opposite of confrontational. The International Traditional Karate Federation defines karate as 'the art of self defense'. Karate is considered something to be mastered and, while doing so, it will provide many understated health benefits.
Karate is a respectful pastime and is perfect for all. Whether you are a man, woman, child, or grandparent, karate is good for you! If you are considering working towards a black belt or simply intrigued by the wellness wonders of karate, have a look at our 5 reasons to take up it up:
1. Strength And Flexibility
Your body is the only weapon used in karate. There are no weights but yourself when it comes to building strength, form and flexibility.
It might not be possible to karate chop through bricks immediately, but the repetition of muscular training through both outward and retrained movements will increase your strength and keep you lean. High kicks and swift evasive movements in martial arts aid your flexibility.
2. Supporting Your Mental State
Karate not only builds strength but mental stability. It's believed that karate, above all other martial arts, helps to support cognitive improvements. While it's not clear why karate is superior to other exercise types, the 'specific blends of aerobics, balance, and coordination' benefits the mind in terms of reaction times and mental resilience under stressful situations.
Whilst there's a strong link between the mental and physical health benefits of karate, it's important that both are supported by a balanced diet with plenty of the right nutrients. If you are on the road to enriching your life with karate, these vitamins for women and men will contribute to the normal energy release needed to exercise effectively.
3. Reducing Your Likelihood To Fall
While attempting to strike the hardest blow with your arms and hand, it might be forgotten that karate has secret powers when it comes to your leg muscles.
According to a study carried out in 2016, taking up martial arts is highly likely to reduce your chance of falling. Selected individuals from a group of older adults who had recently fallen and incurred injuries took up martial arts and, when compared to the other individuals who didn't take up the sport, the likelihood of falling was reduced, along with the probability of injuring themselves.
Taking up karate as a hobby, supported by our Osteocare supplements, will help contribute towards the maintenance of healthy bones. There is no way you'll be taken down by introducing this pairing to your everyday lifestyle.
4. Looking Out For Your Heart
When it comes to the older ages, there are many benefits of karate for adults. Forget muscle fitness for a moment, as karate involves intense agility and repetition of the whole body for complex moves. Sticking to a karate routine for a while could help in decreasing high blood pressure, as well as high heart rate averages.
It may seem a challenge to create a karate training routine amongst the chaos of life, so here's a variety of ways to support you in the process:
Find a training buddy; someone who is supportive and won't use you as a stress toy
If you are struggling to find the energy to add karate to your routine, introduce specialist vitamins for energy, for men or women into your diet.
Monitor your health - Fitness trackers like Apple Watch and Fitbit are great ways to track your progress and check on your heart at the same time.
5. Fun Escapes With Family And Friends
The art of karate can be appreciated by all ages. Many find it to be an incredible experience to enjoy alone in meditation. However, karate for fitness can be even better for families as you all train together, working towards becoming the most indestructible (and healthiest) household on the planet.
Because karate is a mental exercise as much as it is physical, it can be great for building relationships with your families, friends and colleagues. Martial art gyms are in the plenty, and are almost always welcoming to all ages. Get yourself started with this global martial arts directory, and begin to reap the many benefits of karate as part of your lifestyle.
If karate doesn't really take your fancy, how about another indoor sport such as trampolining or swimming?