Wellkid Soft Jelly Pastilles
Wellkid Soft Jelly Pastilles
Product Description
---
Wellkid Soft Jelly™ pastilles provide a multi-vitamin formula to help safeguard the nutritional intake of children aged 4-12 and are available in two great tasting flavours: Strawberry and Orange. Wellkid Soft Jelly™ includes all eight B-complex vitamins, vitamin C , D and E. It can also be taken alongside Wellkid Calcium Liquid. More Info
Wellkid Soft Jelly Pastilles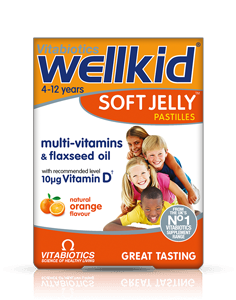 3 for 2
45 Reward Points
45 Reward Pts
---
Wellkid Soft Jelly Formula
---
Orange flavour vitamin pastilles with sweetener for children aged 4-12
Nutritional Information
Av. per 2 pastilles
% EC NRV*
Vitamin D (as D3 400iu)
10 µg
200
Vitamin E
5 mg α-TE
42
Vitamin C
30 mg
38
Thiamin (Vitamin B1)
0.7 mg
64
Riboflavin (Vitamin B2)
0.8 mg
57
Niacin (Vitamin B3)
9 mg NE
56
Vitamin B6
1 mg
71
Folic Acid
100 µg
50
Vitamin B12
0.5 µg
20
Biotin
75 µg
150
Pantothenic Acid
3 mg
50
Flaxseed Oil
120mg
-
(providing 60mg Omega-3)

*NRV = Nutrient Reference Value, µg = microgram, mg = milligram
Sweeteners: Sorbitol Solution & Maltitol Syrup, Purified Water, Gelling Agent: Gelatin (Halal Bovine Source), Vitamin Blend (Vitamin D3 [Cholecalciferol], Vitamin C [Ascorbic Acid], Niacin [as Nicotinamide], Biotin, Vitamin E [as DL-Alpha Tocopheryl Acetate], Pantothenic Acid [as Calcium Salt], Vitamin B6 [as Pyridoxine HCl], Riboflavin, Thiamin [as Mononitrate], Folic Acid [as Pteroylmonoglutamic Acid], Vitamin B12 [as Cyanocobalamin]), Flaxseed Oil, Acidity Regulator: Citric Acid, Orange Oil, Natural Orange Flavouring, Natural Source Colour: Betacarotene, Glazing Agent: Carnauba Wax.
Directions
CHILDREN (4-12 YEARS): CHEW ONE TO TWO PASTILLES DAILY.
Preferably take with a main meal. These chewable pastilles are not designed to be swallowed whole. Do not exceed the recommended intake. Do not give to children under 4. This comprehensive formula replaces other Wellkid multivitamins. There is no need to take another multivitamin.
No added sugar, designed to be kinder to teeth
No synthetic colours
No preservatives or lactose
No yeast
Wellkid Soft Jelly has not been tested on animals
Food Supplement
Food supplements must not replace a varied and balanced diet and a healthy lifestyle.
As with other food supplements, consult your doctor or pharmacist before giving to your child if they are under medical supervision, have epilepsy, suffer from food allergies, or are allergic to any of the ingredients.
Made in a site that may handle nuts.
Excessive consumption may produce laxative effects.
Store below 25°C in a dry place, out of sight and reach of children.
Wellkid Soft Jelly FAQ
---
Why is it that children may benefit from nutritional supplements?
Government surveys have indicated that children's diets can sometimes be low in certain nutrients. Many children are not eating the recommended 5 portions of fruit and vegetables a day and so may not be getting all of the vital nutrients that their bodies need for long term health and development. Some foods may have a lower than expected nutritional content and may be low in certain micronutrients as a result of several factors including modern farming practices, the lengthy storage of 'fresh' food before it is sold in some shops and over cooking which can cause certain nutrients to breakdown. It is important to promote a healthy diet and lifestyle in children and to encourage positive eating and exercise habits for later in life. Food supplements are of course not a substitute for a healthy balanced diet!
Top
How many pastilles does one pack of Wellkid Soft Jelly contain?
Wellkid Soft Jelly pastilles contains 30 chewy pastilles per pack, 1-2 pastilles a day are recommended.
Top
How and when should Wellkid Soft Jelly be taken?
Chew 1-2 Wellkid Soft Jelly pastilles daily, preferably with a main meal. These chewy pastilles are not designed to be swallowed whole. Wellkid Soft Jelly should not be given to children under the age of 4 years. It is important to ensure that your child does not take more than the recommended amount.
Top
Are there any undesired effects whilst taking Wellkid Soft Jelly?
Wellkid Soft Jelly has no known side-effects when taken as directed. Do not exceed the recommended daily intake. In case of overdose, seek medical advice immediately. As with all supplements, seek professional advice before using if your child is under medical supervision or suffers from any food allergies. Wellkid Soft Jelly contains sweeteners, which if taken in excess may have a laxative effect.
Top
Is Wellkid Soft Jelly recommended with any other Vitabiotics products?
Calcium is an essential mineral, needed for normal growth and development of bone in children. However, it has not been included in the Wellkid Soft Jelly formula, as it is not possible to include the right amount in one pastille.

Rather than including just a token amount of calcium, Wellkid Soft Jelly has been designed so that it can be taken alongside Wellkid Calcium Liquid, which contains calcium and vitamin D that help maintain the normal growth and development of bone in children.
Top
Need help swallowing a tablet or capsule?
Difficulty in swallowing tablets is quite a common experience. Vitabiotics have researched this extensively and recommend after chewing some food (e.g. banana), just before you swallow, pop the tablet into your mouth and swallow it together with the chewed food, followed by some liquid. The throat opens up wider to swallow the chewed food and so the tablet should go down with greater ease. Alternatively, the tablets may be swallowed with thicker liquids such as yoghurts or smoothies.
Top
Is Wellkid Soft Jelly suitable for vegetarians?
No. Wellkid Soft Jelly contains gelatine so is not suitable for vegetarians.
Top
What are the active ingredients?
Please see nutritional information click here
Top
Has Wellkid Soft Jelly been tested on animals?
No. Like all other products in the Vitabiotics range, Wellkid Soft Jelly has not been tested on animals.
Top
---
"The Wellkid Peppa Pig vitamins are the first vitamins my five-year-old son has ever willingly taken! Normally, he can't bring himself to chew let alone finish a gummy vitamin but he actively looks forward to taking these. I've had to hide the jar from him as he's so keen! The other day, we came home and he ran straight to the living room to get a vitamin, which he sat sucking while doing his homework - unprompted! They seem to be something of a miracle product."Mrs G G , United Kingdom
"I would like to thank you for your outstanding Wellkid products that I have recently tried over the last occurring months. You see, I cannot have certain foods because of my dietary needs. I will continue buying your products as I enjoy them greatly and prefer them to other brands. Sent with many thanks. "Ms F Wilts , United Kingdom
"Hi, Just a quick email to give a little feedback. My 4 year old son, who is a very fussy eater, uses your soft jelly vitamins and he absolutely loves them. We are currently using the strawberry flavour, he happily eats one a day.  Thank you and we look forward to continuing to use your products in the future." Mrs S Mummery , United Kingdom
"I had taken Pregnacare when I was pregnant with my son and the doctor who delivered him remarked that he had never seen such an alert baby! When he was old enough, I gave him WellBaby drops and now that he is 4 years old, I give him the WellKid Jelly Pastilles. He absolutely loves the taste and always looks forward to taking his vitamins. My son is bilingual, and is growing up healthy and strong and everyone comments on how fast he picks up things. Thank you very much for worldwide shipping!"Mrs A Y , Japan
"I have been using Vitabiotics for my children for many years and I am very happy with it. First of all, we trust the brand, the children like the tablets as they are chewable and taste great, and unlike many others in the market, they are also suitable for vegetarians. My children take them daily: One of my children is the Italian and British U10 Chess Champion, one is already studying a degree course in Mathematics at the age of 15 (not to mention his other many academic achievements at a very young age) and one is a little prodigy in playing the Piano, therefore is essential I take good care of their diet, especially when travelling to other countries, and I feel they benefit from good vitamins supplements like WellKid."Mrs T Contu , United Kingdom
"I have recently started using WellKid baby drops for my daughter who is currently 8 weeks old and am writing to say how fab they are! The syringe makes it so easy to give to her and she LOVES the orange taste! She is actually getting excited when she sees me get the bottle out to give her and opens her mouth and looks disappointed when it is all gone! I will be continuing to use the wellkid products throughout her childhood! "Mrs S Anderson , United Kingdom
"My son has been taking your products since he was a baby, he has good health and is very advanced, he is bilingual and the tallest and strongest in his class. He is 7 and is size 10 on clothes and size 4 in shoes!!!! A big lad. Thank you."Mrs V C , United Kingdom
"I have been giving WellKid Baby & Infant Liquid to my 23 month old daughter for over two months now and seen a big difference in her. She has become more energetic. I think this product is great and would recommend it to anyone."Mrs JDZS , United Kingdom
"My children actually love the Wellkid Baby & Infant Liquid, they get all excited when I tell them they will get a spoon, so that's great! "Mrs M V , United Kingdom
"My children have just tried the WellKid Soft Jelly Chewable vitamins and both agree they are the best tasting vitamins I have ever tried to force down them !! Actually they asked if they could have more. That gets my vote. Thanks."Mrs N B , United Kingdom
"Since 6 months old I've been giving my baby Wellkid- Baby & Infant syrup. I'm very pleased with it and am telling all my friends about it"Mrs J W , United Kingdom
"My kids have been taking WellKid Chewable for 3 weeks and have greatly improved. I would highly recommend it to any kids!"Miss L K , United Kingdom
""My son (aged 10) has been taking fish oil supplements for 4 years now, and although they have improved his concentration they didn't make change to anything else. While taking WellKid I have noticed benefits in all areas" "Mrs L P , United Kingdom
""I believe the WellKid vitamins have done Heena (aged 6 ½) good. She has always been reluctant to go to bed, but I do think she has been sleeping better. Although she eats a good variety of fresh fruit and vegetables she was normally quite reluctant to eat very much, but since she started the WellKid she has also gained some weight and looks healthy." "Ms H , United Kingdom
"Carolyn (aged 10) I have seen a change in how long she can concentrate which is good in any child"Mrs J , United Kingdom
"After 3 months of taking WellKid Chewable, 4 year old Claire found benefits in concentration, memory, energy levels and her immune system. Her mother commented "Great multivitamins. Fantastic- thank you!" "Mrs V , United Kingdom
"Martin is a 4 year old little boy. After 3 months of taking WellKid Chewable, it helped provide him with significant support with his concentration. His mother commented "WellKid has helped him to concentrate at school and his teacher even commented he seems to have grown up overnight!""Mrs L , United Kingdom
"Helen is a 9 year old girl who took WellKid Chewable for 3 months. After the first month she found benefits in energy levels as well as her sleep. Her appetite also improved. This continued during the second month and by the end of the third month her mother had noted significant benefits in appetite, sleep patterns, energy, as well as immune function. She commented that "WellKid is much better than other tablets. The best thing about WellKid is the combination of much needed iron, vitamins and omega-3 in just one tablet! Brilliant, a wonder tablet!! ""Mrs P , United Kingdom
"Great product for kids, well priced and tastes good. first multi vit that my son actually enjoys taking!"Miss V K , United Kingdom