Feroglobin Fizz
Feroglobin Fizz
Product Description
---
Feroglobin Fizz makes a great tasting natural orange flavoured drink which provides gentle iron with vitamins C, B6 and B12 which all support normal energy release and help to reduce tiredness and fatigue. A great alternative to tablets or capsules. More Info
Suitable for vegans and vegetarians
Feroglobin Fizz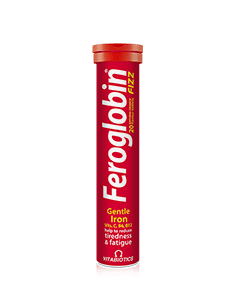 3 for 2
45 Reward Points
45 Reward Pts
---
EFFERVESCENT IRON, VITAMIN C, ZINC & COPPER TABLETS.
Nutritional Information
Av. per Tab
% EC NRV*
Vitamin C
80 mg
100
Vitamin B6
5mg
357
Folic Acid
200 µg
100
Vitamin B12
10 µg
400
Iron
17 mg
121
Zinc
10 mg
100
Copper
1000 µg
100

*NRV = Nutrient Reference Value, mg = milligram, µg = microgram
Citric Acid, Sweeteners: Sorbitol & Sucralose, Acidity Regulator: Sodium Bicarbonate, Natural Orange Flavouring, Vitamin C (Ascorbic Acid), Starch, Ferrous Sulphate, Zinc Citrate, Betacarotene Prep., Vitamin B12 (Cyanocobalamin), Vitamin B6 (Pyridoxine HCl), Copper Sulphate, Folic Acid (as Pteroylmonoglutamic Acid).
Directions
DISSOLVE ONE TABLET IN A GLASS OF WATER TO MAKE A REFRESHING ORANGE FLAVOURED DRINK. Take once daily. Do not exceed recommended intake.
Gentle on the stomach
Suitable for vegans
No Aspartame
Easily absorbed
Food Supplement
Food supplements must not replace a varied and balanced diet and a healthy lifestyle.
As with other food supplements, consult your doctor or pharmacist before using if you are under medical supervision, pregnant, breast-feeding, have epilepsy, haemochromatosis, suffer from food allergies, or are allergic to any of the ingredients.
Contains polyols, excessive consumption may produce laxative effects.
Not suitable for children under 12 years.
This product contains iron, which if taken in excess, may be harmful to very young children.
Store below 25°C, in a dry place, out of sight and reach of children.
Feroglobin Fizz FAQ
---
Why has Feroglobin Fizz been developed?
Feroglobin Fizz has been developed by Vitabiotics' nutritional experts to provide effective levels of iron with supporting nutrients in an effervescent tablet that makes a convenient, easy to take, natural orange flavoured drink.
Top
When is Feroglobin Fizz recommended?
Feroglobin Fizz is suitable for vegetarians and vegans and children from 12 years. The formula is gentle on the stomach and easily absorbed and ideal for women during pregnancy and during menstruation. It may also be of interest to athletes and adults over 50 years.
Top
Can Feroglobin Fizz be used simultaneously with medications?
Generally, Feroglobin Fizz can be taken alongside medications because it contains only moderate levels of vitamins and minerals. For specific advice on taking Feroglobin Fizz with medicines, we recommend that you contact your doctor or pharmacist.
Top
How many effervescent tablets does one pack of Feroglobin Fizz contain?
Each pack of Feroglobin Fizz contains 20 effervescent tablets. We recommend using one tablet daily, so each pack should last 20 days.
Top
How and when should Feroglobin Fizz be used?
One tablet is to be dissolved in water to make a refreshing orange flavoured drink and taken daily. Drinking Feroglobin Fizz with a large meal maximises the absorption of the nutrients.
Top
Are there any undesired effects whilst taking Feroglobin Fizz?
Feroglobin Fizz has no known side-effects when taken as directed. However it contains the natural source sweeteners sucralose and sorbitol, excessive consumption of which may produce laxative effects. Therefore do not exceed the recommended intake. In case of overdose, seek medical advice. As with other supplements, seek professional advice before using if you suffer from food allergies or are allergic to any of the ingredients.
Top
What are the active ingredients?
Please see nutritional information click here
Top
Is Feroglobin Fizz suitable for vegetarians and vegans?
Yes, Feroglobin Fizz is suitable for both vegetarians and vegans. As with all other Vitabiotics products, it is not tested on animals.
Top
Some Nutrient Reference Value (NRV) levels are above 100%, is this safe?
Certain vitamins are very safe at levels tens or even hundreds of times the NRV, whereas for others the safety level is much closer to the NRV. For this reason every vitamin and mineral needs to considered on an individual basis in terms of its upper safe level.

The Nutrient Reference Value (NRV) is the amount of a vitamin or mineral which has been calculated to help prevent basic deficiency states in the general population. However, certain vitamins and minerals at optimal levels, above the NRV, have consistently been shown to have positive benefits in specific areas of health. This is why some Vitabiotics formulas have certain nutrient levels greater than 100% NRV.

All Vitabiotics products have been developed using the latest research and contain effective levels of vitamins and minerals, while avoiding any excessive amounts, in accordance with official upper safe limits for vitamins and minerals.

Vitabiotics avoids 'mega dose' levels of isolated nutrients and instead we have always stressed the importance of safe, moderate and sensible levels of vitamins and minerals, carefully balanced to maximise their combined effect; an approach which has been supported by many experts and researchers over the years.
Top
---
"I just want to say how fantastic your Feroglobin slow release capsules are. Having... been through several investigations and unable to take other forms of iron, my doctor heard about Feroglobin, the improvement was rapid and my health changed beyond belief. 2 years on I continue with this fantastic product and have told many people of its success. Thank you."Mrs G Gait , United Kingdom
"My daughter has been taking Feroglobin Liquid for about 6 weeks. The difference in her is amazing. She's like a different child. She is so happy, smiling, is more sociable, eats better, sleeps better. It's made a huge difference to her life and to ours as we're less stressed as she isn't having a tantrum all the time. Thank you so much"Mrs J Lewis , United Kingdom
"Feroglobin is literally life changing. For about 5 years I have been down, tired, irritable, over eating. Doctors found I had low iron but iron and vit c tablets didn't seem to make much difference. I have been taking Feroglobin for about 3 weeks and it's changed my life - more energy and willpower, less grumpy, amazing skin......just incredible. "Ms A stavrevska , United Kingdom
"Can't recommend this enough. I'm going through perimenause at the moment, and this had help me so much with the tiredness and energy. "Mrs D Bishop , United Kingdom
"I've been using Feroglobin liquid for about a week. It has absolutely made me feel fresh and better and I can feel this when doing exercise. Thank you"Mr N . , Iran
Absolutely love this product. Only used it for 2 weeks. Makes me eat better, because to eat you have to be awake ;-) Finally a product that gets me up...Miss M Siddique , United Kingdom
"Feroglobin capsules really do help with my energy levels. I ran out recently and wondered why I was feeling so tired and fatigued and realised it was because I was not taking the capsules. I highly recommend these capsules and they are gentle on your stomach and do not cause constipation problems like some I have taken."Ms J , United Kingdom
"I have been exhausted for ages, took different supplements and nothing worked. Thought it was just me. I was recommended Feroglobin and wow! It's my 3rd day on this and I don't feel the need to fall asleep as soon as I get home from work. My quality of life has changed in such a short period of time and I wanted to say thank you."Miss H J , United Kingdom
"I bought some of your Feroglobin and could actually feel my energy levels start to creep up again. My blood count came back up amazingly fast too - so thank-you!"Ms W O , United Kingdom
"Hi, I take the Feroglobin Liquid iron which is brilliant and I will not stop using this as my nails are growing and I have no cravings to bite them (first time in 42 years)."Miss R B , United Kingdom
"I bought Feroglobin Liquid and Omega-H3 (capsules) from Dubai and found it very helpful to my health. I recommend it to all who need vitality and sound mind. "Mr J H , Canada
"Feroglobin has put me on track. My Dr said I was low on Iron, I couldn't understand it as I have a healthy diet that I thought was Iron rich. He told me that so many vitamins and good stuff is lost from source and in the cooking process, that I needed to top up. I got your product Feroglobin and now feel great, thank you so much. "Miss S K , United Kingdom
"A wonderful product which worked wonders on my 5 year old to support blood cell count."Mrs L G , United Kingdom
"We got these for my daughter and were astonished how much they helped. So impressed."Mr K F , United Kingdom
"I wanted to make a comment on Feroglobin liquid. I have been trying to look for a formula which contains all the ingredients and is vegetarian. Taking Feroglobin for a couple of weeks has helped me maintain my energy levels.
Thank You "Mrs P S , United Kingdom
"I have always suffered with low iron, i have always used iron tablets in the past, which made me feel a bit better than before, but i was still feeling tired all the time with no energy so i tried feroglobin liquid i have taken it for about 2 weeks now and i feel so much better, stronger and more energy and alert, i will definitely be using this all of the time now. Thank you vitabiotics i have found something that really works."Mrs L C , United Kingdom
"Last time I took this my iron level rose. Really struggle to take all other forms of iron. Thank you Vitabiotics."Mrs L H , United Kingdom
"Hi there.. I spotted your product Feroglobin (liquid). I started taking it the next day, so have been taking it only 3 weeks. I feel stronger and had more energy within a few days, and it has really helped me maintain healthy blood and I feel a lot better. Both my sisters are now taking Feroglobin, which I have bought for them through your internet shop for their general health. I will keep you updated."Ms N F , United Kingdom
"As an athlete combining training with fulltime work i was constantly feeling rundown. My doctor recommended iron supplements as my blood counts were just scraping within the lowest limit for an 'average' person. A month before the cycling season (which incidently is a winter sport in australia) I started taking Feroglobin and within days could feel the improvements. Efforts on the bike were stronger and longer and i feel i could dig a lot deeper during races. I am once again in the process of ordering more Feroglobin...thanking you Patrick Varas"Mr P Varas , Australia
"My blood count used to to be in the 20's, now it is in the 40's. And, it did not take long. I recommend this to my friends and coworkers. Also, it does not cause constipation for me. Thank you very much Vitabiotics."Miss L Jones , United States Of America
"I am now 26 years old and I have been using Feroglobin since I was in high school in St.vincent and the Grenadines. Unlike other tonics that made me drowsy and taste awful, Feroglobin is to the contrary. Its literally delicious and it gives you that needed boost in a flash. I was initially drawn to it because of its natural composition. It works, and it works fast. I told every body about this. Now I have introduced my Mom and fiance to Wellwoman, and they love it. VITABIOTICS Keep good work going!"Mr C Jackson , United Kingdom