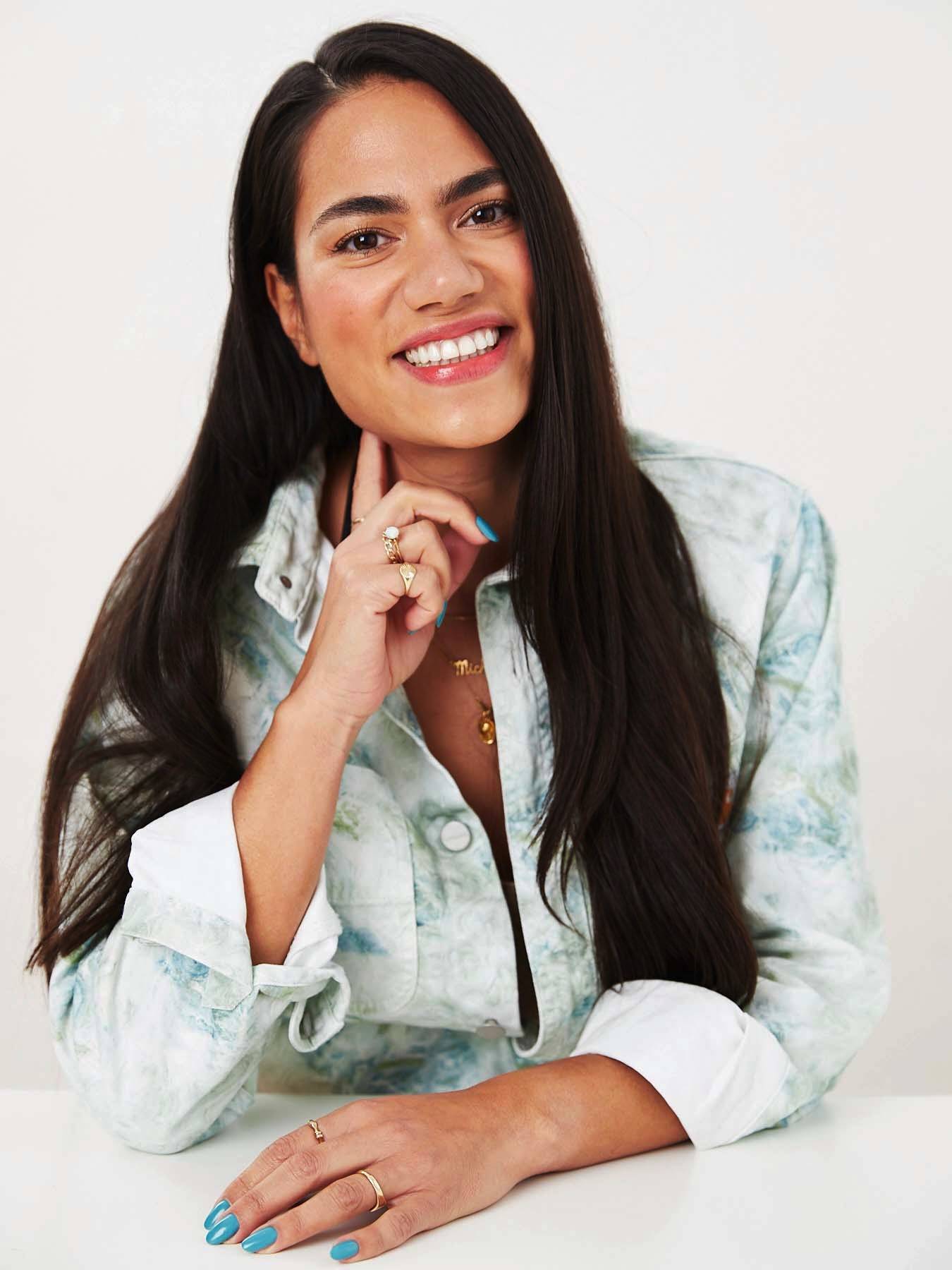 What are your general top 3 tips for hair, skin, and nails?
1 - Oil your cuticles - daily!! Not only does this aid nail growth by stimulating the nail plate, but also maintains nail flexibility and hydrates the surrounding areas.
2 - Take a beauty supplement, I'm a fan of Perfectil Nails - these provide vitamins and minerals to support your skin, hair, and nails from the inside out, including zinc, biotin and selenium - winning!!
3 - Wear a nail strengthener and reapply it weekly. This will help to physically coat and protect the nail plate, which helps with daily durability and wear and tear.
What is your favourite product in the Perfectil range and why?
I have a couple! I am a fan of Perfectil Nails - of course I need to make sure my nails are healthy and looking their best! But I also love the Perfectil Hair Crush gummies, so some days I go for these, as they're so easy to take - I keep them in the fridge so they're cold and extra chewy.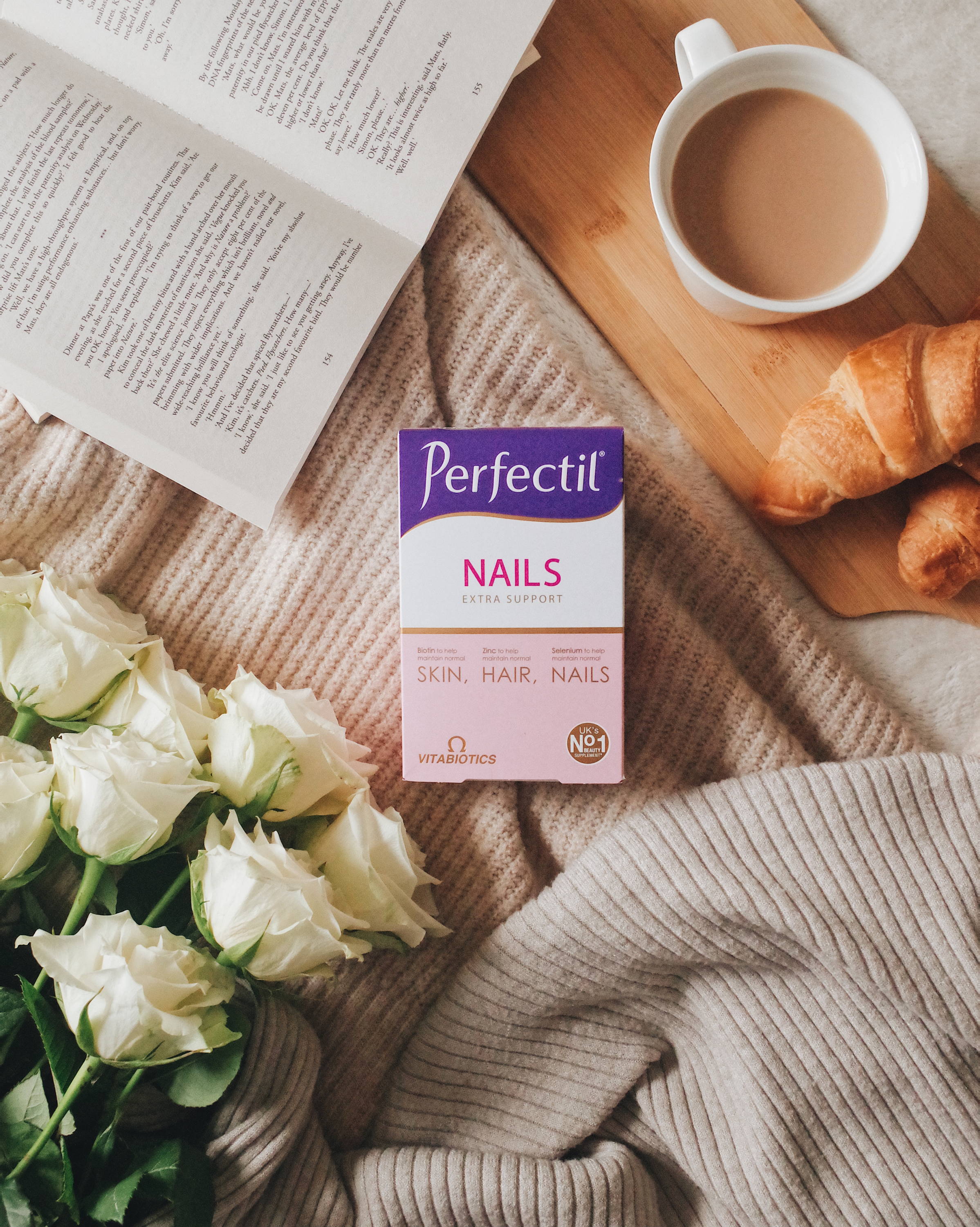 What Perfectil product do you get asked about most or what triggers the biggest reaction on your page?
Perfectil Nails always gets people talking! I get countless DMs from people asking me if they actually work! I have to say that my hair, skin, and nails are a testament to these supplements as each have been slowly improving over time. I think my hair is glossier, my nails are stronger, and my skin looks more radiant.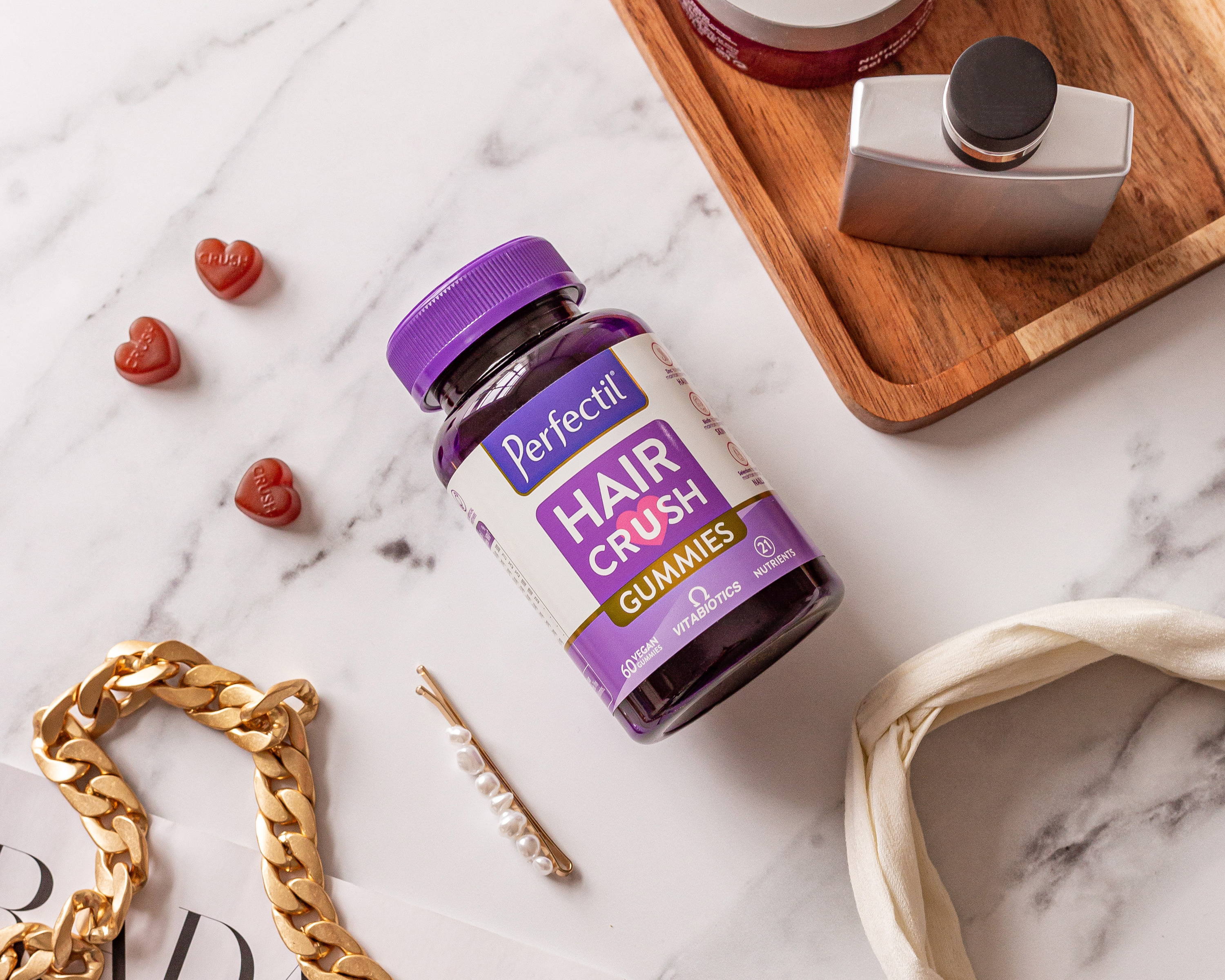 What are your top tips for feeling and looking your best self?
Sleeping well: Getting 7/8 hours of sleep per night can make the difference between a good and a bad day. Having a good night's sleep is one of the biggest mood-boosters for me.
Eating well: A varied healthy diet rich in fruit, vegetables and protein really helps me feel my best. A well-balanced diet is essential for general health and nutrition.
Drink plenty of water: Dehydration has such a negative effect on the body and can cause the skin to look dull, lose elasticity and plumpness. Aim for at least 7/9 glasses per day, depending on how thirsty you feel.
Exercise! I'm a huge fan of yoga and training in the gym. Yoga is not only amazing for mobility and flexibility, it's also great for the soul and mind, every class is an hour of peace and time out from the world. Weekly weight training and cardio keep my body in check.
What advice would you give for maintaining your nails in the
winter?
Wear gloves when performing manual tasks like washing up, cleaning etc. Cleaning products can be toxic/drying on the skin and nails and prolonged exposure to water is very dehydrating.
File any nail snags as soon as possible to avoid tears and breaks. These tend to be more common in the winter due to the cold air making nails more brittle.
Oil your cuticles!!! Once again, this is the holy grail of nail care!!
Wear hand cream and reapply frequently! If your hands are exceptionally dry (chapped etc) avoid perfumed formulas and go for something more nourishing and caring.
Don't forget to take your Perfectil beauty supplements! These contain Selenium, Biotin and Zinc, all key nutrients to support your hair, skin, and nails from within.
Do you have any specific advice for achieving your dream summer
skin/hair/nails?
Wear SPF on your hands, this is key in the summer, but even in the winter, this will protect your hands against premature ageing. Reapply frequently or after hand washing (find a hand cream that contains SPF to make this one simple step!)
Take Perfectil beauty supplements daily. There are several formulas and products to choose from, meaning you can tailor your supplements to suit your needs, whether that's extra support for your nails, skin, or hair. Choose your desired formula and stick with it for a few months to see results.  
Exfoliate your skin! Body brushing and exfoliation stimulate blood flow to the skin, giving you that gorgeous dewy summer glow we all love.
Double shampoo your hair. This will ensure you remove any build-up of seawater or chlorine if you're away on your holiday.
What trends do you think will dominate 2023 for hair, skin, and nails? Any trends you'd like to see or not, see?
'Glass hair' - this is hair that is expensive looking and has a mirror-like glossy shine, as seen on Kim Kardashian and Bella Hadid. Shiny hair = healthy hair and there's no better way to achieve this than taking Perfectil Hair Crush Gummies alongside a solid haircare routine. Ensure you deep condition your hair weekly, use heat protector when styling, and keep split ends at bay for the ultimate smooth hair.
Nail health - nothing beats a healthy, happy nail plate. Get the look using a pink-tinted nail strengthener to give them a beautiful sheer glow. Also taking Perfectil Nails helps from within; the extra selenium in this formula contributes to maintaining normal nails.
'Aura nails' - this is a huge nail trend in the nail art world, as seen on Dua Lipa. This is where a nail is airbrushed to create an illusion of an aura. Get the look at home using nail polish and make-up sponges - Layer colours onto a beauty sponge and gently dab onto the nail to create this effect - Clean up the skin using a q-tip in remover.
Skin trends - dewy, glass skin. Achieve Hailey Bieber Skin goals by ensuring optimum hydration from within. Make sure you don't skip any of your recommended daily water quota (go for around 8/9 glasses if possible).  
Your skin care regime is also key to this one. Make sure your skin is exfoliated (dead skin cells can make your skin look dull/flaky) and physically hydrated from the outside. Wear make-up that enhances your glow and avoid powdering your entire face.
Credit: Instagram @haileybieber (left) & @nailsbyzola (right)
What does your morning routine look like?
I wake up, and its coffee first for me, usually a Cappuccino. Then it's time for skincare, I cleanse my face, then apply my serums, moisturiser, and SPF - this is the perfect base for my make up to sit on. Once I've had my breakfast, I take my daily dose of Perfectil Nails and Probiotis Live Cultures - a gut bacteria supplement – with a glass of water before brushing my teeth and carrying on my day.
Who is your celebrity beauty icon/crush?
Sade is one of my all-time favourite beauty icons.