Inspired by the amazing new cookbook from best selling cookery author, entrepreneur and Wellwoman Vegan ambassador Roz Purcell, called No Fuss Vegan: Everyday Food for everyone. We have listed below a number of quick and easy recipes that not only look good but taste great (trust us we have tasted them!)
Please let us know if you have tried these recipes and what you thought about them - and if you have any yummy vegan recipes to share.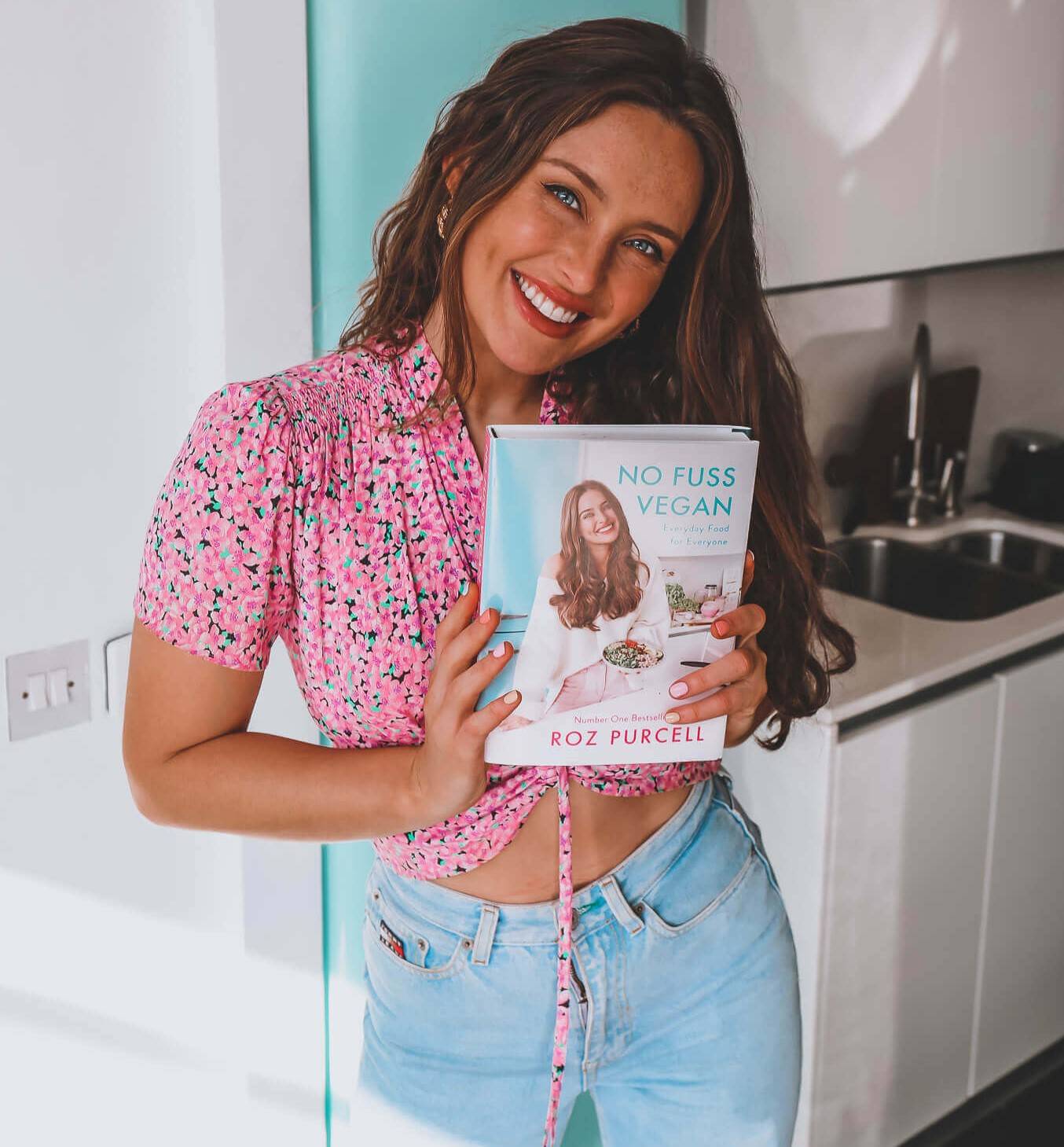 BREAKFAST
Makes 8
BANANA BREAKFAST VEGAN MUFFINS
My favourite kind of breakfast – sweet! The smell of these muffins baking will help you to jump straight out of bed. This recipe makes eight muffins, but if you want to make 12 to fill a muffin tin,scale up the ingredients by 1.5.
oil, forgreasing
2 tbsp milled flaxseeds
6 tbsp water
50g porridge oats
100g ground almonds
2tsp ground cinnamon
1tsp baking powder
½ tsp bicarbonate of soda
1 lemon
2 overripe bananas
3 tbsp nut milk
2tbsp maple syrup
1tsp vanilla extract
250g fresh or frozen blueberries
25g whole almonds, chopped
Preheat the oven to 180°C. Grease eight cups of a muffin tray with a little oil or use paper liners.
Start by combining the milled flaxseeds and water in a small bowl. Let it sit for 15 minutes to bulk up.
Meanwhile, blend the oats into a flour consistency and tip into a bowl along with the ground almonds, cinnamon, baking powder and bicarbonate of soda. Mix well.
Zest the lemon, then juice one half only.
In a separate bowl, mash the bananas, then stir in the soaked flaxseeds, lemon zest and juice, nut milk, maple syrup and vanilla. Pour the liquid mix into the dry ingredients and stir to combine into a thick, smooth batter. Fold in the blueberries.
Spoon the mix into the greased or lined muffin cups, then top with the chopped almonds. Bake in the preheated oven for 25 minutes. Leave to cool for 10 minutes before enjoying. Store in an airtight container in the fridge for up to four days.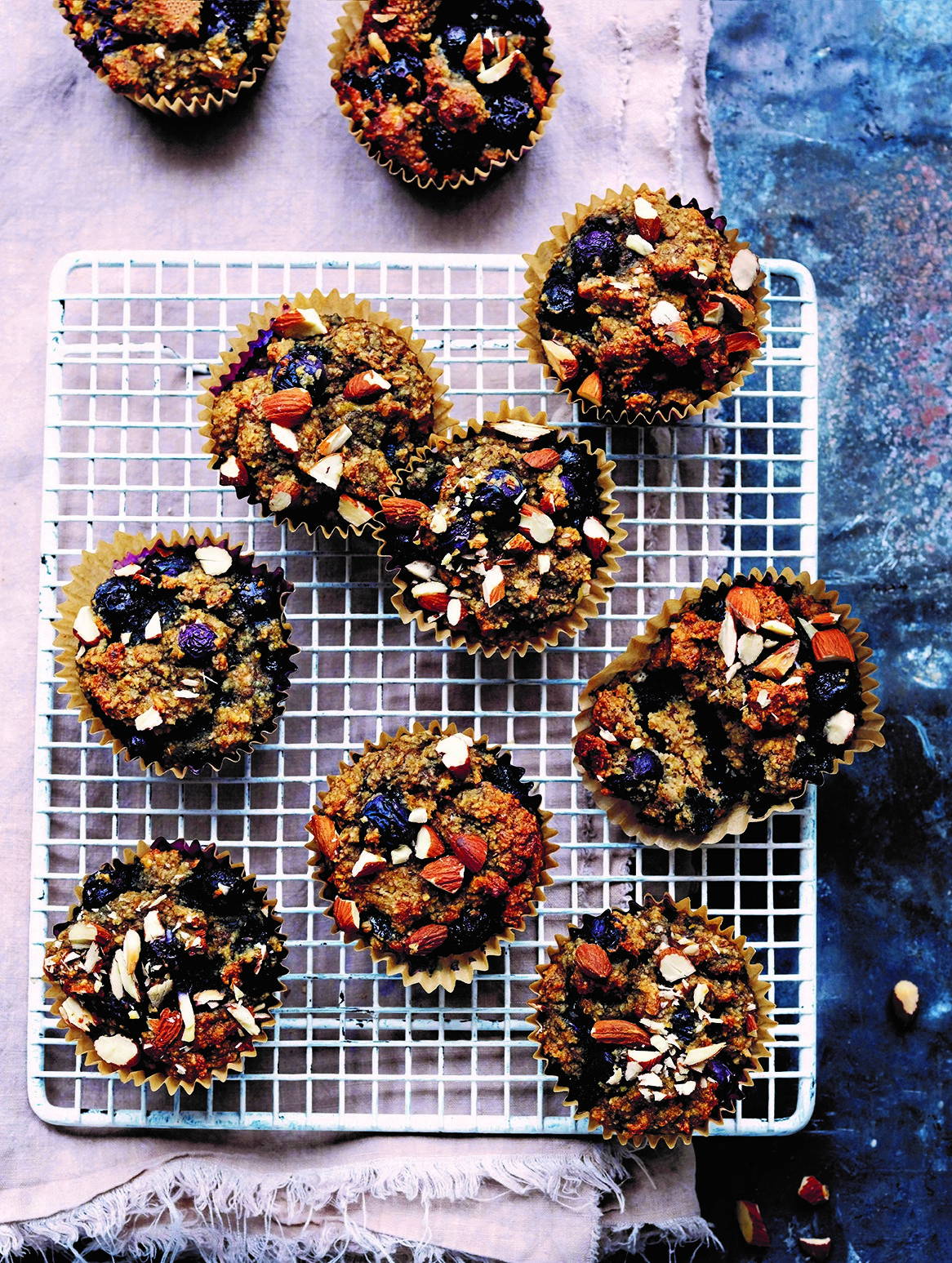 LUNCH
Serves 4
COURGETTE, CHICKPEA AND PEA SOUP
All my favourite things loaded into one bowl! This soup is so smooth, creamy and, most importantly, fast – perfect for those times you get in after a cold day out.
2 tbsp olive oil
2 large courgettes, thinly sliced
800ml hot vegetable stock 1 x 400g tin of chickpeas,
drained and rinsed, with a few reserved as garnish
200g frozen peas, with a few defrosted peas reserved as garnish
4 tbsp vegan basil pesto (page 86), plus extra to garnish
sea salt and freshly ground black pepper
Heat the oil in a large saucepan over a high heat. Add the courgettes and cook for 4 to 5 minutes, until softened. Add the stock and simmer for 8 to 10 minutes, until the courgettes are fully cooked. Stir in the chickpeas, frozen peas and pesto and cook for 1 minute. Blend until smooth with a hand-held blender and season to taste.
To serve, ladle the soup into warmed bowls and garnish with extra pesto and the reserved chickpeas and peas.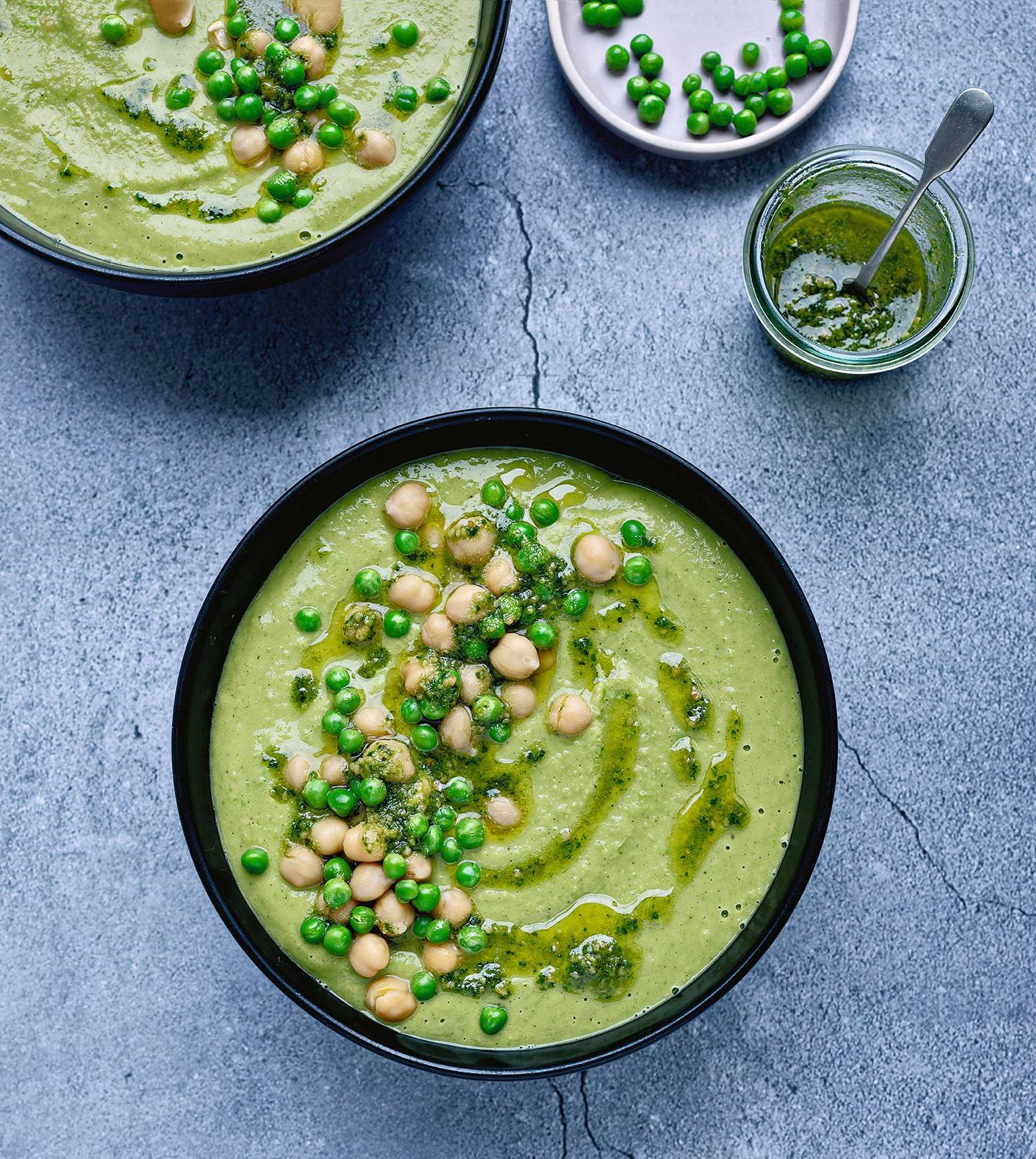 DINNER
Makes 2
SWEET POTATO VEGAN PIZZA
This thin, crisp pizza base with a hint of sweetness goes great with any toppings. I love it with pesto, then loaded up with ricotta, red onion and crispy kale, but you can use whatever toppings you like or whatever you have in your kitchen. The base also freezes well, so I always make a few at a time for an even faster Friday night dinner.
For the base:
400g sweet potato, peeled and diced
200g oats (porridge, rolled or jumbo oats will all work)
2 tbsp dried oregano
2 tbsp olive oil, plus extra for greasing
For the toppings:
vegan basil pesto (page 86) cashew cheese (page 186) sweet red onion (page 62) crispy kale
pine nuts
Preheat the oven to 200°C. Grease two pizza pans or large baking trays with a little oil.
Steam the sweet potato on the hob or in the microwave (see page 94) until tender.
Meanwhile, blitz the oats to a flour consistency in your blender, then tip into a medium-sized bowl.
Put the steamed sweet potato in the blender along with the oregano and olive oil and blend until smooth. Pour into the bowl with the oat flour and use a spoon to combine into a dough.
Split the dough in half. Working with one half at a time, tip the dough out onto a clean surface (you shouldn't need any extra flour for dusting and rolling) and roll it out nice and thin into a 20cm circle. Repeat with the other half.
Use a spatula to lift the dough onto the greased pizza pans or trays. Bake in the preheated oven for 25 minutes.
Remove from the oven and flip the base over, then add your toppings. Place the pizza back in the oven for 5 to 8 minutes, depending on your toppings. Remove from the oven and allow to stand for 1 minute before cutting into slices.