The Basics Of Vitamin D
Vitamin D is an essential fat-soluble vitamin, produced when our skin is exposed to UVB rays from sunlight. Involved in many important functions across the body, the benefits of Vitamin D are potentially more wide-ranging than any other vitamin. Initially lauded for its role in helping to maintain the health of our bones, teeth, and muscles, Vitamin D also plays a role in supporting the normal function of the immune system.
Quick Facts About Vitamin D 
- Vitamin D helps support normal immune function, as well as the absorption of calcium and phosphorus, and supports normal bones and teeth and muscle function.
- In the UK's winter months, when sunlight is weaker and the daylight hours are shorter, the Vitamin D deficiency levels rise to one third.
- Unlike most other vitamins, it is hard to hit our daily quota of Vitamin D through food alone.
- In the UK, an average diet provides 3-4 µg of Vitamin D per day and only a little more if oily fish is consumed.
- Some people are more likely to have lower Vitamin D levels if they don't get enough vitamin D from sunlight, for example those who spend more time indoors, are housebound, or even night shift workers, or those with dark skin.
- In the UK, the Department of Health and Social Care recommend anyone aged four years and over, as well as pregnant and lactating women, to consider taking a supplement of 10 micrograms (μg) of Vitamin D a day during the autumn and winter.
- The Department of Health and Social Care recommends that you take a daily supplement containing 10µg of vitamin D throughout the year if you are not often outdoors – for example, if you're frail or housebound, are in an institution like a care home and/or usually wear clothes that cover up most of your skin when outdoors. Or if you have dark skin – for example you have an African, African-Caribbean or South Asian background – you may also not get enough vitamin D from sunlight.
- Adults over 60 could benefit from a daily Vitamin D intake of 20µg, to reduce the risk of falling associated with postural instability and muscle weakness. In men and women over 60, falling is a risk factor for bone fractures. Vitamin D contributes to the maintenance of normal bones and supports normal muscle function.
The NHS website states that during autumn and winter, everyone is advised to take Vitamin D to keep bones and muscles healthy and support their general health.
The NHS advice for adults is not to take more than 100μg/4000iu of Vitamin D each day, with children aged one to 10 having no more than 50μg/2000iu a day, and babies under 12 months being given no more than 25μg/1000iu a day.
(Last Modified 14/01/2021)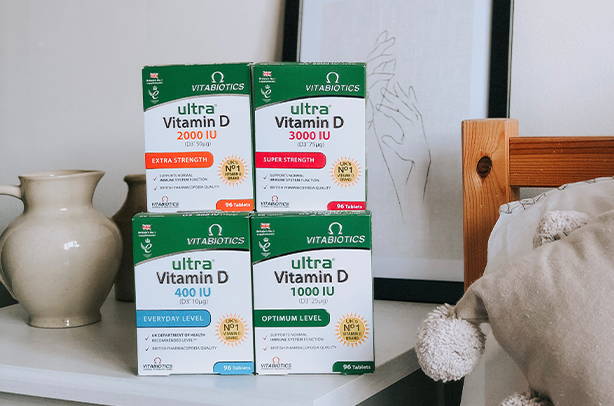 Useful Vitamin D Articles
Your Questions About Vitamin D
Do you have a question about Vitamin D? Leave a comment below and we will answer it on this guide.
Q.

Why Is Vitamin D Called The Sunshine Vitamin?
A. It is called the sunshine vitamin because it is produced by our bodies when our skin is exposed to sunlight.
Q.

What Is The Difference Between Vitamin D2 And D3?
A. Vitamin D3 comes primarily from animal sources and Vitamin D2 comes from plants and fungi. Vitamin D3 is the body's preferred form of Vitamin D, being the type produced naturally when skin is exposed to sunlight.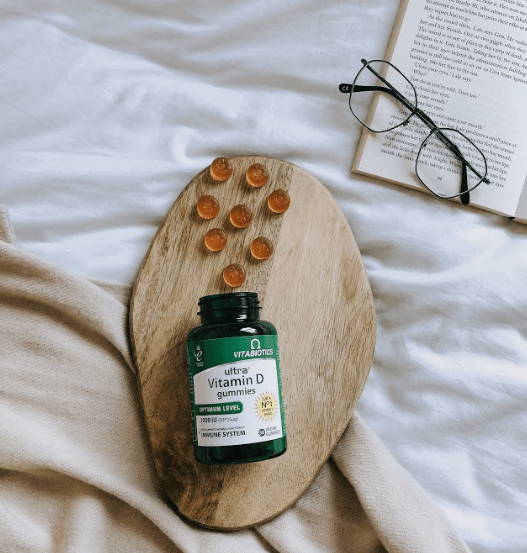 Ultra Vitamin D - The UK's number one Vitamin D brand, these premium quality Vitamin D supplements are produced to GMP quality control and contain Vitamin D3, the body's preferred form of Vitamin D. The Vitabiotics Ultra Vitamin D range provides varying levels of vitamin D3, from 400IU to 4000IU.
Wellbaby Vitamin D Drops - These Vitamin D Drops help safeguard your child's intake of vitamin D, which is needed for normal growth and development of bones in children. Suitable from birth to four years.
Welkid Peppa Pig Vitamin D - Designed for kids 3-7 years, these strawberry flavour, vegan soft jellies are a tasty and effective way to safeguard your child's intake of vitamin D.
Wellkid Marvel Vitamin D - Formulated for young heroes aged 7-14 years, these delicious strawberry flavour soft jellies are a great source of mighty Vitamin D.
Wellman Max & Wellwoman Max - These are our ultimate daily supplements for men and women that both include multivitamin, Vitamin D and Calcium tablets, plus high-purity Omega 3-6-9 capsules.
Osteocare - This range provides extra nutritional support for your bones. With a specially formulated source of Calcium, combined with important cofactors like Vitamin D and magnesium.
Immunace - Advanced nutrition for your immune system. Formulated with Vitamin D plus Zinc, Vitamin C and Selenium which contribute to the normal function of the immune system.
Pregnacare - Vitamin D is an important consideration for pregnant and breastfeeding women. Therefore all our Pregnacare products include this vital vitamin.