Wellbaby Vit D Drops
Wellbaby Vit D Drops
Product Description
---
Wellbaby Vit D Drops provides the exact level of Vitamin D as recommended by the UK Department of Health for infants and young children. More Info
Suitable for vegetarians
Wellbaby Vit D Drops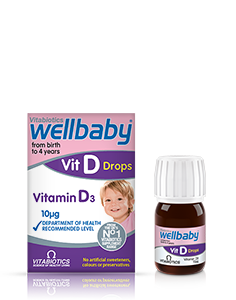 3 for 2
25 Reward Points
25 Reward Pts
---
Wellbaby Vit D Drops Formula
---
Vitamin D food supplement in a natural olive oil base, for infants and young children.
Nutritional Information
Average per 0.5 ml
% EC NRV*
Vitamin D (as D3 400 IU)
10 µg
200

*NRV = Nutrient Reference Value, µg = microgram
mg = milligram, IU = International Units.
Olive oil, Vitamin D3 (Cholecalciferol)
Directions
Give to your child orally, as below.
Give 0.5ml once daily as marked on the syringe (syringe included).
Do not give more than the recommended amount.
For ages birth to 4 years.
A measuring syringe is included.
Instructions for measuring syringe:

1. Insert syringe into bottle, then hold upside down.
2. Draw out 0.5ml liquid as marked on syringe.
3. Carefully administer drops onto infant's tongue. Rinse and dry syringe after use. Do not use in steam steriliser.
Do not use if the bottle seal is broken on purchase.
Replace bottle cap tightly after use.
SYRINGE INCLUDED
NATURAL OLIVE OIL BASE
No alcohol
No salt or yeast
No lactose
No artificial sweeteners, colours or preservatives
Wellbaby is not tested on animals
Food Supplement
Food supplements must not replace a varied and balanced diet and a healthy lifestyle. As with other food supplements, consult your doctor or pharmacist before giving to your child if they are under medical supervision , have epilepsy or suffer from food allergies, or are allergic to any of the ingredients.
Made in a site that may handle nuts.
Keep tightly closed and store below 25°C in a dry place, out of sight and reach of children. Once opened use within 3 months.
Wellbaby Vit D Drops FAQ
---
Why is it that babies and children may benefit from nutritional supplements?
From the makers of Pregnacare, Wellbaby Vit D Drops has been developed especially for infants and young children to provide the exact level of vitamin D recommended by the UK Department of Health. Vitamin D is needed for normal growth and development of bone in children. It also contributes to their normal immune system function.

The UK Department of Health recommends that babies from birth to one year of age take a daily supplement containing 10μg of vitamin D*. Wellbaby Vit D Drops provides 10μg of vitamin D per daily dose.

*Unless they are drinking 500ml or more of infant formula a day, as infant formula has vitamins added to it.
Top
How much liquid does Wellbaby Vit D Drops contain?
Wellbaby Vit D Drops contains 30ml per bottle, enough for 60 days at the recommended of 0.5ml/ taken once daily.
Top
How and when should Wellbaby Vit D Drops be taken?
Suitable for infants from birth to 4 years. Give 0.5 ml (marked on the syringe provided) once a day.
Top
Are there any undesired effects whilst taking Wellbaby Vit D Drops?
Wellbaby Vit D Drops has no known side-effects when taken as directed. Do not exceed the recommended daily intake. In case of overdose, seek medical advice immediately. As with all supplementation, seek professional advice before using if your child is under medical supervision or suffers from any food allergies.
Top
Is Wellbaby Vit D Drops suitable for vegetarians?
Yes. Wellbaby Vit D Drops is suitable for vegetarians.
Top
What are the active ingredients in Wellbaby Vit D Drops?
Wellbaby Vit D Drops contains the following active ingredient per 0.5ml: Vitamin D (as D3 400 IU) 100μg.
Top
Some Nutrient Reference Value (NRV) levels are above 100%, is this safe?
Certain vitamins are very safe at levels tens or even hundreds of times the NRV, whereas for others the safety level is much closer to the NRV. For this reason every vitamin and mineral needs to considered on an individual basis in terms of its upper safe level.

The Nutrient Reference Value (NRV) is the amount of a vitamin or mineral which has been calculated to help prevent basic deficiency states in the general population. However, certain vitamins and minerals at optimal levels, above the NRV, have consistently been shown to have positive benefits in specific areas of health. This is why some Vitabiotics formulas have certain nutrient levels greater than 100% NRV.

All Vitabiotics products have been developed using the latest research and contain effective levels of vitamins and minerals, while avoiding any excessive amounts, in accordance with official upper safe limits for vitamins and minerals.

Vitabiotics avoids 'mega dose' levels of isolated nutrients and instead we have always stressed the importance of safe, moderate and sensible levels of vitamins and minerals, carefully balanced to maximise their combined effect, an approach which has been supported by many experts and researchers over the years.
Top
---
"My baby absolutely loves these vitamin drops. She has her mouth open for them as soon as she sees the packaging! Due to breastfeeding after 6 months because she will not have formula, I give her these to make up for her not receiving added vitamins in milk. They last a long time and are great value for money."Mrs R Smythies , United Kingdom
"I had taken Pregnacare when I was pregnant with my son and the doctor who delivered him remarked that he had never seen such an alert baby! When he was old enough, I gave him WellBaby drops and now that he is 4 years old, I give him the WellKid Jelly Pastilles. He absolutely loves the taste and always looks forward to taking his vitamins. My son is bilingual, and is growing up healthy and strong and everyone comments on how fast he picks up things. Thank you very much for worldwide shipping!"Mrs A Y , Japan