Wellbaby Multi-vitamin Drops
Wellbaby Multi-vitamin Drops
Product Description
---
Wellbaby Multi-vitamin Drops is ideal for babies and infants from 4-12 months to provide a carefully balanced, comprehensive range of 14 vitamins and minerals. Also contains Swiss Alpine malt with a delicious taste your little one will love. Wellbaby Multi-vitamin Drops contain the level of vitamin D recommended by the UK Department of Health. More Info
Suitable for vegetarians
Wellbaby Multi-vitamin Drops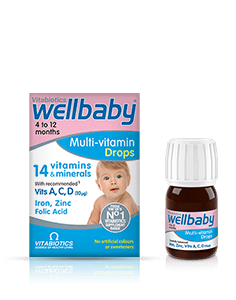 3 for 2
45 Reward Points
45 Reward Pts
---
Wellbaby Multi-vitamin Drops Formula
---
Vitamin and mineral drops with malt extract for babies from 4-12 months
Nutritional Information
Average per 1 ml
% EC NRV*
Vitamin A (1167 IU)
350 µg RE
44
Vitamin D (as D3 400 IU)
10 µg
200
Vitamin E
2 mg α-TE
17
Vitamin C
12 mg
15
Thiamin (Vitamin B1)
0.2 mg
18
Riboflavin (Vitamin B2)
0.25 mg
18
Niacin (Vitamin B3)
3 mg NE
19
Vitamin B6
0.25 mg
18
Folic Acid
50 µg
25
Vitamin B12
0.4 µg
16
Biotin
8 µg
16
Pantothenic Acid
0.9 mg
15
Iron
2.2 mg
16
Zinc
1.5 mg
15
L-Lysine
10 mg
-
Malt Extract
150 mg
-

*NRV = Nutrient Reference Value, µg = microgram
mg = milligram, IU = International Units.
Granulated Raw Cane Sugar, Purified Water, Malt Extract Liquid (from Barley), Vitamin C (Sodium Ascorbate), Ferric Ammonium Citrate (Green), L-Lysine Monohydrochloride, Acidity Regulators: Sodium Hydroxide, Sodium Citrate and Citric Acid Monohydrate, Zinc Sulphate, Propylene Glycol, Niacin (Nicotinamide), Vitamin E (DL-Alpha Tocopheryl Acetate), Thickener: Xanthan Gum, Preservative: Potassium Sorbate, Orange Oil Extract, Pantothenic Acid (D-Panthenol), Vitamin A (Palmitate, Antioxidant: DL-Alpha Tocopherol), Riboflavin (5'-Phosphate Sodium), Vitamin B6 (Pyridoxine HCl), Thiamin (Vitamin B1 as Hydrochloride), Folic Acid (as Pteroylmonoglutamic Acid), Vitamin D3 (Cholecalciferol), Biotin, Vitamin B12 (Cyanocobalamin).Allergy Advice: For allergens, including cereals containing gluten, see ingredients in bold.
Directions
Babies (from 4-12 months):
0.5ml as marked on the syringe, taken twice daily. Do not give more than the recommended amount.
1. Insert syringe into bottle, then hold upside down.
2. Draw out 0.5ml liquid as marked on syringe.
3. Carefully administer drops onto baby's tongue. Rinse clean and dry syringe after use. Do not use in steam steriliser.
SHAKE WELL BEFORE USE. SYRINGE INCLUDED.
No artificial sweeteners, colours or flavours
No fat or yeast
No alcohol
No lactose
Wellbaby is not tested on animals
See pack for full information and directions for use.
Food Supplement
Food supplements must not replace a varied and balanced diet and a healthy lifestyle.
As with other food supplements, seek professional advice if your child is under medical supervision, has epilepsy, haemochromatosis, suffers from food allergies or are allergic to any of the ingredients.
Allergy Advice: For allergens, see ingredients in bold on carton base.
This product contains iron, which if taken in excess may be harmful to very young children.
Avoid contact with clothing and fabrics which may stain.
Keep tightly closed and store below 25°C in a dry place, out of sight and reach of children. Once opened store in fridge and use within 3 months.
Wellbaby Multi-vitamin Drops FAQ
---
Why is it that babies and children may benefit from nutritional supplements?
Government surveys have indicated that some infants are not getting enough of certain nutrients such as iron, zinc and vitamin D. Once a child is old enough to consume solids, parents often face the challenge of getting young children to eat a healthy diet ideally rich in fruit and vegetables. Some foods may have a lower than expected nutritional content and be low in certain micronutrients as a result of several factors including modern farming practices, the lengthy storage of 'fresh' food before it is sold in some shops and over cooking which can cause certain nutrients to breakdown. It is important to promote a healthy diet and lifestyle in younger children as the starting point of good health and encourage positive eating and exercise habits for later in life.

From the makers of Pregnacare, Wellbaby Multi-vitamin Drops has been developed especially for babies to provide a safe and balanced comprehensive range of 16 essential vitamins, minerals and Swiss Alpine malt as a natural energy source. Food supplements are of course never a substitute for a healthy balanced diet
Top
How much liquid does Wellbaby Multi-vitamin Drops contain?
Wellbaby Multi-vitamin Drops contains 30ml per bottle, enough for 30 days at the recommended of 0.5ml/ taken twice daily.
Top
How and when should Wellbaby Multi-vitamin Drops be taken?
Babies (from 4 months up to 12 months): 0.5 ml (marked on the syringe) twice per day. If desired Wellbaby Multi-vitamin Drops may be given immediately before feeding so any residual liquid is washed off teeth and gums.
Top
Are there any undesired effects whilst taking Wellbaby Multi-vitamin Drops?
Wellbaby Multi-vitamin Drops has no known side-effects when taken as directed. Do not exceed the recommended daily intake. In case of overdose, seek medical advice immediately. As with all supplementation, seek professional advice before using if your child is under medical supervision or suffers from any food allergies.
Top
Is Wellbaby Multi-vitamin Drops suitable for vegetarians?
Yes. Wellbaby Multi-vitamin Drops is suitable for vegetarians.
Top
What are the active ingredients?
Please see nutritional information click here
Top
Has Wellbaby Multi-vitamin Drops been tested on animals?
No. Like all products in the Vitabiotics range Wellbaby Multi-vitamin Drops has not been tested on animals.
Top
---
"My baby absolutely loves these vitamin drops. She has her mouth open for them as soon as she sees the packaging! Due to breastfeeding after 6 months because she will not have formula, I give her these to make up for her not receiving added vitamins in milk. They last a long time and are great value for money."Mrs R Smythies , United Kingdom
"I had taken Pregnacare when I was pregnant with my son and the doctor who delivered him remarked that he had never seen such an alert baby! When he was old enough, I gave him WellBaby drops and now that he is 4 years old, I give him the WellKid Jelly Pastilles. He absolutely loves the taste and always looks forward to taking his vitamins. My son is bilingual, and is growing up healthy and strong and everyone comments on how fast he picks up things. Thank you very much for worldwide shipping!"Mrs A Y , Japan