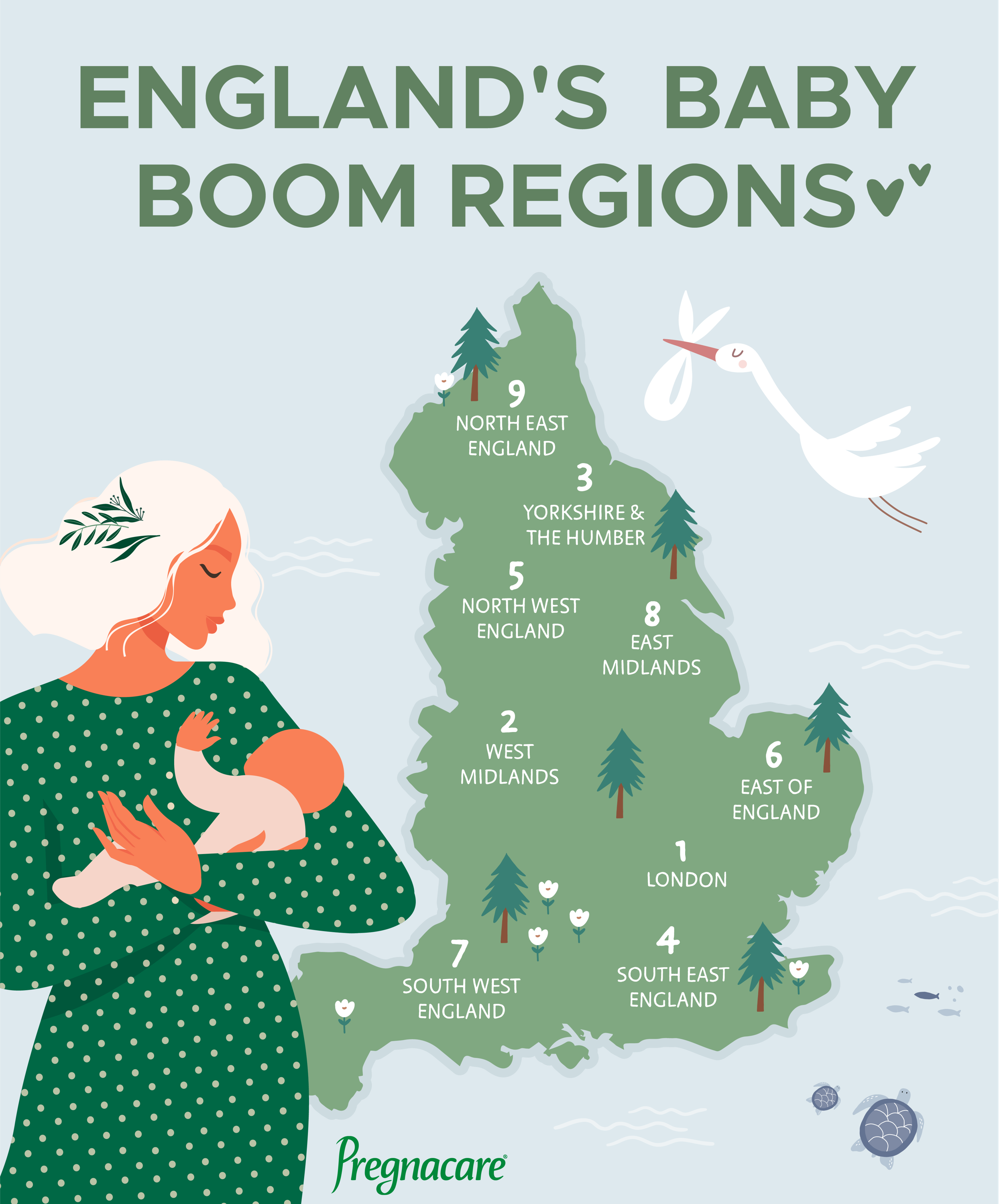 New family additions are always the talk of the town. Babies can bring so much joy – from their bubbling laughter bringing a smile to everyone's faces to the pitter-patter of tiny feet.
We wanted to find out where the most babies are being born in England, what the reasoning behind this might be, the gender split, and if the predicted COVID-19 baby boom ever did eventuate. The results might surprise you - from debunking the myth that most babies are conceived over the festive season, to uncovering that birthrates are continuing to fall, we've lifted the lid on what makes up the foundation of England's society.
Methodology
Using NHS birth data dating back to 2013, we identified the number of births each year per region, the gender split, the average number of babies born each year, and seasonal birth rates. The data has been compared against our internal Pregnacare transaction sales data, weighted against regional population figures, to reveal which regions in England are seeing the biggest 'baby boom'.
London is having the most babies
Paris may be the city of love but, clearly, London is the city of what comes after. With a baby boom score of just under 35 out of a potential total of 40, it seems the capital is welcoming more newborns than anywhere else in the country. With some of the most romantic date spots, best restaurants, and opulent hotels in the country, as well as some of the best hospitals, we can see why this is such a popular place to start your family. If you're trying to conceive, maybe take a trip to London and see if you can envision raising a family here.
The West Midlands comes in second on our list with a baby boom score of 28.8 out of 40. It's no wonder why with areas like Wolverhampton being regarded as great places to raise a family, with many child-friendly establishments. Alternatively, check out Yorkshire and the Humber, another popular place to welcome new life into the world with many family-friendly locations such as Barnsley and York. With a score of 26.7 out of 40, this is the third spot where the most babies are being birthed in England.
If you plan on starting or expanding your family soon, don't forget your pre-pregnancy vitamins to help safeguard your intake of targeted vitamins and minerals for fertility and reproduction.
North East is having the fewest babies
Interestingly, the North East has the lowest baby boom score of 5 out of 40, out of all the locations we looked at. It's hard to pinpoint exactly why this may be - it could be because of the slightly colder climate, with couples more willing to start a family further south. The North East has a population of just under 2.7 million, with 2.2 million of those people aged 16 or above.
The South East and South West areas of England have similarly low birth rates (both rated just 9 out of 40). The South West in particular has a population of 5 million but a fairly low population of under 16s (4 million) and it ranked low for the other factors as well, including being one of the areas with the lowest number of maternity beds available. Considering the stunning scenery and ample room for young children to play, we were expecting these areas to rank higher.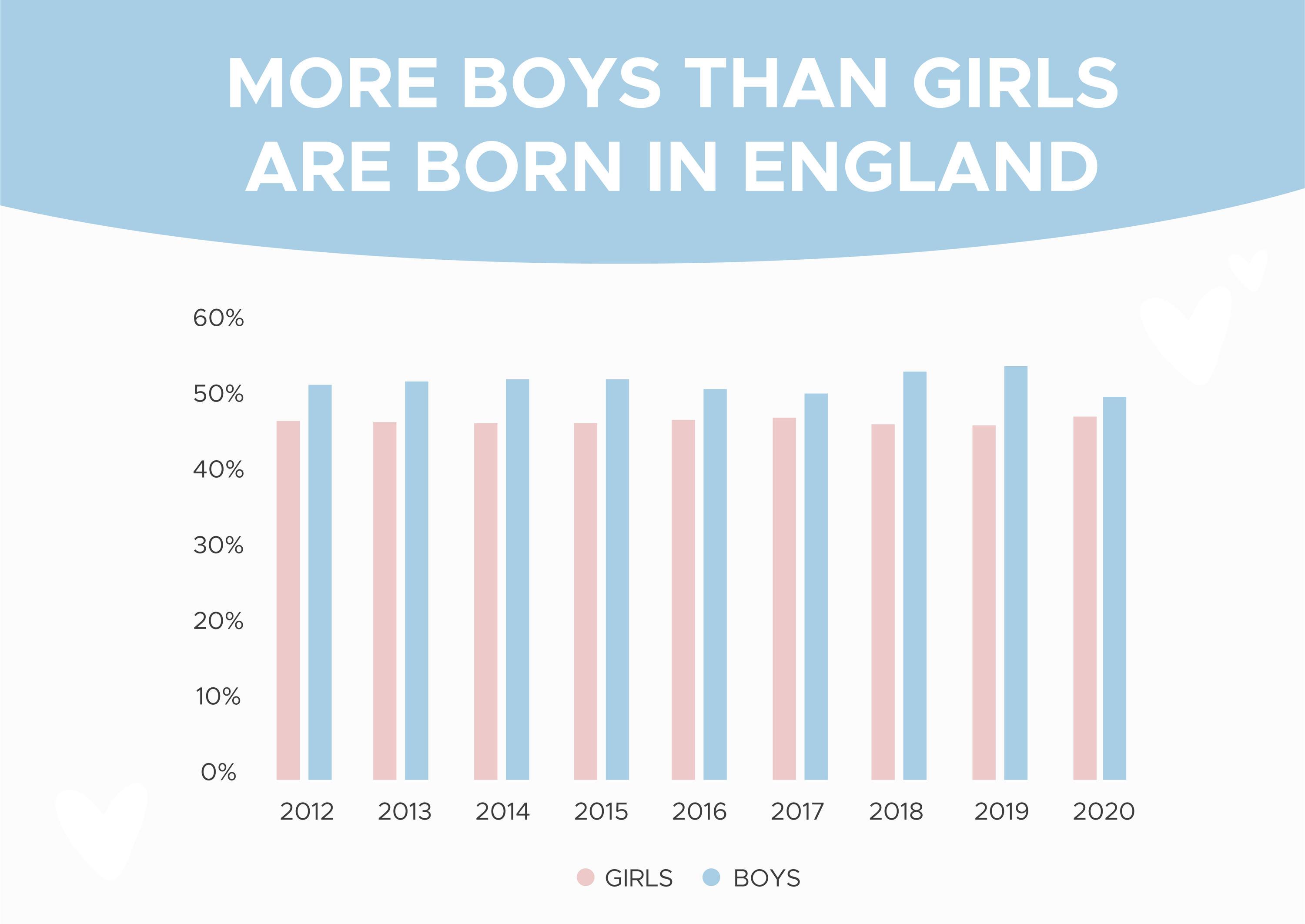 The gender split
In every single region that we looked at, going back to 2012, there are more baby boys being born than baby girls. This has been the case since birth records began in 1838. Looking at 2020 for example, there were 299,466 girls and 314,470 boys born in England - a difference of roughly 15,000 more boys.
This pattern plays out similarly on a global scale with more boys being born than girls, at a ratio of roughly 105 male births for every 100 female ones.
While it's hard to pinpoint exactly why there are more baby boys born than girls, some have put it down to evolution. This is because males were typically more likely to die in all stages of life from accidents, risk-taking and other health problems. Therefore, historically, more boys needed to be born to ensure an equal balance of men and women in the adult population.
But according to recent projections from the United Nations, the worldwide sex ratio is expected to even out by 2050.
October is the time for baby making…
We all know the feeling of the nights drawing in, a cold chill in the air, and wishing we had someone to cosy up with. There is an official term for the period between October and March that describes the act of singletons looking for a partner to spend the winter with – cuffing season. It turns out that October is also the prime baby making month (not the festive season as we originally thought) as we see most babies born in July. So if you're on the lookout for a romantic partner to ride out the colder, snowier, bleaker months with, make sure you use protection if babies aren't in your future.
...but spring is the season for breakups
After cuffing season is over, many of these short-term relationships end. It's the season of 'cancel or commit' where most of these couples go their separate ways ahead of the 'summer of love'.
What happened to the COVID-19 baby boom?
Remember when it felt like EVERYONE was getting pregnant during the pandemic? People are still talking about lockdown babies and how advanced they are developmentally. Is there data to support this supposed COVID baby boom? Well… kind of.
Most regions saw an uptick in births between 2020 and 2021. Areas such as the North East of England were clearly getting it on as they saw a 0.95% increase in birth rates and the East of England saw an increase of almost 4%, whereas London actually saw a decrease of about 0.65%. Either Londoners were feeling rather turned off by the idea of having babies at this time, or many people left the city to escape the most concentrated population areas. Either way, there is some evidence to suggest a mini baby boom during lockdown and the pandemic.
Despite the findings, the number of babies being born year on year is decreasing
Although our calculations illustrate a high number of babies being born in London, and a higher birth rate during the pandemic, birth rates are actually at an all-time low. In fact, the number of children per woman stands at 1.58 in England & Wales which is almost half of the post-Second World War peak of 2.93.
We think there are a number of different factors that make up these stats. Couples are waiting longer to have children than their parents and grandparents did, focusing on their careers and social lives for longer. The cost of living crisis, house prices being at an all time high and increased concerns over environmental issues mean couples are thinking longer and harder about starting a family.
A Vitabiotics expert comments that: "It's interesting to see that birth rates are actually falling year on year in England, even despite the predicted COVID baby boom. There are many reasons why couples may delay starting or adding to their family but nurturing a new life, hearing the pitter patter of tiny feet and building a family still remains one of the greatest aspirations for many couples."
For every step of your pregnancy journey, Vitabiotics is there to support you. Make sure you're getting the right vitamins and minerals you and your baby need from conception, throughout pregnancy, to the new mum stages, and beyond with our range of Pregnacare pregnancy supplements.