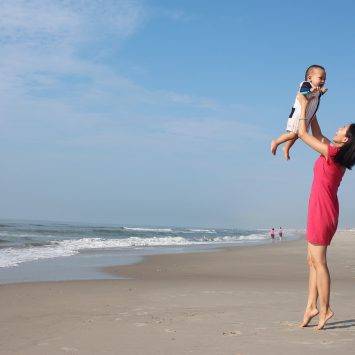 It's summer, it's hot, so how can you stay cool while feeding your baby when the weather is set to scorchio?
This week is World Breastfeeding Week, dedicated to raising awareness of the importance of breastfeeding. It's also summer and we're in the middle of what seems like an endless heatwave.
So to combine the two, we wanted to write about tips for summer breastfeeding, to help keep everyone cool and fed when it's heating up outside.
Tips For Summer Breastfeeding
Breastmilk Is All Your Baby Needs In The Heat: Don't give your baby water or another drink as they won't need it. Breastmilk is all they need - it adjusts according to the needs of the baby, so will contain a higher water level in the heat to make sure they're hydrated.
And Remember, This Means They May Feed More Often: We drink more often in the hot weather. don't we? The same applies to your baby. So don't worry if they start to feed more often, it's completely normal.
Make Sure You Stay Hydrated: Breastfeeding is thirsty work! So make sure you're especially hydrated during hot weather. Drink lots, carry water with you, have lots of cool refreshing ice pops.
Stay Cool: Let's face it, with high temperatures you'll both be hot, and having a hot baby almost permanently attached to your boobs makes for sweaty work. So stay in the shade, wear loose clothes, wet a muslin and drape it over your arm
Don't Be Afraid To Feed In Public: Summer breastfeeding means you'll inevitably end up feeding in public when you're out and about in the sunshine. While you might feel intimidated by this at first, remember your baby is the priority. the more you do it, the more normal you will feel.
Dress Cool: While finding clothes suitable for breastfeeding can be a challenge at the best of times, when it's summer it can feel even more frustrating. Stay away from anything too tight - invest in some floaty dresses, shirt dresses or wrap dresses with easy access work well, or go for two pieces – a top tucked into a skirt that you can lift up when the baby needs feeding.
To celebrate World Breastfeeding Week, we're giving away three prizes of Pregnacare Breast-feeding. Read on…
Want To Know More About Pregnacare Breast-Feeding?
A healthy, varied diet is vital for new mothers, to help produce nutritious breast milk and maintain their own health during the demanding postnatal period. Pregnacare Breast-feeding contains essential vitamins, and minerals including Vitamin D and calcium, as well as DHA, to help support all-round health and vitality, plus iron which helps to contribute to normal energy release. If you've taken Pregnacare in pregnancy then this is an ideal follow-on.
For mothers who avoid dairy products, the formula also contains calcium which is needed for the maintenance of normal bones, particularly during this demanding time.