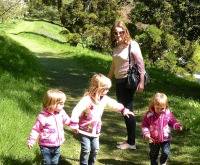 Fran from The Parent Social says that when returning to work second (or third) time around, there's a lot more to consider...
Having the perfect childcare setup alongside the ideal work/life balance is the holy grail and almost as rare as having a job that is your true vocation AND is amazingly paid. Almost inevitably you'll have to compromise on something.
There's a lot to consider when returning to work when you have one child; with more than one it can be even trickier: the logistics, the financial aspects (is it actually financially beneficial to return to work?) and self-fulfillment are just some of the considerations. Your child starting school is also a game changer - 13 weeks holiday a year is difficult to cover and that's before you factor in curriculum meetings, plays, sports days etc. It's tough.
With my eldest daughter, it had been my intention to start working from home when she was 10-weeks-old as I knew I'd find the drop in income a bit difficult to take (statutory maternity pay is 90% of your average gross weekly earnings for the first six weeks and then £138.18 or 90% of your average weekly earnings [whichever is lower] for the next 33 weeks). I actually started working again when she was six weeks old. No one was covering my leave so I couldn't resist the temptation to check emails and then once I had that was it…
I didn't have any childcare in place, but as newborns sleep a lot I was able to get plenty done. However, as a new mum I did feel like I was juggling a lot. I was still learning how to look after a baby; I tried to keep the house looking fairly respectable, wanted to go to every baby group going and of course always had work on my mind. It felt like I was constantly rushing from doing baby stuff to responding to emails or doing a work call. It never felt like I could switch off.
When my daughter was nearly one I officially went back part time. I LOVED going into the office two days a week. I enjoyed the social aspect, but I also loved being able to focus completely uninterrupted on one thing. I was focused on work when in the office and had real quality time with my daughter when at home.
When the twins came along I couldn't even think about work; juggling three under three occupied all of my time. It was actually quite liberating; work was put on the backburner and I completely immersed myself in motherhood. I no longer constantly checked emails or frantically rushed back home to write a press release. For a while this was perfect, but I did miss having challenges outside of motherhood.
I started writing for TalkMum, which led to me starting my own blog. I really enjoyed this as it allowed my brain to get back into gear, but I could fit it into my free time without any stress. When my eldest started school, I only had to think about childcare for two. I began working freelance from home, which provided the flexibility I needed.
How do you juggle work and being a mum? If you're a mum of more than one, have you found it trickier than before? Comment below and tell us your thoughts. Now read about blogger Eilidh's decision to be a working mumand find out the facts about Shared Parental Leave.