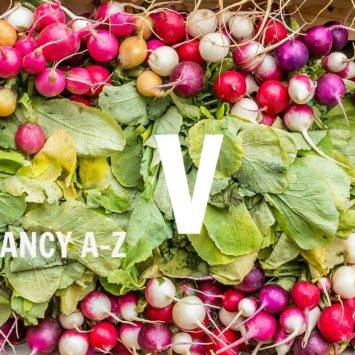 What does the letter V stand for in pregnancy? Catch-up with the latest instalment in our pregnancy and nutrition A-Z
If you're pregnant, make sure you catch-up with our pregnancy A-Z series. So far we've looked at everything from A-T. So what does the letter V stand for? Let's find out...
Make sure you catch-up on our pregnancy alphabet:  A / B/ C / D/ E / F / G / H / I / J / M / P / S / T / U
Vegetables: Eat plenty of fruit and vegetables (at least 5 portions each day) to boost vitamin and mineral intakes whilst pregnant. Wash or peel fruit and vegetables before eating.
Vegetarian diet: Vegetarian pregnant women can still enjoy a carefully planned vegetarian diet. There are many health benefits to vegetarian diets, but pregnant women need to take extra care to get enough of the nutrients more easily supplied in non-vegetarian diets, especially protein, iron, zinc, and vitamin B12.
Vitamin K: Vitamin K is offered to the baby after birth either orally (3 doses) or injection (1 dose) to help prevent a serious disorder called vitamin K deficiency bleeding. This is because newborns are born with low levels of vitamin K which contributes to normal blood clotting. This leads to a decrease in vitamin K-dependent blood coagulation factors, making some newborns more susceptible to haemorrhage in the first several days of life until vitamin K is manufactured in their bodies. Babies will produce their own vitamin K as they start digesting milk, therefore, early and regular (or unrestricted) feeding is important.
Vitamins: Likely deficiencies during pregnancy include:
Folic Acid which contributes to maternal tissue growth during pregnancy (400mcg supplement plus 300mcg from food/day)
Vitamin D which contributes to normal absorption/utilisation of calcium (10mcg/day Iron contributes to normal formation of red blood cells and haemoglobin. 14.8mg/day)
Calcium which is needed for the maintenance of normal bones and teeth (700mg/day during pregnancy and 1250mg/day while breast-feeding)
Vitamin supplements: The Healthy Start scheme helps low income families by providing vouchers for free fresh food and basic vitamin supplements with vitamins C, D and folic acid. Ask your midwife for an
application form, or visit www.healthystart.nhs.uk Many women choose to take a comprehensive pregnancy specific multivitamin and mineral supplement, such as Vitabiotics Pregnacare® Original or Pregnacare® Plus in order to safeguard dietary intake. Find out more about the Pregnacare range.
Make sure you also read our post on pregnancy myths and eating for two, and advice on breastfeeding from our bloggers