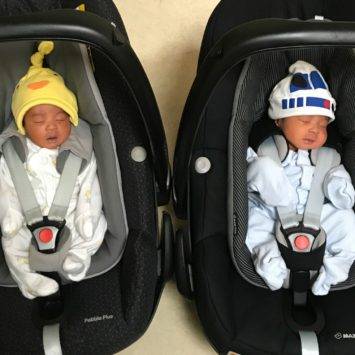 Are you pregnant with twins, or a new mum-or-dad of multiples? Make sure you read this post from our blogger Jenny on newborn essentials for twins
Having twins can be a daunting process but having a toddler (rapidly entering his terrible twos) and newborn twins frankly has me in a slight panic. You go from thinking you have everything you need already for baby number 2 to needing to buy an extra set of everything. When my husband and I found out we were expecting twins we started to prepare ourselves by buying everything over the months to spread the cost. Since the expenditure was more than anticipated we really had to narrow it down to 'must have essentials' and 'nice to haves'.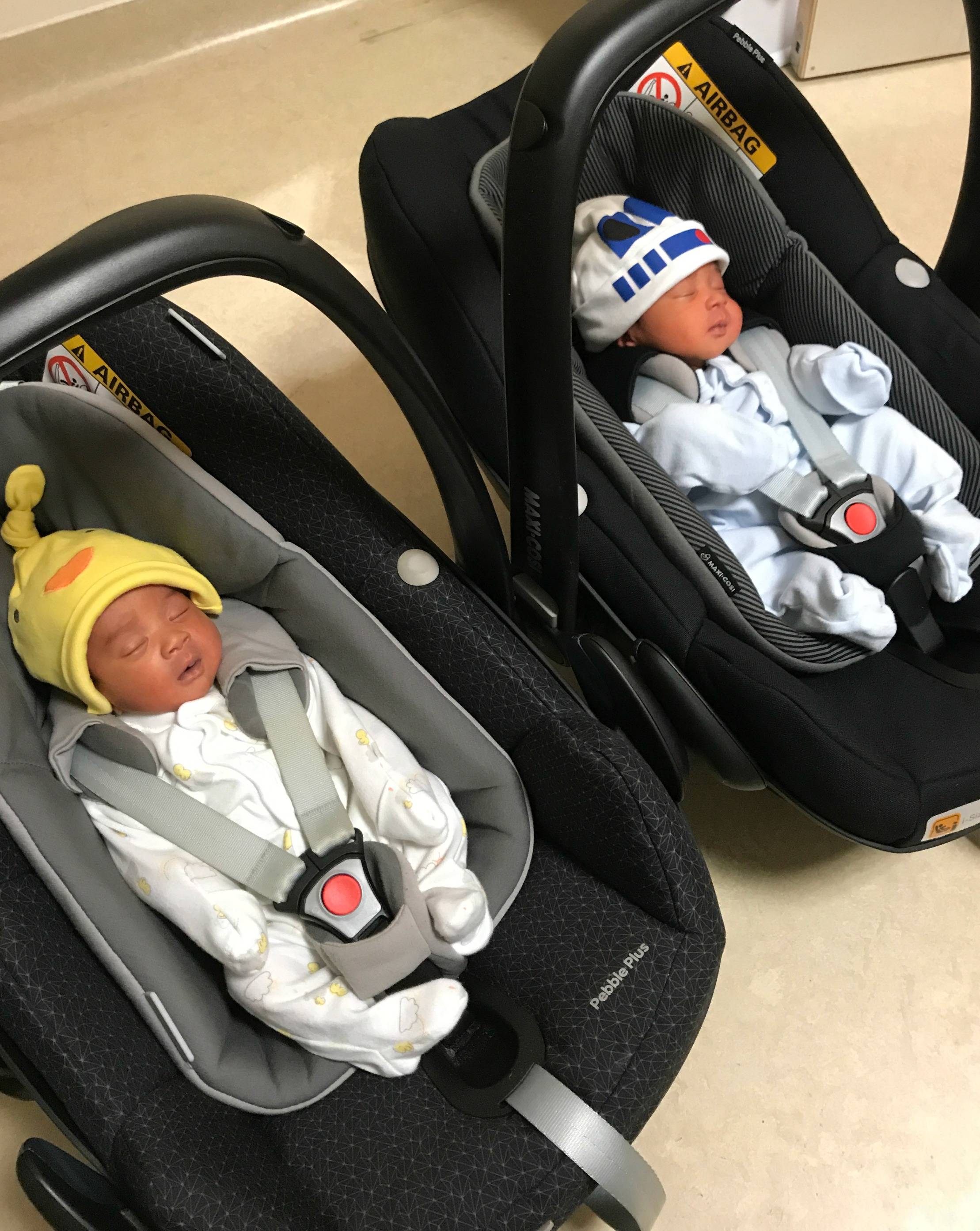 For me the below are pretty much essentials and really have helped me transition from mother of one to mother of three.
Maxi Cosi Pebble Plus (£199) and 2Way Fix Base (£199), John Lewis
Before the twins arrived, we made do with my battered old two door Volkswagen Golf. We had always intended to upgrade to a five door and were looking at various swish family SUVs but I am so glad we held off. Once we realised we were going to need space for three car seats our shortlist of cars was cut down significantly. However, I had no doubt which car seats I would be getting. We absolutely loved the Maxi Cosi Pebble Plus when our eldest, Carter, was a newborn. It is so handy to take in and out the car and best of all it could attach onto our buggy, making going out with him super easy. So for us it was a no brainer to get the same again. Car wise we went for the Volkswagen Touran, the car that says you sacrifice style for family practicality and comfort and we love it. The space is amazing and lovely to drive. Best of all it has space for three car seats (two Maxi Cosi Pebble Plus' and a 2way Pearl) in the same row so no need to relegate one child to the boot seat.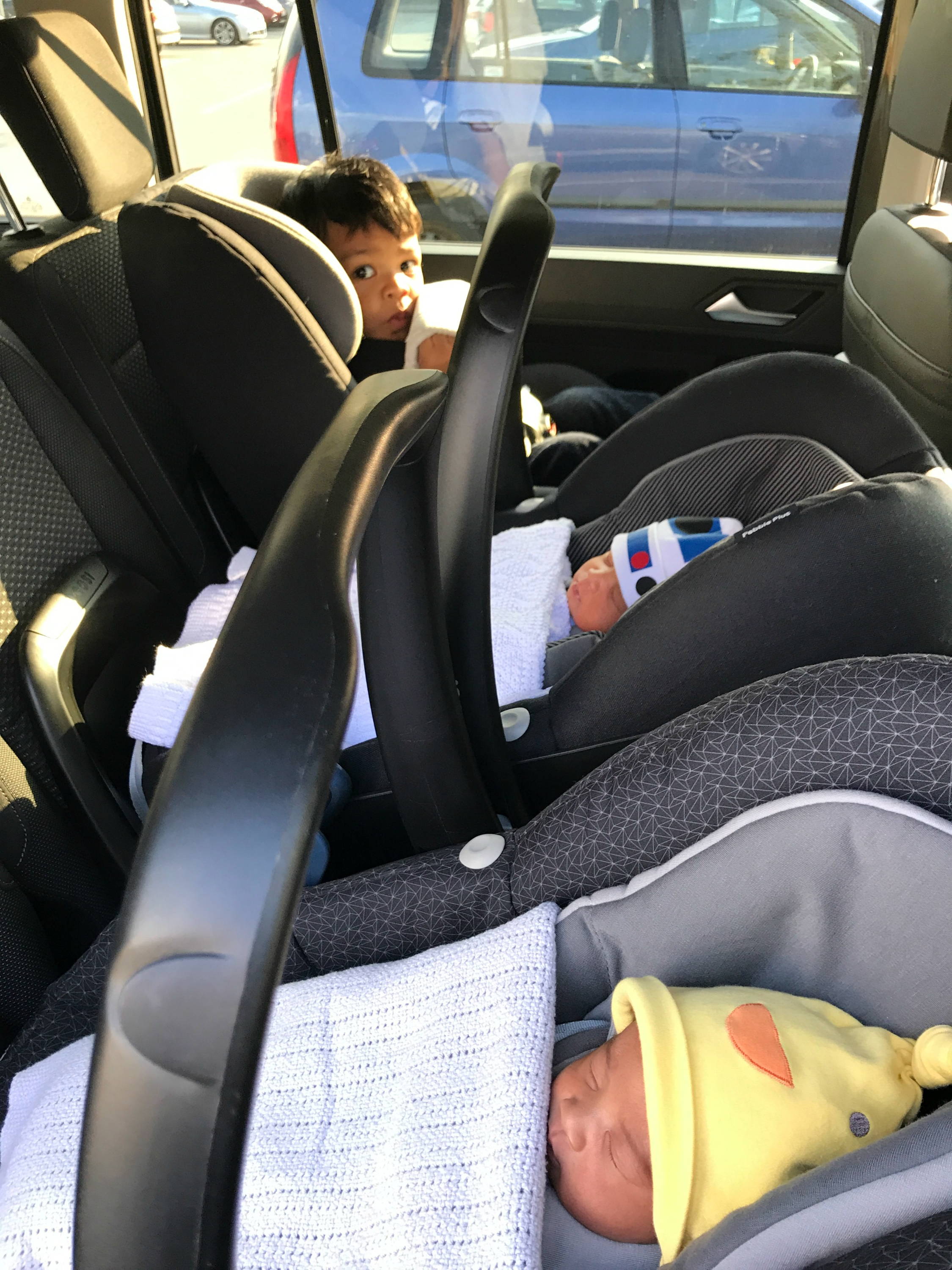 Baby Jogger, City Mini Double (£375), www.amazon.co.uk
When it comes to your first (and singleton) baby, you are spoilt for choice with buggies. I remember poring over reviews, testing them all out when out shopping with as much diligence as buying a new car. The price range is vast, from reasonable to outright crazy (I swear my first car was cheaper than Carter's buggy) and as Carter was our first born we really pushed the boat out with the Bugaboo Cameleon in the limited edition Diesel design. However when it comes to double buggies you aren't as spoilt for choice. Only two caught my eye in terms of functionality and style, the Baby Jogger City Mini Double and the Mountain Buggy Duet. After much deliberation we decided to go for the Baby Jogger because the wheels didn't need pumping (who has time when you have three kids?!), the seats weren't as reclined when in full upright position and what won it was the amazing one fold technology. We have used the City Mini Double on numerous occasions and love love love it. It's not as slim line at the Mountain Buggy but it does fit through most doors (even the ones in our house) so it does the job nicely. In fact, I love the City Mini Double so much I'm quite tempted to get rid of Carter's flashy but bulky buggy and get him the City Mini single. It'd be so cute to see all three of them in matching buggies.
Ju Ju Be, Be Right Back Nappy Bag (€154.95), europe.ju-ju-be.com.
Now I have spoken about my love for Ju Ju Be nappy bags before (see my post on newborn essentials) and I finally had the perfect excuse to splash out on the backpack in my favourite Hello Kitty Tick Tock print. With three kids I need my hands free at all times so a backpack was the most logical choice. Not to mention that with a double buggy I can no longer hang my bag on the handlebar so a backpack is definitely the way to go. As with all Ju Ju Be bags, style is mixed with practicality, with nice touches like padded back panel with breathable mesh for comfort, Teflon fabric protector to repel stains and a ton of pockets and compartments for you to stay organised. With a huge variety of patterns available you can be sure to find one to suit your style.
Mam Bottles (various prices), mamonlineshop.co.uk
With Carter I somehow managed to exclusively breastfeed for a whole year but unfortunately with twins and a toddler all needing my attention I don't have the time to exclusively breastfeed this time round. Instead I express my breast milk and bottle feed the twins supplementing with formula. As lovely as it was breast feeding Carter (I was very lucky and did not have any problems with breast feeding) I can definitely see the advantage of bottle feeding. For a start I can pass one of the night feeds to my husband and we know exactly how much each twin has drunk so they are full and so able to get into a routine much quicker. Carter was fed on demand so I was up every 2 hours (if lucky) but with the twins before we even left the hospital they managed to stick to a 4 hour feeding routine.
Medela Quick Clean Micro-Steam Bags (£12.99 for five), boots.com
As I have mentioned, this time round I am expressing and with that comes the pain of sterilising, times two as we have twins and again since my breast pump equipment needs sterilising too. We have a regular steam steriliser in the kitchen for use during the day but for the night feeds these bags are a life saver. We live in a town house and our bedroom is on the third floor so the thought of traipsing up and down in the night getting bottles and cleaning bottles did not appeal. As the twins are in a good routine, each night my husband and I arm ourselves with four Medela bags, two full of bottles and the other two full of my pump stuff. They stay sterile in the bag so no need to go down at 12am and 4am to get bottles and pump equipment. It's a small thing but it all counts.
What were your newborn essentials if you had twins? Make sure you also read Jenny's posts on travelling with a baby and essential weaning products