Wellwoman 50+
Wellwoman 50+
Product Description
---
Wellwoman 50+ has been designed to help safeguard the special nutritional needs of women aged 50 and above. It includes a comprehensive range of nutrients and trace elements to support key areas of health including vitamin B1 which contributes to the normal function of the heart. More Info
Suitable for vegetarians
Wellwoman 50+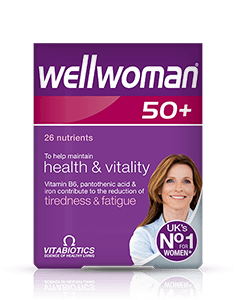 3 for 2
60 Reward Points
60 Reward Pts
---
Advanced micronutrient tablets, designed for women aged 50 and above
Nutritional Information
Average per tablet
% EC NRV*
Lutein Esters
2 mg
–
Green Tea Extract
20 mg
–
Co-enzyme Q10
2 mg
–
L-Carnitine
10 mg
–
Alpha Lipoic Acid (ALA)
20 mg
–
Phosphatidylcholine
10 mg
–
Citrus Bioflavonoid
10 mg
–
Betacarotene
2 mg
–
Vitamin D (as D3 400 IU)
10 µg
200
Vitamin E
15 mg α-TE
125
Vitamin C
60 mg
75
Thiamin (Vitamin B1)
14 mg
1273
Riboflavin (Vitamin B2)
4 mg
286
Niacin (Vitamin B3)
30 mg NE
188
Vitamin B6
10 mg
714
Folic Acid
200 µg
100
Vitamin B12
5 µg
200
Biotin
50 µg
100
Pantothenic Acid
6 mg
100
Magnesium
60 mg
16
Iron
10 mg
71
Zinc
15 mg
150
Copper
1000 µg
100
Manganese
0.5 mg
25
Selenium
120 µg
218
Chromium
75 µg
188

*NRV = Nutrient Reference Value, µg = microgram
mg = milligram, IU = International Units.
: Maltodextrin, Bulking Agent: Microcrystalline Cellulose, Magnesium Oxide, Vitamin C (Ascorbic Acid [Carriers: Hydroxypropylmethylcellulose & Tartaric Acid]), Tablet Coating (Hydroxypropylcellulose, Hydroxypropylmethylcellulose, Natural Source Colours [Titanium Dioxide, Copper Chlorophyllin], Glycerin), Zinc Sulphate, Anti-Caking Agents: Stearic Acid, Silicon Dioxide & Magnesium Stearate, Niacin (as Nicotinamide), Phosphatidylcholine (Lecithin, Soya), Ferrous Fumarate, Thiamin (Vitamin B1 as Mononitrate), Vitamin E (D-Alpha Tocopheryl Acid Succinate) (from Soya), Green Tea Extract, Alpha Lipoic Acid, Citrus Bioflavonoids, Vitamin B6 (Pyridoxine HCl), L-Carnitine Tartrate, Betacarotene (Carriers: Starch, Water, Antioxidant: DL-Alpha Tocopherol), Lutein Esters, Pantothenic Acid (as Calcium Salt), Vitamin D3 (Cholecalciferol [Carriers: Acacia, Sucrose, Corn Starch, Medium Chain Triglycerides, Antioxidant: DL-Alpha Tocopherol]), Riboflavin, Copper Sulphate, Co-Enzyme Q10, Manganese Sulphate, Chromium Trichloride, Sodium Selenate, Folic Acid (as Pteroylmonoglutamic Acid), Biotin, Vitamin B12 (Cyanocobalamin). Allergy Advice: For allergens, see ingredients in bold.
Directions
ONE TABLET PER DAY WITH YOUR MAIN MEAL. Swallow with water or a cold drink. Not to be chewed. Do not exceed the recommended intake. This comprehensive formula replaces other Wellwoman supplements and multivitamins. There is no need to take an additional multivitamin.
Suitable for vegetarians
No preservatives
No yeast or lactose
Wellwoman 50+ has not been tested on animals
Food Supplement
Food supplements must not replace a varied and balanced diet and a healthy lifestyle. As with other food supplements, consult your doctor or pharmacist before using if you are under medical supervision, pregnant, breast-feeding, have epilepsy, haemochromatosis, suffer from food allergies, or are allergic to any of the ingredients.
Not suitable for children.
Allergy Advice: For allergens, see ingredients in bold. This product contains iron, which if taken in excess, may be harmful to very young children.
Made in a site that may handle nuts.
Not to be taken on an empty stomach.
Store below 25°C in a dry place, out of sight and reach of children.
Wellwoman 50+ FAQ
---
Why has Wellwoman 50+ been developed?
Wellwoman 50+ has been specifically designed to help safeguard the nutritional needs of women aged 50. Wellwoman 50+ contains a comprehensive range of 26 vitamins, minerals and plant derived nutrients to support key areas of health important to women over 50. Wellwoman 50+ contains vitamins B6 and B12, copper and iron which contribute to normal energy release. Zinc, selenium and vitamin D have also been included in the formula as they contribute to the normal function of the immune system.
Top
When is Wellwoman 50+ recommended?
Wellwoman 50+ is a daily nutritional safeguard for women in their 50s, 60s and beyond, to help maintain good health and vitality. There is no maximum length of time over which Wellwoman 50+ may be used.
Top
Can Wellwoman 50+ be used simultaneously with medications?
Generally, Wellwoman 50+ may be used alongside medications because it contains only moderate levels of vitamins and minerals, and it is free of any drugs or hormones. For specific advice on taking Wellwoman 50+ with medicines, we recommend that you contact your doctor or pharmacist first.
Top
How many tablets does one pack of Wellwoman 50+ contain?
Wellwoman 50+ contains 30 tablets per pack. It is recommended to take one per day.
Top
How and when should Wellwoman 50+ be used?
One tablet per day is recommended, with or immediately after your main meal, with water or a cold drink. Taking the tablet with a large meal maximises the absorption of the nutrients, and can reduce nausea, which is sometimes experienced if multivitamins are taken on an empty stomach. Wellwoman 50+ should only be taken on a full stomach. Always ensure that Wellwoman 50+ is taken with plenty of liquid to wash the tablet down, and not tea or coffee as this may cause the tablet to disintegrate too early.
Top
Are there any undesired effects whilst taking Wellwoman 50+ ?
Wellwoman 50+ has no known side effects when taken as directed. Do not exceed the recommended tablet intake. In case of overdose, seek medical advice immediately.
Top
What are the active ingredients?
Please see nutritional information click here
Top
How long does it take before experiencing any benefit?
Results vary amongst individuals, but in most cases we would expect the beneficial effects of the vitamins and minerals in Wellwoman 50+ to build over several weeks, with noticeable results in one to three months. A regular intake is recommended.
Top
Difficulty swallowing tablets or capsules is fairly common - do you have any advice?
Difficulty in swallowing tablets is quite a common experience. Vitabiotics have researched this extensively, trying different methods, and hope that our tips will help you swallow tablets with ease.

The usual advice for those who have difficulty in swallowing tablets, is to break the tablets into 2-3 pieces, before swallowing with plenty of liquid. For capsules (which contain liquid), and in cases where people have more difficulty in swallowing tablets we recommend after chewing some food (e.g. banana), just before you swallow, pop the tablet into your mouth and swallow it together with the chewed food, followed by some liquid. The throat opens up wider automatically to swallow the chewed food and hence the tablet should go down with greater ease. Alternatively the tablets or capsules may be swallowed with thicker liquids such as yoghurts or smoothies. We hope these tips are of help.
Top
Some Nutrient Reference Value (NRV) levels are above 100%, is this safe?
Certain vitamins are very safe at levels tens or even hundreds of times the NRV, whereas for others the safety level is much closer to the NRV. For this reason every vitamin and mineral needs to considered on an individual basis in terms of its upper safe level.

The Nutrient Reference Value (NRV) is the amount of a vitamin or mineral which has been calculated to help prevent basic deficiency states in the general population. However, certain vitamins and minerals at optimal levels, above the NRV, have consistently been shown to have positive benefits in specific areas of health. This is why some Vitabiotics formulas have certain nutrient levels greater than 100% NRV.

All Vitabiotics products have been developed using the latest research and contain effective levels of vitamins and minerals, while avoiding any excessive amounts, in accordance with official upper safe limits for vitamins and minerals.

Vitabiotics avoids 'mega dose' levels of isolated nutrients and instead we have always stressed the importance of safe, moderate and sensible levels of vitamins and minerals, carefully balanced to maximise their combined effect; an approach which has been supported by many experts and researchers over the years.
Top
---
"Wellwoman vegan a complete vitamin ideal, very impressive."Miss E H , United Kingdom
"Have been using your Wellwoman products for years, with great results. I recently went vegan, and hoped one day that you might make a vegan version of these great vitamins I had been taking for so long. And you have! Will be ordering these from you every month without fail. Thank you so much for thinking of the vegan movement and ensuring I can still enjoy the best vitamins that are on the market"Miss T O , United Kingdom
"I just want to say how amazing these tablets have been, I was taking Wellwoman original but with being late 40s I was finding these wasn't enough, I'd tried various different brands etc, sage, oil of evening primrose, black cohosh, nothing was working and sister was on Menopace Original and said how good they were. I thought I'd try the Menopace Plus. These really are amazing and never miss a day."Mrs K F , United Kingdom
"Hi, I just wanted to let you know Wellwoman Max vitamins have helped me very much. ....having two small children and having just started a new job so decided to try Wellwoman Max. They've helped enormously"Mrs E Moore , United Kingdom
"Amazing, life changing, amaziiiiing for real, thanks alot "Mrs N A , Libya
"Ever since I started using Wellwoman Plus 3-6-9, I have never been happier in terms of my energy levels and feeling good. if it wasn't for this, I would have lost it to my stressful routine. Can't do without it anymore."Ms S Kidwai  , Pakistan
"WOW! WOW! WOW!.... ABSOLUTELY LIFE CHANGING! My 76-year old mother has turned into an amazon woman literally overnight! From not being able to walk for longer than 10 minutes at a time or move her arms very well...she has now painted the whole of her kitchen and hall! ?? Just gave her another three packets....she really could give wonder woman a run for her money! "Mrs K . , United Kingdom
"Just wanted to let you know l have just finished my first box of Wellwoman Max . They have totally altered my life for the better in just about every way l can think of ! Sleeping much better, energy levels unbelievable, the list goes on . Thank you so much for inventing them ! ! ! By the way, l was 71 last week."Mrs H Green , United Kingdom
"A couple of months I began taking the Vitabiotics Over 70 supplement for Women. I could not believe how quickly I found I had more energy, wanted to do more things and am finding life much more attractive all round. I will certainly keep on with this daily capsule. Thank you very much."Miss J Wootton , United Kingdom
"Since I have been taking Wellwoman 70+ I feel really well. I have been taking this supplement for a couple of years and I really think they help, together with a good diet, to help keep me healthy!!!"Mrs P Williams , United Kingdom
"I've taken Wellwoman capsules for 3-4 months, my complexion generally looks clear and bright! Now I don't even need to wear foundation! "Mrs P C , United Kingdom
" Your Wellwoman Original seems to be effective in helping my monthly cycle. So far so good and thank you. "Ms A NJ , Trinidad and Tobago
"I have been taking 'Wellwoman Original' and 'Osteocare-Original' tablets ( at different intervals of the day) for the last 6 months. These tablets have really made a tremendous difference to my life and i have great energy levels and sense of overall wellbeing. I am very grateful to Vitabiotics for such a great range of quality products. "Miss S H , United Kingdom
"I am a 40 year old who has been using Wellwoman for the past month. I would like to say it has certainly helped me a lot, and I have felt a difference in my energy levels. I will most definitely recommend this for my friends. Thank you Wellwoman."Ms K H , Trinidad and Tobago
"I introduced wellwoman 50+ to my mother and wellman 50+ to my father. They have stopped complaining of dizziness and stiffness in their wrists. Also I don't experience the severe knee problem I used to have depsite constant visits to the physiotherapist. Am thankful that I discovered these products. "Mrs H A , United Kingdom
"I love the product. I had a miscarriage 4 months ago and my Dr advised me to wait 3 cycles before ttc. So while waiting for 3 cycles i started taking Wellwoman capsule everyday. And today i took pregnancy test and it came out positive. My husband and I are very excited so we are going to see my obgyn for another confirmation. Thank u very much for this product it helps a lot not just my skin and nails but also my well being. I will recommend this products to all my friends. "Mrs S Hudson , UAE
"I am so happy with this vitamin (Wellwoman). I was recently travelling in Australia and couldn't find them in the shops which was disappointing. I have found your website and have recommended you to all my friends. These vitamins do not cost too much and has the perfect balance to help me keep my balance. Thank you."Ms S Young , United Kingdom
"I am just writing to say just how much I have benefited health wise from taking the Wellwoman supplement. It's amazing. I am 45 and have had various tablets which were not as effective as Wellwoman. My colleague said that she felt so much better after taking Wellwoman- she had taken them for a month at a time so I thought I'd give them a try. These capsules really are the answers to my prayers. I was really getting very down as the time of the month approached and now I just sail through it. Thank you so much for making this product available, it's brilliant!"Miss S Morris , United Kingdom
"I have been taking Wellwoman Fizz all week at my desk and have to say that I am feeling the effects on my energy levels already. I will be recommending this product to my Mum , sisters and all my friends at work. Many thanks for such a great product."Ms S Boyce , Ireland
"This is the best product on the market for women. I am diabetic and 4 months ago underwent a hysterectomy. I decided to take action and on a daily basis for the last 2 months i take wellwoman fizz in the morning and after breakfast take wellwoman multivitamin. Very pleased with the product and all women in early forties should know about It. "Mrs C Tucker , United Kingdom
"I have been taking Wellwoman multivitamins for 5 weeks, I cant believe how my nails have grown in this time and look very strong compared to how they used to be. I and decided to take a course of vitamins especially with my lifestyle...avoiding healthy foods for snacks, not enough fruit etc. So, I chose this multivitamin and also take a cranberry capsule every day for helping to have a healthy bladder! I feel as though they have made a difference so will continue to use them. Also a daily walk makes you feel good as well."Ms V Norris , United Kingdom
"I recently tried a course of Wellwoman capsules and they are fantastic! I cant say that I have noticed much physical difference, but it is as if I have just 'woken up'. I am so much happier, am more in love with my boyfriend and am so much more content than I have ever been! the future seems bright. thanx "Ms R Kershaw , United Kingdom
"I have been taking wellwoman capsules for a little over a month now I just want to say thank you, and please don't stop making them. "Miss A Tasker , United Kingdom
"Just wanted to drop you a line to say how enormously grateful I am for your Wellwoman capsules. A few weeks after starting on Wellwoman capsules I felt great, and have done ever since. Thank you so much. Kind regards"Ms M Turner , United Kingdom
"Bought wellwoman fizz recently and have already been taking wellwoman caps for over a year now as well as my mum and sister and found the fizz to be fantastic, bought two packs although I gave one to my neighbour to try and she is now taking it as well. I also recommend these to all my customers."Ms L King , United Kingdom
"I was recommended Wellwoman - Vitabiotics by friends having tried for a second baby for over a year. Within one month of taking it I am now a mother to be. I feel it had a lot to do in preparing my over-stretched, over-stressed body for conception. I am now recommending it to friends all the time. Excellent product."Mrs N Nnochiri , United Kingdom
"I use the product Wellwoman & intend to continuing using the product; since it is beneficial to my health. "Ms A Matz , Germany
"I spent ages looking for a supplement that would give me the right combination of vitamins and minerals. Very pleased when I found Wellwoman."Ms C B , United Kingdom