Wellteen Him
Wellteen Him
Product Description
---
Advanced nutritional support for teenagers and young men. Wellteen Him has been developed to help maintain vitality and wellness for a hectic teenage lifestyle, juggling the demands of studies, sports, late nights and early mornings. The formulation includes vitamins B6 and B12 which contributes to the reduction of tiredness and fatigue. More Info
Suitable for vegetarians
Wellteen Him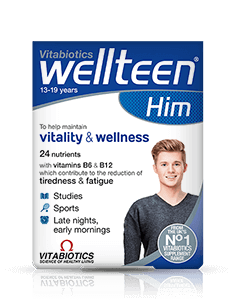 3 for 2
60 Reward Points
60 Reward Pts
---
Vitamin and mineral tablets with Co-enzyme Q10, for teenagers and young men.
Nutritional Information
Av. per Tablet
% EC NRV*
L-Carnitine Tartrate
50 mg
—
Tomato Extract
20 mg
—
Providing pure Lycopene
1 mg
—
Co-enzyme Q10
2 mg
—
Natural Mixed Carotenoids
2 mg
—
Vitamin A (1333 IU)
400 µg RE
50
Vitamin D (as D3 800 IU)
20 µg
400
Vitamin E (Natural Source)
8 mg α-TE
67
Vitamin C
80 mg
100
Thiamin (Vitamin B1)
6 mg
545
Riboflavin (Vitamin B2)
3 mg
214
Niacin (Vitamin B3)
18 mg NE
113
Vitamin B6
8 mg
571
Folic Acid
400 µg
200
Vitamin B12
15 µg
600
Biotin
75 µg
150
Pantothenic Acid
6 mg
100
Magnesium
94 mg
25
Iron
11 mg
79
Zinc
15 mg
150
Copper
1000 µg
100
Manganese
2 mg
100
Selenium
55 µg
100
Chromium
50 µg
125
Iodine
130 µg
87

*NRV - Nutrient Reference Value, µg - microgram, mg - milligram, IU - International Units
Maltodextrin, Magnesium Oxide, Bulking Agent: Microcrystalline Cellulose, Vitamin C (Ascorbic Acid [Carriers: Hydroxypropylmethylcellulose & Tartaric Acid]), L-Carnitine Tartrate, Tablet Coating: (Hydroxypropylmethylcellulose, Hydroxypropylcellulose, Natural Source Colours [Titanium Dioxide, Copper Chlorophyllin], Glycerin), Zinc Sulphate, Ferrous Fumarate, Anti-Caking Agents: Stearic Acid, Silicon Dioxide & Magnesium Stearate, Crosslinked Cellulose Gum, Niacin (as Nicotinamide), Tomato Extract, Vitamin E (as D-Alpha Tocopheryl Acid Succinate) (from Soya), Vitamin B6 (as Pyridoxine HCl), Betacarotene (Starch, Water, Antioxidant: DL-Alpha Tocopherol), Thiamin (Vitamin B1 as Mononitrate), Vitamin D3 (Cholecalciferol [Carriers: Acacia, Sucrose, Starch, Medium Chain Triglycerides, Antioxidant: DL-Alpha Tocopherol), Pantothenic Acid (as Calcium Salt), Manganese Sulphate, Vitamin A (as Acetate [Carriers: Acacia, Starch, Maltodextrin, Antioxidant: DL-Alpha Tocopherol]), Riboflavin, Copper Sulphate, Co-Enzyme Q10, Folic Acid (as Pteroylmonoglutamic Acid), Chromium Trichloride, Potassium Iodide, Sodium Selenate, Biotin, VitaminB12 (asCyanocobalamin). Allergy Advice: For allergens, see ingredients in bold.
Directions
One tablet per day with your main meal. Swallow with water or a cold drink. Not to be chewed. Do not exceed the recommended intake. To be taken on a full stomach. There is no need to take an additional multivitamin.
No artificial colours
No preservatives
No yeast
Suitable for vegetarians
Wellteen is not tested on animals
Food Supplement
Food supplements must not replace a varied and balanced diet and a healthy lifestyle. As with other food supplements, consult your doctor or pharmacist before using if you are under medical supervision, have epilepsy, a thyroid condition, haemochromatosis, suffer from food allergies, or are allergic to any of the ingredients. Not suitable for children.

Allergy Advice: For allergens, see ingredients in bold.
Made in a site that may handle nuts. This product contains iron, which if taken in excess, may be harmful to very young children.
Store below 25°C in a dry place, out of sight and reach of children.
Wellteen Him FAQ
---
Why is it that young people may benefit from nutritional supplements?
Government surveys have indicated that teenager's diets can sometimes be low in certain nutrients such as iron, vitamin A and vitamin D. Many teenagers are also not eating the recommended 5 portions of fruit and vegetables a day and so may not be getting all of the vital nutrients that their bodies need for long term health and development. Some foods may have a lower than expected nutritional content and be low in certain micronutrients as a result of several factors including modern farming practices, the lengthy storage of 'fresh' food before it is sold in some shops and over cooking which can cause certain nutrients to breakdown. It is important to promote a healthy diet and lifestyle and encourage positive eating and exercise habits for later in life. Food supplements are of course not a substitute for a healthy balanced diet.
Top
How many tablets does one pack of Wellteen Him contain?
Wellteen Him contains 30 tablets per pack, take one per day.
Top
How and when should Wellteen Him be taken?
Take one tablet daily preferably with or immediately after your main meal, with water or a cold drink. Taking the tablet with a large meal maximises the absorption of the nutrients, and can reduce mild nausea, which is sometimes experienced if multivitamins are taken on an empty stomach. Always ensure that Wellteen Him is taken with plenty of liquid to wash the tablet down, and not hot tea or coffee as this may cause them to disintegrate too fast.
Top
Are there any undesired effects whilst taking Wellteen Him?
Wellteen Him tablets have no known side-effects when taken as directed. Do not exceed the recommended daily intake. In case of overdose, seek medical advice immediately. As with all supplements, seek professional advice before using if you are under medical supervision or suffer from any food allergies. Do not take if you are allergic to soya.
Top
Is Wellteen Him recommended with any other Vitabiotics products?
Calcium is an essential mineral, and contributes to the maintenance of normal bones. However, it has not been included in the Wellteen Him formula, as it is not possible to include the right amount in one tablet. Rather than including just a token amount of calcium, Wellteen Him has been designed so that it can be taken alongside VitabioticsOsteocare. For more information, visit www.osteocare.com
Top
Need help swallowing a tablet or capsule?
Difficulty in swallowing tablets is quite a common experience. Vitabiotics have researched this extensively and recommend after chewing some food (e.g. banana), just before you swallow, pop the tablet into your mouth and swallow it together with the chewed food, followed by some liquid. The throat opens up wider to swallow the chewed food and so the tablet should go down with greater ease. Alternatively, the tablets may be swallowed with thicker liquids such as yoghurts or smoothies.
Top
What are the active ingredients?
Please see nutritional information click here
Top
For what age group is Wellteen Him intended?
Wellteen Him has been specifically formulated to provide a comprehensive range of micronutrients, vitamins and minerals to help support the daily nutritional requirements of teenagers and young men aged 13-19 years.
Top
Is Wellteen Him suitable for vegetarians?
Yes, Wellteen Him is suitable for vegetarians.
Top
Some Nutrient Reference Value (NRV) are above 100%, is this safe?
Certain vitamins are very safe at levels tens or even hundreds of times the NRV, whereas for others the safety level is much closer to the NRV. For this reason every vitamin and mineral needs to considered on an individual basis in terms of its upper safe level.

The Nutrient Reference Value (NRV) is the amount of a vitamin or mineral which has been calculated to help prevent basic deficiency states in the general population. However, certain vitamins and minerals at optimal levels, above the NRV, have consistently been shown to have positive benefits in specific areas of health. This is why some Vitabiotics formulas have certain nutrient levels greater than 100% NRV.

All Vitabiotics products have been developed using the latest research and contain effective levels of vitamins and minerals, while avoiding any excessive amounts, in accordance with official upper safe limits for vitamins and minerals.

Vitabiotics avoids 'mega dose' levels of isolated nutrients and instead we have always stressed the importance of safe, moderate and sensible levels of vitamins and minerals, carefully balanced to maximise their combined effect; an approach which has been supported by many experts and researchers over the years.

Always read the product directions before use. Do not exceed the recommended intake. As with other food supplements seek professional advice before using if you are pregnant, breastfeeding or suffer from food allergies, and consult your doctor or pharmacist if you have an underlying medical condition, or if on medication. Vitamin supplements are not intended to treat or prevent any disease. Food supplements must not replace a balanced and varied diet, and a healthy lifestyle.
Top
---
"We started giving our son these about a month ago and the difference is very noticeable. His attention is a lot better and he is loving taking them. Getting any healthy food into him is hard so we know these vitamins are the next best thing to keep his health in tip top condition. The whole family are taking vitamins now so we all take them at the same time, and the 3 for 2 offer is fantastic. We have done the subscribe thing so we get the wellteen vitamins monthly."Mr C Murray , United Kingdom
"Having used your Wellteen Her products for a couple of months, I have found that I'm less tired after training and more alert during school work, not to mention the benefit they've had on my skin too, my spots had cleared up and my lovely skin is back. I've noticed a big difference when I'm in my race car too, I'm able to keep focus longer and my concentration is better, even in the extreme heat of the cockpit which runs at around 40 degrees. Great products. Thank you Vitabiotics "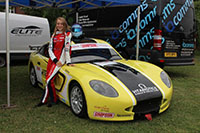 (Junior Championship Racing Driver)Ms E Linscott , United Kingdom
"Just wanted to tell you that our daughter took a Wellteen every day during her recent GCSEs and she was healthy throughout, despite the stress of exam-taking.""Ms C Hindle , United Kingdom
"The best vitamins I can give my daughter who is a very picky eater. Exceptional value for money. I am confident in knowing that by giving her the best quality vitamins she remains healthy. I would not buy any other brand. My daughter likes Wellteen as they do not taste horrid and can be swallowed easily. No nasty indigestion from them either. So nice to know that kids are happy to take them. Well done Vitabiotics, you are champion in our house. "Miss C Barnes , Scotland