Wellman Vitamin Drink
Wellman Vitamin Drink
Product Description
---
Wellman vitamin drink is a lightly carbonated, clean, refreshing drink with apple and grape juice plus botanical extracts and vitamins including B6 and B12 which contribute to the reduction of tiredness and fatigue. More Info
Suitable for vegetarians
Wellman Vitamin Drink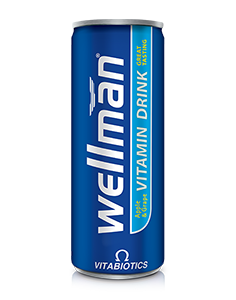 3 for 2
190 Reward Points
190 Reward Pts
---
Lightly carbonated apple and grape juice drink with vitamins and botanical extracts.
| Nutritional Information | Per can (250ml) |
| --- | --- |
| Energy | 313 kJ / 73kcal |
| Protein | Trace |
| Fat | Trace |
| Fibre | Trace |
| Sodium | Trace |
| Carbohydrate | 17.3 g |
| Thiamin | 0.97 mg |
| Riboflavin | 0.5 mg |
| Vitamin B3 (Niacin) | 4 mg NE |
| Vitamin B6 | 1.26 mg |
| Vitamin B12 | 1.25µg |
| Folic Acid | 50µg |
| Zinc | 2.5 mg |
| L-Tyrosine | 20 mg |
| Guarana Extract | 100 mg |
| Ginseng Extract | 120 mg |
| Artichoke Extract | 50 mg |
| Green Tea Extract | 100 mg |
Ingredients
Carbonated Water, Fruit Juices from Concentrate (Apple 5%, Grape 1%), Sugar, Acids (Malic Acid, Tartaric Acid, Citric Acid), Flavourings (Including Caffeine), Botanical Extracts (0.15%) (Siberian Ginseng, Green Tea, Guarana Seed, Artichoke), Preservative (Sodium Benzoate), Colour (Sulphite Ammonia Caramel), L-Tyrosine, Vitamins (Niacin [as Nicotinamide], Vitamin B6 [as Pyridoxine Hydrochloride], Thiamin [Vitamin B1 as Hydrochloride], Riboflavin [as 5-Phosphate Sodium], Folic Acid [as Pteroylmonoglutamic Acid], Vitamin B12 [as Cyanocobalamin]), Zinc Sulphate.
Best served chilled. Store below 25°C in a dry place, out of direct sunlight. Contains natural plant extracts which may form a harmless sediment on standing.
250ml provides more than 15% of vitamin and mineral NRV's*. Consume as part of a varied and balanced diet and healthy lifestyle. Best Before End - see base of can.
Suitable for vegetarians
No Taurine
Contains low levels of natural caffeine from Guarana & Green Tea extracts
Wellman Drink FAQ
---
What is Wellman vitamin drink?
Wellman vitamin drink is a lightly carbonated, clean, refreshing drink with apple and grape juice plus botanical extracts and vitamins. It has been specially developed for men who lead a hectic lifestyle and want to perform at their peak at all times and contains vitamins B6 and B12 which contribute to normal energy release and a reduction of tiredness and fatigue. Wellman vitamin drink also contains zinc which contributes to a normal immune system.
Top
When is Wellman vitamin drink recommended?
Wellman vitamin drink is recommended for men of all ages.
Top
Are there any undesired effects when using Wellman vitamin drink?
Wellman vitamin drink has no known side effects when used as directed. Wellman vitamin drink is a non-addictive formulation and is free from drugs and hormones.
Top
What are the active ingredients?
Please see nutritional information click here
Top
What type of Ginseng does Wellman vitamin drink contain?
Wellman vitamin drink contains Siberian Ginseng which is approved for sports professionals.
Top
Is Wellman vitamin drink recommended with any other Vitabiotics product(s)?
Wellman vitamin drink can be taken alongside Wellman tablets. Wellman tablets are a comprehensive multivitamin formulation of 28 essential bio-elements.
Top
---
"I kept to the same diet and only used your Wellman 50+ for three months.... Thank you so much. "Mr J E , United Kingdom
"Thanks a lot for your amazing products. Formerly I used another pill but for about a year ago I decided to use your products and I'm completely satisfied."Mr A L , Iran
Hi, I recently discovered your Wellman Original - they are fantastic! Perfect to keep your energy going all day! It really is refreshing to find a vitamin supplement that actually feels like it does, what it says on the box. Mr K P , United Kingdom
"I was using Wellman 50+ for the last six months each capsule after meals in the night and followed by a glass of milk after half an hour then after one go to bed. The results are immense and now I am happy about my body and health. Regards to all at Vitabiotics."Mr A N , Sri lanka
"I have been using Wellman multivitamins for couple of years and I'm so happy with this premium quality choice and the many positive results of my health vitality and strength. The customer support is very responsive, active, serious and helpful in every single step. The shipping was extremely fast to Lebanon, only 2 days. The parcels sent by mail are well packaged with care. The online shopping was a pleasing experience, which it will surely lead to more online purchases. Thank you Vitabiotics. "Mr T H , Lebanon
"wellman is fantastic product. It has increased my good looking and has makes me more confident (over confident) lol, whenever I Step out. #thump up."Mr M O , Ghana
"After having poor sperm quality during our first round of IVF, I began taking Wellman Conception which I'd seen advertised as well as generally attempting to improve my diet. Six months later during our second cycle all aspects of sperm quality had increased from poor to excellent and in fact it was now in the "donation" quality class at great surprise to the embryologist. Whilst not conclusive proof I believe the product had a positive effect for me. "Mr . L , United Kingdom
"Taken Wellman for a few years. I think it contributed to the fact I've got 2 kids under 2. I give my kids Wellbaby too "Mr G . , United Kingdom
"Having used Wellman Energy for just under a week I've felt an increase in my overall energy levels and performance. The product gives me a natural boost and most importantly it's one of the best daily nutritional drinks I've tasted!"Mr O Boyne , United Kingdom
"The Wellman Anti-Ageing Moisturiser genuinely hydrates my skin and I like that it's non-greasy. The pump applicator means there's no wastage or mess. It's not perfumed so it just smells clean. For me it's definitely a repeat purchase. "Mr T W , United Kingdom
"Wellman Boost is a great product. I have tried for the past 3 weeks and I feel great. It gives me more power during the day. Highly recommended"Mr M Cancemi , United Kingdom
"Hi, I've been taking your Wellman Vitamins for the past couple of months. Just want to let you know that I think it's a great product. I feel much better for taking them and have a lot more energy. Keep up the good work!"Mr A Weightman , United Kingdom
"Myself and my partner have been trying for a baby for so long now i had almost given up hope, i was recommended to try Wellman Conception tablets, I was taking 1 per day for the last 5 weeks, and was informed by my partner that she is now expecting our first child this November. I cannot explain how happy I am at this moment, I will admit I was sceptical of taking them at first but I thought 'who knows, they might work, I've tried everything else', and now I'm being told I'm a father to be!. I would HIGHLY recommend anyone trying for a family, to try these, you may be as surprised as I was!!. many thanks "Mr D H , United Kingdom
"I have been using Vitabiotics products for the past many years and I can confidently say I am both happy and satisfied with the results. Thank you "Mr N M , United Kingdom
"I used to take Wellman when I was at home (in the UK) but I didn't realise how much they helped me until I stopped taking them. In SE Asia the last two years [not using Wellman]. However, since I received a package of Wellman from family I have been a completely changed man. Thank you! and who'd have thought a little tablet everyday could make such a difference! "Mr C D , Thailand
"I tried Wellman Conception for three months. My wife is pregnant now, we had been trying to conceive for the last eight years. thank you Wellman Conception for a really good product."Mr K S , United Kingdom
"I was looking terrible so decided to try your Wellman Skin Technology. I can't tell you what it has done. I look fantastic!. My skin looks glowing, firm and plump . I'm so impressed. I do look younger !!! It's given me my confidence back. Your products really make a difference. Better than all the other ranges. Thank you for making such great products."Mr D Saville , United Kingdom
"'Using Vitabiotics Jointace and Wellman Sport has helped keep my body and joints in perfect condition allowing me to become the first and only ever finisher of The High Ultra-marathon in India, a gruelling nonstop 222km race over the Himalayas at altitudes reaching 18000ft'
Mark Cockbain, one of the UK's most accomplished ultrarunners who has run over 150 marathons.
Mark will now be training for the Trans USA Race 2011, an epic 3,100 mile race from Los Angeles to New York in 71 days"Mr M Cockbain , United Kingdom
"I have been trying all different types of vitamins without success. I purchased Wellman tablets last week and feel well and energised. I will be recommending Wellman and continue to buy them. I will also be trying their other products in the range. Thank you Wellman."Mr C F , United Kingdom
"I would like to pass my sincere thanks to all of you at Wellman. I was told by my GP that I had a sperm count below 1 million, and after 3 weeks of taking Wellman Conception myself and my partner have conceived naturally. I was told about your product by another GP and I would recommend it to anyone that has been told they have a low sperm count, once again I'd like to pass my thanks to all of you at Wellman. Yours thankfully J, H & Little bump :-) "Mr J S , United Kingdom
"Dear Vitabiotics, after two years trying to conceive, my partner and I started fertility treatment as we were told we would need ICSI/IVF . I started taking Pregnacare Conception and my partner switched to Wellman Conception as soon as we found out about it. Less than two months later and I am five weeks pregnant - naturally. We are both 42 years old. I will be recommending your product to anyone trying to conceive."Ms N Golding , United Kingdom
"I've been using Wellman Sport for over 3 weeks now and I must say they're the best vitamins I've ever used. I've tried lots of different types of vitamins for years, many more times the price of Wellman and not nearly as good. Wellman has also helped to maintain my skin, not the reason I bought them. More energy was the reason and energy and wellbeing is what I've got, In abundance !! Thank you very much Wellman (Sport) "Mr D W , United Kingdom
"I am writing to express my delight with the Wellman 50+ capsules. I am a 72-year-old gentleman and recently started taking them because I began to feel my age. However, since taking the capsules I seem to have regained the vitality I experienced during my youth and have started to enjoy my daily trips to the gym once more! Thank you for bringing this product on to the market and giving me a new lease of life. Kind regards."Mr R S , United Kingdom
"I am writing to express my delight with the Wellman 50+ capsules. I am a 72-year-old gentleman and recently started taking them because I began to feel my age. However, since taking the capsules I seem to have regained the vitality I experienced during my youth and have started to enjoy my daily trips to the gym once more! Thank you for bringing this product on to the market and giving me a new lease of life. Kind regards."Mr R S , United Kingdom
"I am writing to express my delight with the Wellman 50+ capsules. I am a 72-year-old gentleman and recently started taking them because I began to feel my age. However, since taking the capsules I seem to have regained the vitality I experienced during my youth and have started to enjoy my daily trips to the gym once more! Thank you for bringing this product on to the market and giving me a new lease of life. Kind regards."Mr R S , United Kingdom
"I began using Vitabiotics Wellman and felt a difference the day after I started"Mr G H , United Kingdom
"Hello, I just wanted to drop you a line to say that your drink is really very nice. At first I thought the artichoke was a bit too offbeat for my tastebuds, but now I can't get enough of the stuff. Keep up the good work, cheers."Mr M Embleton , United Kingdom
"Being a true sceptic, I reluctantly purchased Wellman Energize (Fizz), from my local Chemist. To my amazement after around 20 days or so I finished the tablets. I made it my first priority to purchase another tube ASAP. Tastes great and above all I feel the difference. I'm sold! "Mr L Wilson , United Kingdom
"Having taken a variety of multivitamins over the years, I can quite honestly say Wellman is the best. I have only been taking it for 10 days and my energy levels have soared. So much so that I found myself leaping over a wall instead of walking around it earlier in the week, buggered my kneecap by doing it, but at least I feel better!"Mr G Gough , United Kingdom
"If you're looking for a vitamin you can take and actually feel the difference it making, Wellman has got to be it. I couldn't imagine living without it. I feel more more energised on a daily basis. working as a trader, getting up at the crack of dawn and working long hours, Wellman helps me maximise my performance both on and off the trading floor."Mr J White , United Kingdom
"Dear Sir/Madam, I work at Heathrow Airport. My job is primarly shift work and im standing up all day. My shift has been fixed so I start at 6am everyday which means I must get up at around 4.45am. Naturally the human body is not made to get up at this time. Over time I became very tired. I was sleeping as soon as I got home and not waking up till the next day. Even then i would wake up feeling burnt out. I started taking wellman tablets for a month. I can tell you it made such a big difference. I was not feeling so tired in the mornings and I did not feel so burnt out at the end of the day. Keep up the good work. "Mr R Khuttan , United Kingdom
"On the whole Wellman is a great Multivitamin providing good levels of nutrient. Particularly pleased with the level of Selenium but would like to see more of the B vitamins 1,2,3, & 6 (25mg) and Magnesium (500mg)."Mr N Pearce , United Kingdom
"I have been taking Wellman now for about a year. You have a customer for life. This product is the most amazing nutritional product I have ever come across. I have tried literally hundreds of nutritional supplements over the years, but yours beats them all hands down. I recommend your products to all and sundry and cannot speak highly enough of the benefits I receive. Whatever you do, do not go out of business. "Mr C Beckett , United Kingdom
"Having a stressful job and lack of time to eat regularly and well, find Wellman helps me maintain healthy balance of vits and minerals. Also got me stocked up on zinc and I'm now a father to be!!"Mr T B , England
"With a comprehensive array of nutrients for energy production, optimal metabolism and total health, it can help you look and feel your best."Mr D Lirag , United Kingdom
"With a comprehensive array of nutrients for energy production, optimal metabolism and total health, it can help you look and feel your best."Mr D Lirag , United Kingdom