Ultra Green Tea
Ultra Green Tea
Product Description
---
Ultra Green Tea from Vitabiotics provides 180mg of Green Tea Extract. Ultra Green Tea is made from a concentrated, standardised extract of Camellia sinensis, so that each tablet provides as much as the equivalent of 6.3g of Green Tea leaves. More Info
Suitable for vegetarians
Ultra Green Tea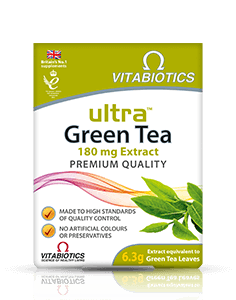 3 for 2
45 Reward Points
45 Reward Pts
---
Green Tea food supplement tablets
Nutritional Information
Average per tablet
Green Tea Extract 35:1
180 mg
Equivalent to Green Tea Leaves
6300 mg

mg = milligram
Green Tea Extract, Bulking Agent: Microcrystalline Cellulose, Crosslinked Cellulose Gum, Polyvinylpolypyrrolidone, Tablet Coating (Hydroxypropylmethylcellulose, Propylene Glycol, Ethyl Cellulose, Polydextrose, Medium Chain Triglycerides, Natural Source Colours [Titanium Dioxide, Copper Chlorophyllin]), Anti-caking Agents: Magnesium Stearate, Silicon Dioxide, Purified Talc, Stearic Acid, Ethyl Cellulose
Directions
ONE OR TWO TABLETS PER DAY.
Swallow with water or a cold drink. Not to be chewed. Do not exceed the recommended intake. May be taken with any other product in the Vitabiotics range. A regular intake is recommended.
Suitable for vegetarians
No artificial colours
No preservatives
No lactose
No yeast
Ultra Green Tea is not tested on animals
Ultra Green Tea has been specially formulated with a low, moderate Catechin level of under 150mg per tablet, so is safe and effective.
Food Supplement
As with other food supplements, seek professional advice before using if you are pregnant, breast-feeding, under medical supervision, suffer from food allergies, or are allergic to any of the ingredients. Food supplements must not replace a varied and balanced diet and a healthy lifestyle. Store below 25°C in a dry place, out of sight and reach of children.
Ultra Green Tea FAQ
---
Why has Ultra Green Tea been developed?
Green Tea has been used for hundreds of years for a variety of uses. Ultra Green Tea from Vitabiotics is made from a concentrated, standardised extract of Green Tea Leaves (Camellia sinensis), so that each tablet provides as much as the equivalent of 6.3g of Green Tea leaves. Green Tea benefits include protection of cells from oxidative stress and support of the cardiovascular system by contributing to the normal function of the heart.
Top
When is Ultra Green Tea recommended?
Ultra Green Tea is recommended for men & women as a nutritional safeguard. Ultra Green Tea may be particularly suitable for those with hectic lives, those seeking extra antioxidant support and the over 50s.
Top
Can Ultra Green Tea be used with medicines simultaneously?
Generally, Ultra Green Tea may be used alongside medications, because it contains only moderate levels of nutrients, and is free from any drugs or hormones. For specific advice on taking Ultra Green Tea with medicines, we recommend that you contact your doctor or pharmacist first.
Top
How many tablets does one pack of Ultra Green Tea contain?
Ultra Green Tea contains 30 tablets in one pack. It is recommended to take one or two tablets per day.
Top
How and when should Ultra Green Tea be used?
ONE OR TWO TABLETS PER DAY WITH YOUR MAIN MEAL. Swallow with water or a cold drink. Not to be chewed. Do not exceed the recommended intake. Always ensure that Ultra Green Tea is taken with liquid to wash the tablet down.
Top
Need help swallowing a tablet or capsule?
Difficulty in swallowing tablets is quite a common experience. Vitabiotics have researched this extensively and recommend after chewing some food (e.g. banana), just before you swallow, pop the tablet into your mouth and swallow it together with the chewed food, followed by some liquid. The throat opens up wider to swallow the chewed food and so the tablet should go down with greater ease. Alternatively, the tablets may be swallowed with thicker liquids such as yoghurts or smoothies.
Top
Is Ultra Green Tea recommended with any other Vitabiotics' product(s)?
Yes, Ultra Green Tea can generally be used alongside other Vitabiotics' products.
Top
What are the active ingredients?
Please see nutritional information click here
Top
How long does it take to experience any benefits?
Results vary amongst individuals, but in most cases, we would expect the beneficial effects of the nutrients in Ultra Green Tea to build over several weeks. There is no maximum length of time over which Ultra Green Tea may be used. A regular intake is recommended.
Top
---
"I have been taking Ultra Vit B Complex for 1 week now. I take 1 tablet every morning upon waking up then have breakfast 1hr later. I feel fantastic and full of energy all day, I recommend these tablets to everyone."Mr M A , United Kingdom
"I ordered the Vit B Complex after tests showed deficiency in B Vits. I have only been taking them for 2 weeks but the difference in my health has been truly amazing. Since it's only been 2 weeks, I know I haven't had the full benefits yet (as it's recommended around 2 months) but I have ordered another 3 packs on the fabulous '3 for 2' offer. Oh! I am sleeping so much better too. Highly recommend giving these a try."Mrs J P , United Kingdom
"Within a week of taking them I was sleeping so much better."Ms B Beccy , United Kingdom
"I've been taking Ultra Sage for all most a year. I would recommend it to anyone who is currently going through the menopause. ''Brilliant'' thank you."Mrs J Eaton , United Kingdom
"I decided to try Ultra Bilberry, Lutein and Zeaxanthin tablets (already aware that bilberries are good for your eyes) and see if they made any difference. I'm delighted to be able to say that there has been a distinct improvement. Thank you for an excellent product."Miss Z , United Kingdom
Jemiah Umolu is a true up and coming football star of the future! At just nine years old, he is already signed by Arsenal FC to play in their Under 12 team and is rated one of their best in his age group. Jemiah is a convert to Vitabiotics and this is his father's testimonial…
"Roughly eight weeks ago my son was registered injured by his football club, Arsenal FC. He was advised to have three to six months rest from all sport. Given he plays for a professional academy, he couldn't afford to take this amount of time off. A week later he started a course of Vitabiotics Jointace, Osteocare and Ultra Omega 3, and just three weeks later he was himself once again. He has and will remain taking Jointace and other Vitabiotics products to maintain healthy joints, teeth and bones as he is still growing." Mr J Umolu , United Kingdom
"I cannot recommend Vitabiotics Ultra Krill Oil enough. I have been taken them for 6 months they are great. I have told my doctor about what they have done for me. I have never recommend any thing before but these I feel I must tell you"Mrs M S , United Kingdom
"I cannot recommend these enough! They support so many functions of the body, and this is the perfect level (I take 2 each day). They are individually sealed for freshness, and the price is perfect for the amount provided."Mr J Glassey , United Kingdom