TEA+ Energy Vitamin Tea
TEA+ Energy Vitamin Tea
Product Description
---
A blend of Yerba mate, vitamin C & ginseng. With 100% NRV vitamins B6 and B12, which contributes to the reduction of tiredness & fatigue, in every tea bag. Blended with natural raspberry & pomegranate flavours.
TEA+ Energy is designed to help support an active lifestyle, when you need it most. More Info
Suitable for vegans and vegetarians
TEA+ Energy Vitamin Tea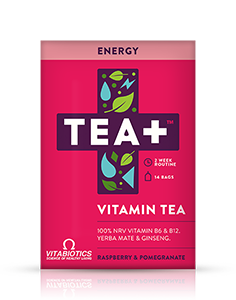 3 for 2
25 Reward Points
25 Reward Pts
---
TEA+ Energy Vitamin Tea Formula
---
Green tea blended with herbs and vitamins
NUTRITION FACTS
per 100ml
per serving (200ml)
Energy
3kJ (1kcal)
7kJ (2kcal)
Fat
(of which saturates)
0g
0g
0g
0g
Carbohydrates
(of which sugars)
<0.5g
<0.5g
<0.5g
<0.5g
Protein
0g
0g
Salt
0g
0g
Vitamin C
10mg (12.5% NRV)†
20mg (25% NRV)†
Thiamin (B1)
0.55mg (50% NRV)†
1.1mg (100% NRV)†
Riboflavin (B2)
0.7mg (50% NRV)†
1.4mg (100% NRV)†
Niacin (B3)
8mg (50% NRV)†
16mg (100% NRV)†
Vitamin B6
0.7mg (50% NRV)†
1.4mg (100% NRV)†
Folic Acid
100μg (50% NRV)†
200μg (100% NRV)†
Vitamin B12
1.25μg (50% NRV)†
2.5μg (100% NRV)†
Biotin (B7)
25μg (50% NRV)†
50μg (100% NRV)†
Pantothenic Acid (B5)
3mg (50% NRV)†
6mg (100% NRV)†
---
μg = microgram, mg = milligram, g = gram, kJ = kilojoule, kcal = kilocalorie, †NRV = Nutrient Reference Value.
---
Typical values based on infusion brewed in near boiling water for 3 minutes.
Ingredients
Green Tea, Yerba Mate (19%), Natural Flavouring, Vitamin B complex [ Biotin, Niacinamide, Pantothenic Acid, Vitamin B2, Vitamin B6, Vitamin B1, Folic Acid, Vitamin B12, Mannitol*(wheat)], Vitamin C, Hibiscus, Ginseng (1%), Cardamom. Allergy Advice: For allergens, see ingredients in bold.
*Gluten level less than 20ppm and therefore classed as gluten free
How to enjoy TEA+
Enjoy at least 1 cup of TEA+ per day. Place one teabag in a cup, fill with near boiling water and allow to infuse for 3 minutes before drinking.
14 day supply of vitamin tea (1 per day).
Recommended limit of 5 servings per day.
Suitable for vegetarians and vegans
No artificial sweetners
No preservatives
TEA+ Energy Vitamin Tea FAQ
---
Why has TEA+ been developed?
TEA+ is a new range of vitamin infused teas designed to help maintain general health and wellbeing. We have created a unique blend of vitamins, herbs, fruit and green tea with the aim to help in your daily wellness goals when needed most in a convenient, nutritious and delicious cup of tea.
Top
How often should you drink TEA+ Energy?
We recommend drinking at least one cup of TEA+ Energy per day as part of a healthy lifestyle. The recommended daily limit is 4 servings (200ml per serving).
Top
Does the boiling water effect the vitamins in a tea?
All of our teas have been developed and independently tested to take the known effect of boiling water on vitamins into account to ensure you get the required dosage in every cup when infused for 3 minutes.
Top
Does TEA+ contain caffeine?
Our teas contain a moderate amount of caffeine from green tea. Each TEA+ contains around the same amount of caffeine as a regular cup of black tea, which, depending on brewing, is typically around 25mg per cup.
Top
Does TEA+ contain any sweetners or artificial ingredients?
Our teas contain no artificial sweeteners, they are flavoured only with natural fruit flavours to ensure a smooth and gently fruit flavoured tea.
Top
Are TEA+ tea bags bleached?
Our tea bags are 100% free from any chlorine. They are Oxygen bleached to give the white colour but the process is 100% natural and 100% free from chemicals.
Top
Do TEA+ teabags contain any polypropylene plastic?
We're proud to say our TEA+ tea bags are polypropylene free.
Top
Is TEA+ safe to drink whilst pregnant/breastfeeding?
The recommended limit of caffeine for pregnant and breastfeeding women is 200mg per day. Our teas include green tea and so provide about the same level of caffeine as a cup of ordinary tea (around 25mg). As with food supplements, we recommend that you consult your doctor or pharmacist before using if you are pregnant.
Top
Is TEA+ Energy safe for those with a gluten intolerance?
TEA+ Energy contains Mannitol, which is derived from corn, which is a part of our blend. However, the tea is categorised as gluten free under EU regulation. The content of the wheat is in such a small quantity that it is below 20 PPM (parts per million) which constitutes safe for those following a gluten free diet and coeliacs.
Top
Is TEA+ Energy suitable for vegetarians and vegans?
TEA+ is suitable for vegetarians and vegans as approved by the Vegetarian Society.
Top
Does TEA+ Energy replace my daily multivitamin?
TEA+ Energy vitamin B complex and vitamin C. If you wish to take additional multivitamin supplements, the extra vitamin C and B complex content would be within safe levels.
Top
Can you drink TEA+ over ice/cold?
Our teas taste fantastic over ice, either on their own or as a more nutritious base to smoothie mixes. Adding the required number of tea bags to hot water which is then allowed to cool and combining with ice, fruit pieces and a sweetener of your choice makes a refreshing and nutritious drink.
Top
---
"Easy to drink and fruity (drank on way to work from 07.20)"Miss S A , United kingdom
"Being someone who values the benefits of green tea as an alternative to more traditional black varieties, the TEA+ range appealed. I found the natural fruity taste just as pleasant as the brands I might usually buy from the supermarkets, but with the added reassurance of vitamin intake in every cup! The Vitamin D range, with a fresh and vibrant taste of mango and pineapple, has been a brilliant way to start the day this winter, all the while ensuring that I'm supplementing a vital vitamin I know it is important to increase my intake of at this time of year."Mr T B , United kingdom
"I decided to swap my usual 10am Earl Grey cuppa for a Tea+ Cleanse. I was pleasantly surprised how the taste of apple & blackcurrant came through with the taste of the tea. I am not usually a fan of fruit teas as I tend to find they over power the taste of the tea. But this Tea+ had the right balance and knowing I get the added vitamin is bonus. "Mrs J C , United kingdom
"I tried the Tea+ Defence vitamin tea today. I normally don't drink fruit teas, however this was a very pleasant tasting pick me up after my lunch. It was also reassuring to know that I got an extra boost of vitamin C and Ginseng and some warming defence against the inevitable cold weather at this time of the year."Mr A B , United kingdom
"Refreshing way to boost daily vitamin intake whilst enjoying a hot drink. Would like to taste more green tea in the blend."Mr J B , United kingdom
"I enjoyed the TEA+ drinks, my favourite flavour is orange and blueberry (Defence) . The added bonus of a dose of vitamins in tea is a great idea! "Mr J W , United kingdom
"I'm a big fan of the TEA+ Cleanse and Energy. They adds a little something extra to your regular green tea, not too fruity, tastes good and good to know you can get both vitamins and your caffeine dose in one"Ms B N , United kingdom
"A great way for us to get more vitamins into our body, whilst having something that we all are accustomed to and enjoy, tea. I let them brew for a bit longer then the recommended time, and it tastes fantastic."Mr C K , United kingdom
"My favourite is TEA+ defence. I have been drinking it for the past 2 weeks and feel like I'm doing something good for my health, whilst having a warm cup of tea!"Ms S S , United kingdom