Omega-H3 Original
Omega-H3 Original
Product Description
---
Omega-H3 is a unique bioformula internationally renowned as one of the most comprehensive supplements available to help maintain health and vitality with iron, folate, vitamins B6 and B12 which contribute to the reduction of tiredness and fatigue. More Info
Omega-H3 Original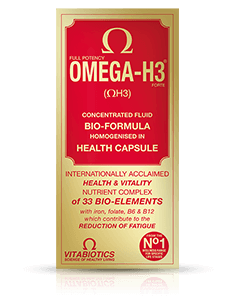 3 for 2
45 Reward Points
45 Reward Pts
---
Omega-H3 Original Formula
---
HEALTH & VITALITY NUTRIENT COMPLEX of 33 BIO-ELEMENTS with iron, folate and vitamins B6 and B12 which contribute to the REDUCTION OF TIREDNESS AND FATIGUE
Nutritional Information
Average per capsule
% EC NRV*
Natural Mixed Carotenoids
5 mg
--
Vitamin A (2500 IU)
750 µg
94
Vitamin D (200 IU)
5 µg
100
Vitamin E
20 mg
167
Vitamin C
60 mg
75
Vitamin B1 (Thiamin)
20 mg
1818
Vitamin B2 (Riboflavin)
5 mg
357
Vitamin B3 (Nicotinamide)
25 mg
156
Vitamin B6
10 mg
714
Folic Acid
400 µg
200
Vitamin B12
9µg
360
Biotin
30µg
60
Pantothenic Acid
10 mg
167
Iron
15 mg
107
Zinc
15 mg
150
Copper
2 mg
200
Manganese
2 mg
100
Selenium
100 µg
182
Chromium GTF
50 µg
125
Molybdenum
50 µg
100
Iodine
150 µg
100
P.A.B.A.
30 mg
--
Pollen Extract
2 mg
--
Lecithin
40 mg
--
Wheat-Germ Oil
100 mg
--
Garlic Concentrate
20 mg
--
Rutin
10 mg
--
Cod Liver Oil
50 mg
--
Omega-3 & Fish Oil
50 mg
--
Ginseng 5:1 Conc. Ext.
4 mg
--
L-Lysine
40 mg
--
Methionine
60 mg
--
Inositol
30 mg
--

*NRV = Nutrient Reference Value, µg = microgram
mg = milligram, IU = International Units, GTF = Glucose Tolerance Factor
Capsule Shell (Pharmaceutical Grade Gelatin, Glycerine, Sorbitol, Natural Source Colours [Iron Oxides]), Soya Bean Oil (from Soya), Wheat-Germ Oil, Vitamin C (Ascorbic Acid), Methionine, Magnesium Oxide, L-Lysine HCl, Cod Liver Oil (from Fish), Omega-3 Fish Oil (from Fish), Ferrous Fumarate, Zinc Sulphate, Lecithin (contains Soya Bean Oil) (from Soya), Hard Vegetable Prep., Vitamin E (as DL-Alpha Tocopheryl Acetate Prep.), Inositol, Para-Aminobenzoic Acid, Thiamin (Vitamin B1 Mononitrate), Niacin (as Nicotinamide), Garlic Concentrate (Grapeseed Oil), Natural Mixed Carotenoids (Betacarotene, Alpha-Carotene, Cryptoxanthin, Zeaxanthin, Lutein, [Carrier: Olive Oil]), Pantothenic Acid (as Calcium Salt), Vitamin B12 (as Cyanocobalamin, Trisodium Citrate, Citric Acid, Maltodextrin), Vitamin B6 (as Pyridoxine HCl), Rutin, Beeswax, Manganese Sulphate, Riboflavin (Vitamin B2), Copper Sulphate, Ginseng 5:1 Conc. Extract (Potato Dextrins), Vitamin A Palmitate (Carriers: Sunflower Oil, DL-Alpha Tocopherol), Pollen Extract (contains Pollen), Selenium (as Sodium Selenite), Chromium Trichloride, Vitamin D Prep. (as Ergocalciferol), Folic Acid (as Pteroylmonoglutamic Acid), Potassium Iodide, Molybdenum (as Sodium Molybdate), Biotin. Allergen Advice: For allergens, see ingredients in bold.
Directions
ONE CAPSULE PER DAY. Swallow with a cold drink & take with a main meal. Do not exceed the recommended intake. This comprehensive formula replaces other Omega-H3 supplements and multivitamins. There is no need to take an additional multivitamin.
No artificial colours
No preservatives
No starch
No sugar
No yeast
Not tested on animals
Food Supplement
Food supplements must not replace a varied and balanced diet and healthy lifestyle. As with other food supplements, seek professional advice before using if you are pregnant, breast-feeding, suffer from food allergies, or are allergic to any of the ingredients. Allergen Advice: For allergens, see ingredients in bold. his product contains iron, which, if taken in excess, may be harmful to very young children. Store below 25°C in a dry place, out of sight and reach of children.
Omega-H3 Original FAQ
---
Why has Omega-H3 been developed?
Omega-H3 has been developed on the basis of extensive research by highly qualified bio-chemists and nutritionists and is one of the most comprehensive supplements available for adults of all ages. It is generally recognised that in order to be in the best possible health, it is important to take regular exercise alongside a healthy, well balanced diet, as well as getting plenty of sleep and fresh air. However, this is not always possible to achieve due to modern lifestyles
Top
When is Omega-H3 recommended?
Omega-H3 is recommended as a daily nutritional safeguard with specific nutrients to help maintain general health and vitality including vitamins B6 and B12 which help to maintain normal energy release. Omega-H3® can be taken for as long as required. There is no maximum length of time over which it may be used.[Top]
Top
Can Omega-H3 be used simultaneously with medications?
Generally, Omega-H3 may be used alongside medications because it contains only moderate levels of vitamins and minerals, and is free from drugs and hormones. For specific advice on taking Omega-H3 with medicines, we recommend that you contact your doctor or pharmacist first.
Top
How and when should Omega-H3 be used?
One capsule per day is recommended with or immediately after your main meal, with a full glass of water or a cold drink. Two capsules per day may be taken for the first few weeks if required. Taking the capsule with a large meal maximises the absorption of the nutrients, and can reduce nausea, which is sometimes experienced if multivitamins are taken on an empty stomach. Omega-H3 should only be taken on a full stomach. Always ensure that Omega-H3 is taken with plenty of liquid to wash the capsule down, and not tea or coffee as this may cause the capsule to disintegrate too early.
Top
Are there any undesired effects whilst taking Omega-H3?
Omega-H3 has no known side-effects when taken as directed. Do not exceed the recommended capsule intake. In case of overdose, seek medical advice immediately.
Top
Need help swallowing a tablet or capsule?
Difficulty in swallowing tablets is quite a common experience. Vitabiotics have researched this extensively and recommend after chewing some food (e.g. banana), just before you swallow, pop the tablet into your mouth and swallow it together with the chewed food, followed by some liquid. The throat opens up wider to swallow the chewed food and so the tablet should go down with greater ease. Alternatively, the tablets may be swallowed with thicker liquids such as yoghurts or smoothies.
Top
What are the active ingredients?
Please see nutritional information click here
Top
How long does it take to experience any benefit?
Results vary amongst individuals, but in most cases, we would expect the beneficial effects of the vitamins and minerals in Omega-H3 to build over several weeks, with noticeable results in one to three months. There is no maximum length of time over which Omega-H3 may be used. A regular intake is recommended.
Top
Is Omega-H3 recommended with any other Vitabiotics' product(s)?
An additional calcium supplement may be used alongside Omega-H3 if required, such as Vitabiotics' Osteocare tablets, fizz or liquid.
Top
Is Omega-H3 suitable for vegetarians?
No. Omega-H3 is not suitable for vegetarians as it contains fish oil in a pharmaceutical grade gelatin capsule. Adults can obtain DHA and EPA indirectly through the conversion of the essential fatty acid alpha-linolenic acid (ALA), present in vegetable oils such as linseed but this process is very inefficient. Omega-H3 contains fish oil as it provides a much more reliable, direct source of DHA, EPA and AA.
Top
Some Nutrient Reference Value (NRV) levels are above 100%, is this safe?
Certain vitamins are very safe at levels tens or even hundreds of times the NRV, whereas for others the safety level is much closer to the NRV. For this reason every vitamin and mineral needs to considered on an individual basis in terms of its upper safe level.

The Nutrient Reference Value (NRV) is the amount of a vitamin or mineral which has been calculated to help prevent basic deficiency states in the general population. However, certain vitamins and minerals at optimal levels, above the NRV, have consistently been shown to have positive benefits in specific areas of health. This is why some Vitabiotics formulas have certain nutrient levels greater than 100% NRV.

All Vitabiotics products have been developed using the latest research and contain effective levels of vitamins and minerals, while avoiding any excessive amounts, in accordance with official upper safe limits for vitamins and minerals.

Vitabiotics avoids 'mega dose' levels of isolated nutrients and instead we have always stressed the importance of safe, moderate and sensible levels of vitamins and minerals, carefully balanced to maximise their combined effect; an approach which has been supported by many experts and researchers over the years.
Top