Menopace Original
Menopace Original
Product Description
---
Menopace is a comprehensive formulation designed as a nutritional supplement to be taken before, during and after the menopause including vitamin B6 which contributes to the regulation of hormonal activity plus pantothenic acid with copper which contributes to normal energy release.
More Info
Suitable for vegetarians
Menopace Original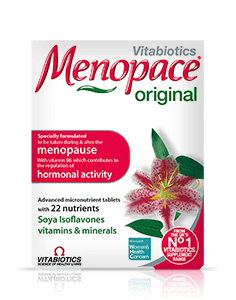 3 for 2
115 Reward Points
115 Reward Pts
---
Menopace Original Formula
---
One-a-day vitamin, mineral and nutrient tablets
Nutritional Information
Average per tablet
% EC NRV*
Vitamin A (2500 IU)
750 µg RE
94
Vitamin D (as D3 200 IU)
5 µg
100
Vitamin E (Natural Source)
30 mg α-TE
250
Vitamin C
45 mg
56
Thiamin (Vitamin B1)
10 mg
909
Riboflavin (Vitamin B2)
5 mg
357
Niacin (Vitamin B3)
20 mg NE
125
Vitamin B6
10 mg
714
Folic Acid
400 µg
200
Vitamin B12
9 µg
360
Biotin
30 µg
60
Pantothenic Acid
30 mg
500
Magnesium
100 mg
27
Iron
6 mg
43
Zinc
15 mg
150
Copper
1000 µg
100
Manganese
0.5 mg
25
Selenium
100 µg
182
Chromium
50 µg
125
Iodine
225 µg
150
PABA
25 mg
-
Soya Isoflavone Extract
20 mg
-

*NRV = Nutrient Reference Value, µg = microgram
mg = milligram, IU = International Units
Bulking Agents: Maltodextrin, Dibasic Calcium Phosphate & Microcrystalline Cellulose, Magnesium Oxide, Vitamin C (Ascorbic Acid [Carrier: Hydroxypropylmethylcellulose]), Pantothenic Acid (as Calcium Salt), Vitamin E (D-Alpha Tocopheryl Acid Succinate) (from Soya), Tablet Coating (Hydroxypropylmethylcellulose, Hydroxypropylcellulose, Natural Source Colours [Titanium Dioxide, Copper Chlorophyllin], Glycerin), Zinc Sulphate, Para Amino Benzoic Acid, Anti-Caking Agents: Stearic Acid, Silicon Dioxide & Magnesium Stearate, Niacin (as Nicotinamide), Soya Isoflavone Extract (from Soya), Thiamin (Vitamin B1 as Mononitrate), Ferrous Fumarate, Vitamin B6 (Pyridoxine HCl), Vitamin B12 (Cyanocobalamin [Carriers: Trisodium Citrate, Citric Acid, Maltodextrin]), Vitamin A (Acetate [Carriers: Gum Acacia, Corn Starch, Maltodextrin, Antioxidant: DL-Alpha Tocopherol]), Crosslinked Cellulose Gum, Riboflavin, Vitamin D3 (Cholecalciferol [Carriers: Acacia, Sucrose, Corn Starch, Medium Chain Triglycerides, Antioxidant: DL-Alpha Tocopherol]), Copper Sulphate, Manganese Sulphate, Folic Acid (as Pteroylmonoglutamic Acid), Potassium Iodide, Chromium Trichloride, Sodium Selenate, Biotin. Allergy Advice: For allergens, see ingredients in bold.
Directions
ONE TABLET PER DAY WITH YOUR MAIN MEAL. Swallow with water or a cold drink. Not to be chewed. Do not exceed recommended intake. Only to be taken on a full stomach.
This comprehensive formula replaces other Menopace supplements and multivitamins. There is no need to take an additional multivitamin. Menopace can be continued after the menopause for as long as required.
Suitable for vegetarians
No artificial colours
No preservatives
No yeast or lactose
No lactose
No gelatin
Menopace is not tested on animals
Food Supplement
Food supplements must not replace a varied and balanced diet and a healthy lifestyle. As with other food supplements, seek professional advice before using if you are under medical supervision, suffer from food allergies, or are allergic to any of the ingredients.
Allergy Advice: For allergens, see ingredients in bold.
This product contains iron, which if taken in excess, may be harmful to very young children.
Store below 25°C in a dry place, out of sight and reach of children.
Menopace Original FAQ
---
Why has Menopace been developed?
Menopace has been developed by a team of experts including highly qualified pharmacists and medical consultants, and is based upon solid scientific research evidence, as a nutritional safeguard for women during and after the menopause. The menopause marks the end of the reproductive period when the ovaries stop producing oestrogen. At this time certain vitamins and minerals are particularly important. Each Menopace tablet contains a comprehensive combination of nutrients, especially for this time including vitamin B6 which contributes to the regulation of hormonal activity. Vitamin D plus magnesium contribute to the maintenance of normal bones plus biotin, pantothenic acid & vitamin B12 with copper and iron which contribute to normal energy release. Altogether Menopace provides 22 nutrients in a scientifically developed micronutrient formula.
Top
When is Menopace recommended?
Menopace is a one-a-day supplement specially formulated for during and after the menopause, with vitamin B6, which contributes to the regulation of hormonal activity and can be continued after the menopause for as long as required. There is no maximum length of time over which Menopace can be used. Menopace is also recommended for those women who have an early menopause.

Menopace is a food supplement which does not contain any hormones, and can be taken with or without Hormone Replacement Therapy (HRT). Menopace is suitable for use by women who have had partial or a full hysterectomy.
Top
Can Menopace be used simultaneously with HRT and what about medications or conditions?
Generally, Menopace may be used along-side medications such as HRT because it contains only moderate levels of vitamins and minerals, and it is free of any drugs or hormones. For specific advice on taking Menopace with medicines, we recommend that you contact your doctor or pharmacist first.
Top
How and when should Menopace be used?
One tablet per day is recommended with or immediately after your main meal, swallow with water or a cold drink. Taking the tablet with a large meal maximises the absorption of the nutrients, and can reduce nausea, which is sometimes experienced if multivitamins are taken on an empty stomach. Menopace should only be taken on a full stomach. Always ensure that Menopace is taken with plenty of liquid to wash the tablet down.
Top
Are there any undesired effects whilst taking Menopace?
Menopace has no known side effects when taken as directed. Do not exceed the recommended tablet intake. In case of overdose, seek medical advice immediately.
Top
Need help swallowing a tablet or capsule?
Difficulty in swallowing tablets is quite a common experience. Vitabiotics have researched this extensively and recommend after chewing some food (e.g. banana), just before you swallow, pop the tablet into your mouth and swallow it together with the chewed food, followed by some liquid. The throat opens up wider to swallow the chewed food and so the tablet should go down with greater ease. Alternatively, the tablets may be swallowed with thicker liquids such as yoghurts or smoothies.
Top
What are the active ingredients?
Please see nutritional information click here
Top
How long does it take before experiencing any benefit in relation to health and general well being?
Results vary amongst individuals, but in most cases we would expect the beneficial effects of the vitamins and minerals in Menopace to build over several weeks. A regular intake is recommended.
Top
Is Menopace recommended with any other Vitabiotics product(s)?
Calcium is a mineral, especially required during the menopause, which is needed for the maintenance of normal bones. Menopace Original, Menopace Plus and Menopace Night have therefore been designed so that they can be used with Vitabiotics Osteocare range. There is no need to take additional Osteocare tablets if you use Menopace with Calcium.
Top
Some Nutrient Reference Value (NRV) levels are above 100%, is this safe?
Certain vitamins are very safe at levels tens or even hundreds of times the NRV, whereas for others the safety level is much closer to the NRV. For this reason every vitamin and mineral needs to be considered on an individual basis in terms of its upper safe level.

The Nutrient Reference Value (NRV) is the amount of a vitamin or mineral which has been calculated to help prevent basic deficiency states in the general population. However, certain vitamins and minerals at optimal levels, above the NRV, have consistently been shown to have positive benefits in specific areas of health. This is why some Vitabiotics formulas have certain nutrient levels greater than 100% NRV.

All Vitabiotics products have been developed using the latest research and contain effective levels of vitamins and minerals, while avoiding any excessive amounts, in accordance with official upper safe limits for vitamins and minerals.

Vitabiotics avoids 'mega dose' levels of isolated nutrients and instead we have always stressed the importance of safe, moderate and sensible levels of vitamins and minerals, carefully balanced to maximise their combined effect; an approach which has been supported by many experts and researchers over the years.
Top
---
"I have been taking this product for years, they certainly help me. I shall keep on taking them. No harmful chemicals"Mrs S K , United kingdom
"Words can hardly describe the wonderful effect of Menopace and the Wellwoman range. I recommended it to all my friends going through the menopause and they all returned same verdict. Well done Vitabiotics."Mrs J Y , Ghana
"I went to the Dr. who recommend this product. After 1 week I noticed a very big improvement. My friend's aunt was feeling the same and she asked me what did I take and told her about Menopace. My friend's aunt takes it also and she got benefits. "Mrs F F , United states of america
"Started on Menopace 5weeks ago, for anyone out there that thinks they are not working carry on and hopefully have the results I did."Mrs H Dunn , United Kingdom
"I have been taking Menopace Plus for a few years. The added bonus is the Active Botanics tablets which I take at night. Since taking them I sleep incredibly well. Thank you Vitabiotics!"Mrs R Snaith , United Kingdom
"I've been taking Menopace Night for all most a year now. I would recommend Menopace Night to anyone who is currently going through the menopause. Brilliant"Mrs J Eaton , United Kingdom
"My first ever review. Felt the need to recommend Menopace ! Brilliant , changed my life ."Miss C . , United Kingdom
My friend recommended Menopace night so I thought I would try them, I've almost finished my 3rd box of tablets and can honestly say that night times are now much more comfortable. I have just received my next 3 months supply and will continue with them for months or years to come. I wake up each morning feeling normal without that woolly head so, long may the benefits continue.Mrs J E , United Kingdom
"Tried your Menopace Plus as I am currently going through the menopause. Two days after starting this supplement and I slept through the night. ..thank you, hope this continues."Mrs C Hawes , United Kingdom
"I love these products - especially the HairFollic. My hair is MUCH thicker now and I feel great! The Menopace Plus are fantastic and have made things a lot easier. Keep up the good work!!"Ms R Taylor , United Kingdom
"I have used Menopace for the last ten years and it changed my life. My menopause has ended but I still use it…. because my hair and skin benefit from it. Truly wonderful product."Miss S King , United Kingdom
"GREAT SERVICE AND PRODUCT
A friend recommended Menopace Night by Vitabiotics. I thought why not give them a try. I ordered them and they arrived very quickly, I started taking them each night. It has been a month now since I have been taking them. Great result...."Mr J Anderson , United Kingdom
"Just wanted to provide some feedback about Menopace original. What a product! Being mid-menopause I have found that my hair was thinning, my nails were brittle and sleep was becoming a thing of the past. I picked up Menopace original in the supermarket 20 days ago and started taking it that day and I just cannot believe what has happened to me! My hair is already much thicker, my nails are to die for, they are so long and strong, and my sleep pattern is so much better. What an unbelievable product. Well done Vitabiotics, I can certainly see why you have been awarded the Queens award. I am amazed and so very grateful to you!"Mrs L Spillett , United Kingdom
"Hello, I really felt that I had to drop you an email. I've been taking Menopace for about 2 - 3 Months now and I have to say it has completely changed my life. I was only saying to my friend the other day how great I feel, especially at night! A MASSIVE big THANK YOU xxx"Miss D B , United Kingdom
"I have tried many products, but Menopace Plus is the best one. Thanks. "Mrs I W , Austria
"I have been using Menopace original then Menopace night for the last two and half years. I am a great believer in these products."Mrs J M , United Kingdom
"I work in health care and have been taking and recommending Menopace for many years. They truly are a 'god send' and I could not be without them. Thank You"Mrs M S , United Kingdom
"I would just like to thank you for the Vitabiotics Menopace. Well they are a god send. I couldn't do without them. I take one a day and have stocked up. Thank you! I have recommended them to my friends and will continue to do so. Thank you so much for your help! "Miss H W , United Kingdom
"I have paid a fortune buying various pills on the internet... I was almost ready to opt for HRT. I decided to give Menopace a go as a last resort. After only two weeks I feel 100% and I cannot believe it. There must be thousands of woman out there who need to know how great this product is for many of the menopause challenges. The information on the box does not highlight all the benefits.... when in fact it is much much more and has helped by physical and emotional wellbeing.... I have never written feedback about any product in my life but this product has really impressed me and helped so much."Mrs M T , United Kingdom
"My life drastically changed for the better the day I started taking Menopace. I cannot imagine life without them."Mrs V L , United Kingdom
"I have been taking Menopace Plus for over a year now and I want to say how great this product is. I have never felt as good, and have told all my friends and family about it. Thank you so much for making this product. "Mrs A C , Portugal
"I am a 51 year old project manager for a health magazine and am experiencing my menopause. I work with many products and well known brands. Here I am surrounded by options and no idea which to try! That's when I came across your Vitabiotics Wellwoman range, and based on the results I had received from friends that were on Wellwoman products, I decided to try the Vitabiotics Menopace with Calcium. I had NO idea what to expect and was amazed at the results."Mrs D C , South Africa
"I started to use Menopace Plus when I started to encounter the menopause. Before I had finished the first box I felt really good."Miss S E , United Kingdom
"I am so pleased with what Menopace has done for me I felt the need to write and say thankyou! For many years I have lost an excessive amount of hair every time I wash or brush it, & especially when I colour it. This week when I coloured my hair I didn't get the usual handful of loose hair as I was rinsing. I will certainly be telling my hairdresser about Menopace so she can tell any clients she has with similar issues!"Ms M S , United Kingdom
"My Daughter has been given some of your Menopace by a friend and she is so thrilled with them she has phoned to tell me. Thank you for your help."Mrs J M , United Kingdom
"Can't believe how quick this product worked!"Mrs C M , United Kingdom
"Hi just wanted to feedback about Menopace Plus. I had read about natural alternatives but couldn't really decide from the info available what may be best. I bought Menopace plus one month ago. I am gobsmacked at how different I feel. These changes took effect in about 10 days and the best thing is I am back to my normal self. I shall definitely continue to buy your product and would certainly recommend others giving it a try."Mrs J R , United Kingdom
"Hi just wanted to feedback about Menopace Plus. I had read about natural alternatives but couldn't really decide from the info available what may be best. I bought Menopace plus one month ago. I am gobsmacked at how different I feel. These changes took effect in about 10 days and the best thing is I am back to my normal self. I shall definitely continue to buy your product and would certainly recommend others giving it a try."Mrs J R , United Kingdom
"I noticed a difference after about two weeks of taking Menopace and I think it is great! My energy levels have also never felt better. Menopace has given me a new lease of life. Great value, great product. I would recommend Menopace to anyone who is going through the menopause to give them a try. Brilliant."Mrs F T , United Kingdom
"I have been taking Menopace now for 2 months, I can't believe the difference they have made to my sleep and general wellbeing. They are brilliant. "Mrs L B , United Kingdom
"My mother has been taking Menopace for the past week and is already feeling the benefits, thanks!"Ms O M , Ireland
"I have been using Menopace Plus for approx 1 year and it has made a very pleasing difference. "Mrs S C , United Kingdom
"Researched your product and went for Menopace Plus... wow is all I can say. I cannot believe the difference these tablets have made to my life in such a short space of time; I feel like me again and ready to take each day full on. My husband says thank you, and so do I!!"Mrs J D , United Kingdom
"Menopace has really helped me, I've tried various brands and herbals - this by far is the most effective, for me it's amazing, I always have 2 boxes in case stores run out when I need replacements. Thanks."Mrs I S , United Kingdom
"I have been taking Menopace for a few weeks now as I couldn't find anything that would help me. I decided not to take HRT. Your product is really helping me. Thank you."Mrs J P , United Kingdom
"I have just started the peri menopause, then remembered reading about Menopace in various magazines. I decided to give it a try and from the 1st tablet I slept through the night, then the next three nights. This product really works. I'm so glad I tried it! Thanks"Miss L J , United Kingdom
"Having done some research on HRT I was not too keen – but went with suggestions and tried several types of HRT. Quite recently a friend suggested Menopace - I tried this and feel great. I would like to say to others out there - give it a try - you have nothing to lose as this product does not contain drugs. I will certainly go on to recommend it to others. Menopace will certainly play an active part in my daily routine and I can only assume that the longer I take them the better I will feel."Mrs S K , United Kingdom
"I found testimonials to Menopace, then I tried the product - wow is all I can say!The menopause just hit me almost overnight, thankfully I discovered your product - a big thank you"Mrs S P , United Kingdom
""I started to take Menopace as recommended by a friend and I have to say they have changed my life – they really do work.""Mrs L S , United Kingdom
"I just wanted to let you know how delighted I am with Menopace.I chose Menopace quite by chance and thank goodness I did.It had been a godsend."Mrs C C , United Kingdom
"This is a great product which gives me the confidence of having the correct supplements during menopause. I've been taking Menopace for many years now and never leave home without them!"Mrs J W , United Kingdom
"I have been on HRT for last twenty years, and for the past six I have been suffering from unexplained symptoms.Having had numerous blood tests,all negative,I came to a conclusion that as HRT was the only thing I was taking,that I would come off it.I saw Menopace in supermarket and decided to give it a go.I was quite sceptical.How wrong I was!I feel much better.My husband has also started taking Jointace and is leaping out of bed in the morning so I would like to say thank you very much and I will be telling my friends and family."Mrs F M , United Kingdom
"I have started my menopause and the first two weeks were horrible and infringed into my work and social life.I started taking menopace tablets and with in a month I feel much better.Menopace tablets are BRILLIANT!"Mrs L M , United Kingdom
"I have been on Menopace for the last month. They have helped me a lot and I have been back and got another months supply. I feel a lot better, thanks."Mrs A Bottomley , United Kingdom
"I just wanted to say that after trying many products over a period of time, I was a bit dubious when a friend suggested Menopace. After only three days, I feel nearly human again. Thank you!"Mrs C Craven , United Kingdom
"Since taking Menopace I feel a difference and have stopped all my other various vitamins to take just Menopace. Thank you."Mrs C Pottinger , United Kingdom
"I am taking Menopace for five weeks now. I have more energy and my memory has improved a lot. I have recommended them to my friends and family. Thank you. Also they are inexpensive unlike other pills."Mrs A Lyons , Ireland
"I am writing to tell you how good your product Menopace is. I have been taking Menopace for 6 months and it has totally transformed my life. Thank you very much."Mrs L Bland , United Kingdom
"After years of trying HRT, homeopathy, herbal medicine - one week on Menopace has not only given me back my life, it's also given me back my brain, my memory, my enthusiasm for life! This is wonderful, thank you so much for such a terrific product. I went for a blood test because I was so 'low' and the nurse casually asked if I had tried Menopace - you and that nurse have brought me back from the dust !"Mrs E Redwood , United Kingdom
"Just wanted to say that after just 3 weeks I have seen a marked improvement. I will continue using Menopace."Mrs L Hilborne , United Kingdom
"I just want to congratulate you on the menopause supplement Menopace, after trying loads of pills with no joy, I decided to give Menopace a try, after just 1 week I have more energy to get on with life. I will certainly be recommending it to my friends. "Ms J Pinder , United Kingdom
"I tried Menopace for 3 months. I am 47 years old and going through the menopause and on HRT and I didn't think it would do any harm to compliment it with this product. I'm romping around the park 3 times a week again with my two border collie dogs. I wouldn't have believed one tablet a day could have made so much difference. I'm really glad you have a website too so I can buy them direct. Thank you."Mrs L Perrin , United Kingdom
"I have been taking Menopace for just under 2 weeks. I am really surprised how fast this product works and I am sleeping all through the night where as before I would be lucky to get a full hour.I also notice a difference in my skin and hair too.This is a brilliant product. I have bought the 90 pack to make sure I don't run out.I feel so much better as I was so miserable.Now i have more energy and am much happier.I would recommend it to anyone. Brilliant well done."Mrs L Allison , United Kingdom
"I have been taking Menopace for 3 weeks. What a fantastic product. Thank you for taking the fear of the menopause away and giving me my life back!"Mrs P Billington , United Kingdom
"I have been taking Menopace for one week. To be honest I really did not expect much. However to my surprise after having taken it for one week I am feeling much better. I would therefore recommend Menopace to those who especially cannot have HRT. Once again Menopace is great !!!"Mrs C Tsakali , Greece
"I have been taking Menopace for just over two weeks now and am astonished that any product can have such an immediate effect -- I simply would not have believed it. I really didn't want to go down the HRT road. A friend recommended Menopace to me so I thought I would give it a try and consequently I look much better as I am getting a decent night's sleep again. I have ordered some Jointace for my husband and if that works as well for him as Menopace seems to be doing for me there will be no stopping us! Will let you know."Mrs H Helm , United Kingdom
"I've been taking Menopace for 3 months. All my friends are commenting on how well I look and how good my hair and skin are. I do not wish to take HRT for medical reasons. I'd certainly recommend Menopace."Ms M Gormley , Ireland
"I have been taking menopace for just 2 weeks now and I am amazed how well they are working. Wonderful stuff!!!"Mrs L Hayes , United Kingdom
"This is such an easy way to buy Menopace - a product that I have come to rely on. In fact my GP put me on several types of HRT, none of which agreed with me. I read extensively about Menopace and decided to try it years ago. I have now emerged from the Menopause and feel great. It has been 3 years since I menstruated and the feeling I have now is that Menopace is the reason I am fit & well. Menopace is fundamental to my life. Thank you so much "Ms J Y , United Kingdom
"Dear Sir or Madam, I am writing to you about Menopace tablets for the menopause. In weeks of taking Menopace I have felt much better. I have been on them for three months and what a difference, I will recommend them to anyone. Well-done! "Ms J P , United Kingdom
"Dear Sir, I am delighted to be able to let you know that MENOPACE works very effectively for me. Thank You! "Mrs D M A , United Kingdom
"So useful, works really well-thanks!"Ms A P , England
"Dear Vitabiotics, I am 55 years old and have been going through the menopause for about one year. Going to Tesco, I discovered your Menopace. After about 2 and half weeks I feel absolutley wonderful. I am feeling happy every day.I just feel great. It has made my life so much better (I have to be honest, I didn't think it would help but how wrong could I have been). I don't smoke or drink and eat healthy, so it's all a bonus. I will continue taking it forever.Thank you so much for a marked improvement on my life, going through what could have been a miserable time.I feel about 30 years old. Thank you. "Mrs R K , United Kingdom